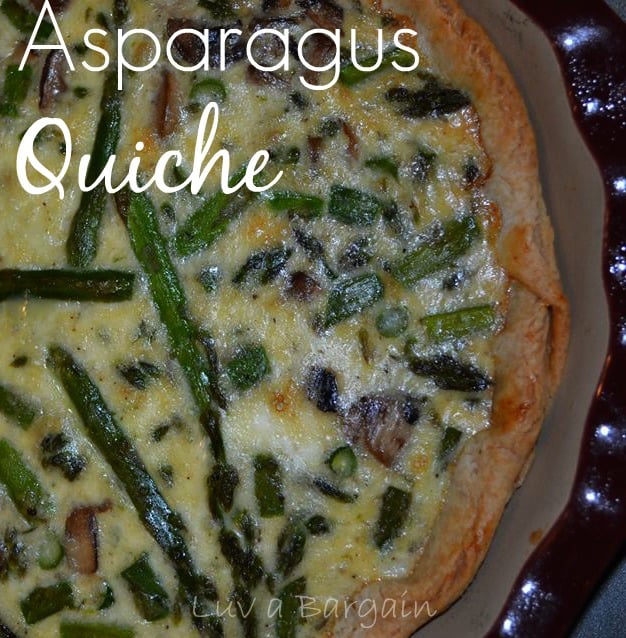 I just love quiche and I really should make it more often.  This healthy Asparagus Quiche is wonderful.   Perfect for breakfast and even dinner.  Take it to any brunch for a hit as well.
Confession. I don't make my own pie crust.  Really just because I have never mastered it and I'm a little impatient.  But luckily Trader Joe's has yummy pie crusts that make my life easier.    I don't plan on giving up on making my own… one day.
Ingredients
1 TBSP of coconut oil
4 egg whites
1 whole egg
6 – 7 whole asparagus
1/2 cup of sliced mushrooms
1/4 cup of chopped onion
1 clove of garlic, minced
1/2 cup of fat free milk
1/4 cup of part skim shredded mozzarella cheese or cheddar cheese.  You can even use feta.
Directions
1.  Preheat oven to 375 degrees.
2.  Melt coconut oil in a saute pan.
3.  Add onions and mushrooms and cook for about 4 minutes.
4.  Chop 4 spears of asparagus into pieces.  Leave 2 or 3 long to lay across the top of the quiche.
5.   Whisk the whole egg and egg whites together
6.  Add in the milk, cheese and pepper and whisk until a little bubbly or frothy.
7.  Stir in the chopped asparagus, mushrooms onions and garlic.
8.  Pour the mixture into the prepared pie crust (I love Trader Joe's pie crust)
9.  Cut the 2 remaining whole asparagus pieces in half and arrange on the top.
10.  Bake for approximately 20-25 minutes or until the center is firm.
I am sharing this recipe at some of these great Weekly Linky Parties.