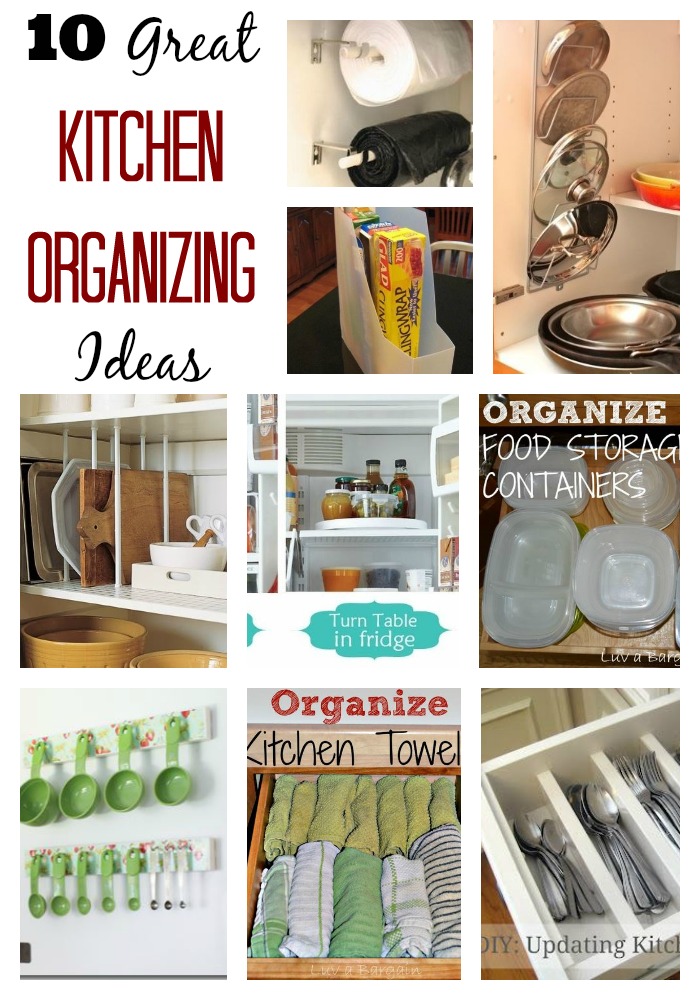 I am in full spring cleaning, organizing mode! That sounds a little better than saying I'm completely bored with Winter and ready to get outside.
There are so many great ideas out there for easy ways to make things look a little better.:-) I'm starting with the kitchen but I am planing some other posts as I make my way around my house.
Here are 10 great ideas to get us started. These first two I have already tackled and plan on having fun with the others
1. Use baskets to Organize Food Storage Container lids . – This still makes me smile when I open the cabinet
2. Roll Kitchen Towels and Dish Clothes to fit more in a drawer. – I have been amazed at how much this has helped!
3. Update your drawers with pretty DIY utensil dividers – I LERVE this so much!! I have a big drawer that is calling out for this. ~ Curb Alert Blog
4. Add turntable or wire rack in your refrigerator – WHAT!? Why have a never thought of this? ~ Indulgy.com
5. Use a Magazine Rack for Pot Lids – This is so clever. I can't wait to have these out of the way. ~ houzz.com
6. Put garbage bags on rollers inside cabinets – Amazing idea! ~ Be Simply Organized
7. Hang a Tension Curtain Rod as a Divider in a Cabinet – I can't wait to see how this helps too. ~ Marthastewart.com
8. Measuring Cup & Spoons Organizing inside a Cabinet – So much cleaner looking that continually trying to keep mine stacked. ~ A Time for Everything
9. Put Wrap Roll Boxes Inside a Magazine Rack – Great simple fix. ~ Cupcake Apothecary
10 Use Bins to Organize Pantry – My pantry is NOWHERE near this big but love the concept of labeling bins. ~ Hi Sugarplum