For years and years, vinegar has been used for many purposes other than just cooking.  Here are 15 uses of apple cider vinegar that you may not have known.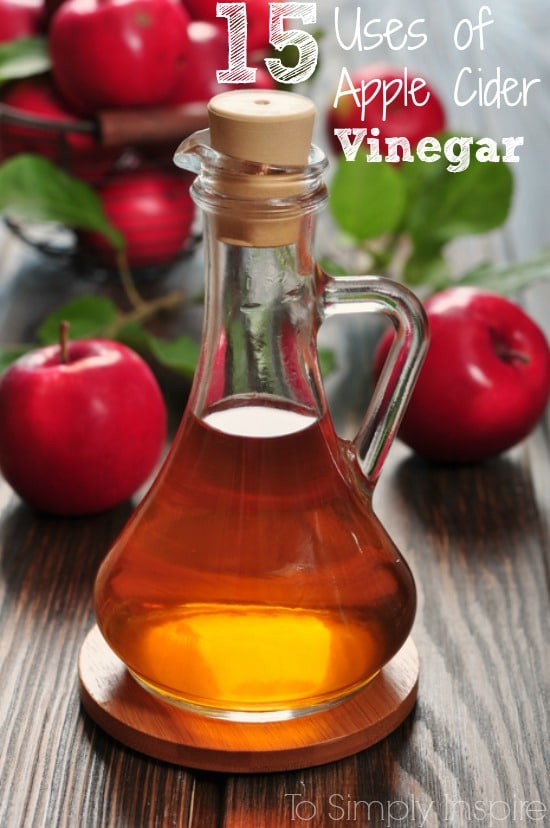 Going back centuries, it was believed to cure a lot of health problems and wounds. The best kind of apple cider vinegar is one that is raw, organic and unpasterized like BRAGG'S.  It has a cloudy look that is the "mothers" (aka the good stuff from apples).  It is perfectly safe and does not need refrigerated.   Organic apple cider vinegar is antibacterial, antiviral and antifungal, which is why it is so highly used in natural cleaners.
When consuming ACV, just dilute 1-2 tablespoons in 8 ounces of water twice a day.  Add it to apple juice or cranberry juice as well. You can also add 1 to 2 teaspoons of honey, pure maple syrup, molasses or a few drops of stevia if you'd like.
My husband has been using ACV daily for years and years.  I have just started making it more of my daily routine.
Below are several uses and benefits of apple cider vinegar that I have found while doing research around the internet.  Some are not scientifically proven, but many studies have shown that it is a natural way help
1.  Promotes digestion – drink before meals to prevent gas, constipation and heartburn.
2.  Supports a healthy immune system – ACV contains iron, calcium, and potassium that can help keep the germs in your bodies more  controled.
3.  Helps with weight loss by reducing cravings (source)
4.   Lowers blood sugar levels (source and source)
5.  Blood Pressure and Cholesterol (confirmed in rats source)
6.  Hair conditioner – mix 2 tablespoons with 1 cup of water and pour over shampooed hair. Leave in for 1-3 minutes and rinse.
7.  Skin toner for face – use a cotton ball to apply to entire face to remove excess oils.  Also helps with acne and age spots.
8.  Dandruff remover – mix equal parts of apple cider vinegar and water.  Use twice a week.
9.  Sore throat soother – Mix one teaspoon apple cider vinegar, one teaspoon cayenne pepper and 3 teaspoons of honey in a glass of warm water.
10. Sunburn – Adding a few teaspoons to a bath and soaking for about 15 -20 minutes helps soothe and cool your sunburned skin.1
11.  Deodorant – Oh yes!  just swab a little on your pits to fight odors.  Don't worry, the vinegar smell evaporates.
12. Teeth Whitener – mix equal parts ACV and water
13.  Foot Odor  – soak paper towels in ACV and place in a zip lock bag. Wipe stinky feet to remove odor by balancing pH levels
14.  Energy booster – the potassium and enzymes help give you a boost if you need an afternoon pick me up.
15.  Salad dressings  – I couldn't leave out the old reliable!  So amazing!
There are many other testimonials on Amazon that are fun to read about personal experiences using Apple Cider Vinegar.