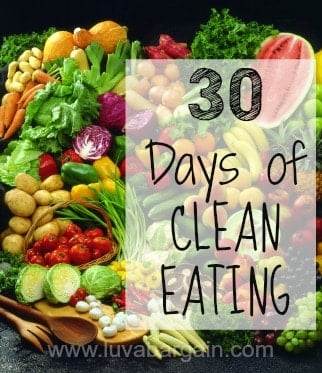 A typical day of my own Clean Eating may look like this:
Breakfast: Egg Whites with spinach and mushrooms or a bowl of oatmeal with fresh fruit, honey and cinnamon.
Morning Snack: Any of these healthy snack ideas
Lunch: Leftovers from dinner, a salad with grilled chicken or this Chicken Avacado Cucumber Salad
Afternoon Snack: healthy snack ideas

Dinner: A piece of Chicken breast or fish filet (baked or grilled) with a sweet potato,  brown rice or quinoa and a sauteed veggie, like broccoli, brussel sprouts, zucchini, yellow squash, peas or asparagus.

Evening Snack: a handful of almonds and an clementine orange.
Eating 3 meals and 3 snacks a day is the perfect balance to your day.  Be sure to balance with a protein, carbs and healthy fats.
Remember to avoid "empty" calories.  Those that are found in soda, fast food, cakes , cookies and snack crackers.
I am trying to be good at taking pictures of what I have been eating for dinner since the start of my challenge.
I do eat leftovers a lot. I love having those meals already prepared and easy to warm up.