Crafts and activities for 2 year olds or older toddlers are EVERYWHERE, yet many require a trip to the craft store.
Who has time and money for that?
They are 2 years old!  They shouldn't need special artwork equipment!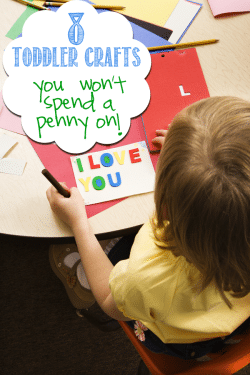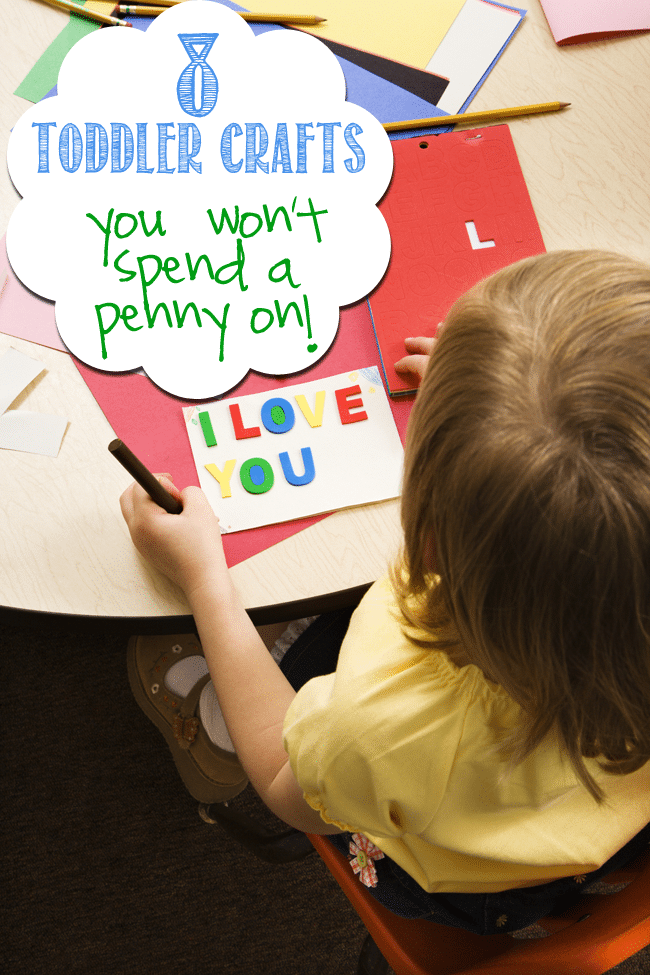 So, that is why we came up with this list of crafts and activities for 2-year-olds, 3-year-olds and beyond that can be made with stuff you ALREADY have at home.
Free Crafts for Toddlers
1.  This pretty button craft only requires two items: buttons and string.  Save those extra buttons that come with your shirts and pants and let your tot string them together.  This is also great for fine motor skills!
2.  Make a beautiful flower bouquet out of pipe cleaners.  Use green pipe cleaners for the stem and twist different colors into circles for the buds.
3.  Homemade play dough with only two secret ingredients that you definitely have at home: hair conditioner and cornstarch.
4.  Let your little one create a personalized cup by drawing on glass mugs with a sharpie.  These can be great to keep around the house to differentiate between cups and are also a sweet gift.  They're even dishwasher safe!
5.  If you have some boxes of dry pasta noodles you need to get rid of before the expiration date, try this  skeleton craft.  Use different sized pieces and types of pasta and glue them onto cardboard to design a skeleton.
6.  Make Chinese lantern!  This easy craft just takes some paint and construction paper.  Block a section off with masking or painters tape and let your little one paint.  After it dries, cut it into strips and tape.
7.  Get outside and find some smooth rocks to paint to make heart stones.  You can help your toddlers write special notes on the bottoms and leave them around spreading joy to those that find them.
8.  Here is another fun pipe cleaner craft.  Twist and turn the pipe cleaners to create disguises like mustaches, glasses or hats.
Thanks to Holly at Kids Activities Blog for these great ideas.
Holly Homer is a stay-at-home, partially homeschooling mom of three boys and writes Kids Activities Blog.  She believes in the crafting power of the kitchen junk drawer.