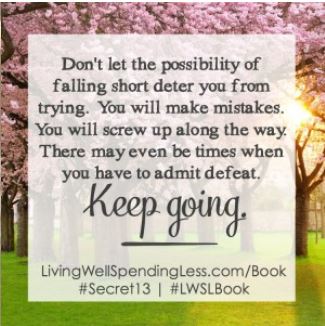 I ask myself this question often. Am I living the best life I can?
I would like to say "Yes, of course! I always have! Why would I live any other way?" But that would be a lie. I have made poor choices. I continue to learn and challenge myself. I continue to learn what is most important in my life because what was important a decade ago looks so different than today.
Now I am on a mission of contentment and happiness.

Content with what I have and not want more. Happy with everything that surrounds me. Finding happiness daily
Everyone has different goals and ideas of what their best life looks like. How often do you ask yourself and evaluate your life and what you need to do to make it better?
I have had the opportunity to read "Living Well Spending Less: 12 Secrets of the Good Life". It is so good and will absolutely get you thinking about the big picture.
So much of this book hit home for me. I love reading books that inspire me to be a better person. To look at myself and ask myself what changes I need to make in my life. I love to self-reflect! And this book sparked far more than I ever expected.
A few quotes from "Living Well Spending Less" by Ruth Soukup that really suck out for me to continue to strive to live my best life:
"I am far from perfect. Thankfully, God hasn't called me to be perfect."
"Discovering the Good Life is not just about learning to spend less, but about actually changing the desires of our heart, shifting our priorities from wanting and hoping for the best of everything in this world to deeply longing to store up a different kind of treasure. "
"When we open our hearts just enough to see the blessings we've already been given, our whole worldview changes from on of longing to one of overwhelming gratitude and joy."
And one of my ultimate favorites, "It is not the wealth—or the stuff—that kills us; it is the wanting, the longing, the absolutely insatiable desire for it that eventually takes over our hearts and minds, leaving room for little else. Whether or not we can afford it is totally irrelevant. What matters is the desire of our heart. Regardless of the never-quite-enough message society wants to give us, a life consumed by always wanting more is not the Good Life."
How do you think society's emphasis on wealth, success, and possessions affects you?
Living Well Spending Less: 12 Secrets of the Good Life is written for every woman who currently feels overwhelmed or stressed out with a life—and budget—that seems out-of-control. It speaks to the mom who is struggling to balance all the demands of her day-to-day life with the pressure to keep up with the all her friends. It is a practical guide for those of us who long to pull ourselves together but sometimes feel unsure of how to manage all the pieces of a chaotic life. It is the step-by-step guide to creating a life of meaning and joy we've all been waiting for.