This time of year is when I start planning our homeschool year and ordering curriculum in plenty of time to familiarize myself with each subject.   This year my daughter is headed into 6th grade…middle school. And our "big news" is she has asked to go to public school.  Gulp!
After 4 years of homeschooling, she wants to go back.  When we started our homeschool journey, we did it with no expectations.  We said we would do it as long as it was going great and everyone was happy.   Last year was wonderful as always but I think there is something in her that needs to see what she may be missing.   We have left the door open for her to return to homeschooling if she wants to.
I am excited for her new journey (I know I will probably cry more than I did when she went to Kindergarten )  She is over the top thrilled to to start getting ready.   Since she is officially registered at our Middle School, today we started planning in a different way than we have in 4 years. We headed out to do back to school with Dollar General!  Nothing is more fun than picking out those new fun school supplies, right?
Dollar General has loads of back to school supplies.   This is a picture from the flyer for sale items from July 7th – July 26th.
We got everything she will need while we were there because the prices are fabulous!  Binders, dividers, folders, composition books, pencils, etc.  Most everything was $1.00 or under too!   The girl is proud!
And of course we had to grab a couple of things for the new and exciting "Locker".  She absolutely loves this adorable dry erase board and mirror that were just $1.00 each.  She even wanted some hand sanitizer! What a good girl!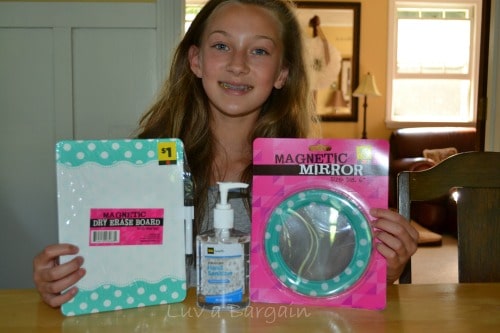 I am so pleased with all that we found and how much we saved.   Plus, most weeks you can print a $5 off $25 purchase coupon at DollarGeneral.com for even more savings. They also accept manufacturer's coupons too!