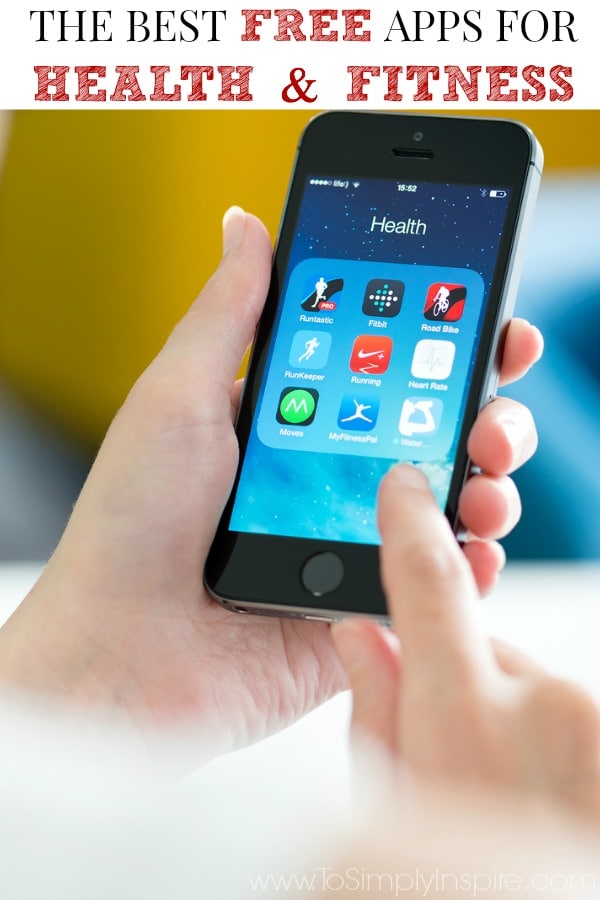 The new year here and some possible resolutions involving fitness goals have been made by many. (My hand is way up in the air!). I have set a lofty personal workout goal for myself this year. So far, so good though. Whether you have a workout plan, or just want to start eating cleaner, start walking or exercising a little more.
Below are my picks for the best free apps for healthy and fitness that you can grab for your Apple or Android device.
My Fitness Pal – Calorie Counter/ Diet Tracker – My Personal FAVORITE!!
Lose weight with MyFitnessPal, the fastest and easiest to use calorie counter for Android. With the largest food database of any Android calorie counter (over 3,000,000 foods), and amazingly fast food and exercise entry, we'll help you take those extra pounds off! There is no better diet app – period.
Download My Fitness Pal: iTunes | Google Play | Amazon
Sworkit
Featured in Gizmodo, Lifehacker, Army Times, Huffington Post, Greatist, Brit+Co and more
Guides you through actual body weight workouts for the entire body, not just for tracking
Randomization ensures that no two workouts are ever the same so that you stay motivated
Perfect for users of all fitness levels offering strength training, cardio, Pilates, stretching, and yoga
Download Sworkit: iTunes | Google Play | Amazon
Map My Run
Start running with the MapMyRun+ community. Log over 600 different types of workouts; record GPS-based activities to view detailed stats; connect with 400+ devices to import and analyze all your data in one place.
Download Map My Run: iTunes | Google Play | Amazon
My Diet Coach
The Diet Coach will motivate you, help keep you on track, resist food cravings, temptations, emotional eating, exercise laziness and other obstacles by motivational arguments, guidelines, helpful and necessary reminders, notifications with your goal and your motivational photos.
Download My Diet Coach: iTunes | Amazon
Couch to 5K
C25K® is the easiest program to get beginners from couch potatoes to 5K distance runners in 8 weeks. The proven C25K (Couch to 5K) program was designed for inexperienced runners who are just beginning an exercise routine.The plan's structure prevents new runners from giving up and at the same time challenges them to continue moving forward
Download Couch to 5K: iTunes | Google Play | Amazon
RunKeeper
Track your fitness activities and have fun doing it
– See detailed stats around your pace, distance, time, and calories burned.
– Get stats, progress, and coaching through your headphones with built-in audio cues.
– Listen and control your music during your workout.
Download RunKeeper: iTunes | Google Play | Amazon
AquaAlert
Aqualert is a water drink reminder app. Helps you to have a good water balance on your body using notification drink reminders, track of how much water you should drink.
Drinking water benefits are huge: weight control , skin condition, hair condition, organs function, energy level and many others.
Download AquaAlert: iTunes | Google Play | Amazon
Lose It!
Set goals and establish a daily calorie budget that enables you to meet them. Stay on track each day by recording your food and exercise and staying within your budget. The average active Lose It! user has lost more than 12lbs and more than 85% of our active users have lost weight.
Download Lose It!: iTunes | Google Play | Amazon
Nike+ Running
The Nike+ Running App tracks your runs and helps you reach your goals — whether it's running your first race, or setting a new personal record. From first-time runners to marathon veterans, you'll get the measurement and motivation you need to run farther and faster than ever before.
Download Nike+ Running: iTunes | Google Play | Amazon
DietBet – Weight Loss Games

Have fun losing weight! DietBet is a social dieting game that lets you put your money where your mouth is.
It's a motivation booster that really works. 96% of DietBetters lose some weight. Winners of the 4-week games lose almost 10 lbs and win 1.5-2x their initial bet on average. Winners of the 6 months games lose 10% of their weight and positively impact their long-term health by reducing their risk of heart disease and diabetes. It's a win-win.
Download DietBet: iTunes | Google Play | Amazon
Do you have a favorite for Health and Fitness? Share it with us in the comments.