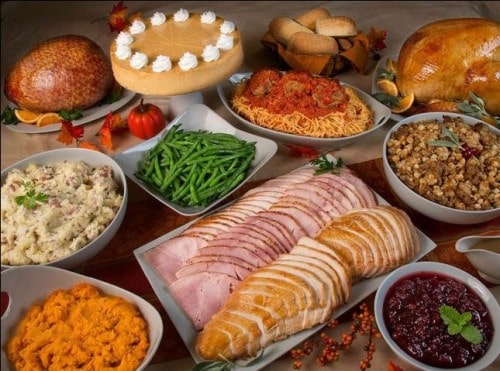 I have a question. Have you, or have you ever thought, of going OUT to eat for Thanksgiving dinner?  To enjoy a laid back kind of day with no stress of planning the BIG meal.
Well, I have a little confession. Our family has done this for the past 3 years and it is wonderful! I wouldn't say it has anything to do with a dropped or undercooked turkey or burnt peas or even sticky potatoes. No, none of that that ever happened to our family.
We have our crowd, of usually around 15, come over to my mother-in-laws house around 1:30 in the afternoon. Everyone brings an appetizer to share. Then we hang out and catch up instead of being busy in the kitchen. We peruse the Black Friday ads, go for a walk, take the kids to the park, watch some football. It's so unbelievably lovely and laid back!
Then we go to dinner for our 4:30 reservation. That's right. Just make Thanksgiving reservations and show up hungry! Do I sound like I have been enjoying this? The greatest thing about it? It is so easy and hassle-free! No dishes to do, no drying to do, no putting away to do. Just enjoy the day with family and friends! And, of course, rub the belly
If this has got you thinking. Buca di Beppo has a unbelievable Buca Style Thanksgiving Feast. Or you can also pick up Buca di Beppo Thanksgiving Feast Party Pans (curbside pick-up available at most locations). Buca's family-style dishes are perfect for celebrations and groups of all sizes
The Thanksgiving Feast includes classic Thanksgiving items with an Italian twist, such as: choice of sliced white meat turkey or hickory-smoked ham, homestyle gravy, roasted garlic mashed potatoes, spicy Italian sausage stuffing, green beans and cranberry sauce and even pumpkin pie.
Sounds fabulous!! Restuarants will be open at 11 am if you prefer to eat earlier. And the regular menu is also available if you don't want a traditional Thanksgiving Dinner.
This is a sponsored post written by me on behalf of Buca di Beppo®. All opinions are 100% mine.