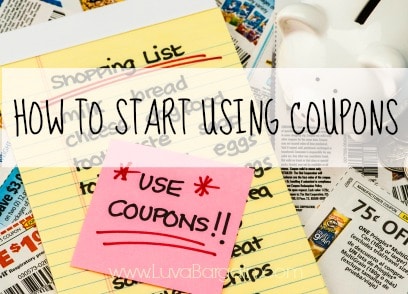 If you want to learn how to start using coupons to save a LOT of money and even get items completely FREE each month, pull up a chair and read along.
I hope you learn to have as much fun as I do seeing just how much you can save using coupons everywhere you can!  It does make you feel so great to know that you have spent your hard earned money well!
Where to find coupons?
Our Coupon Database is loaded with any coupon that is currently available.  It is so easy to use.   If you want to know if there is a coupon available for a particular product, you simply search by name or partial name.  If a coupon is available, you will be told where to find it or you can print it directly from the coupon database.
To start, you will want to build your coupon stash!
1.Internet Printable Coupons – There are so many places to print coupons online now.  The most well known is Coupons.com.
2. Ibotta App – The Ibotta App has quickly become one of the most valued money saving apps available.  All you have to do is simply "clip" the coupons you'd like to add to your app.  Then you simply take a picture of your recent and the amount of the coupon will be added to your Ibotta account.   You are paid back through Paypal, which I love.
Ibotta has expanded so much! They now include savings to stores and restaurants too!
3. Sunday Newspapers – The Sunday Paper will have anywhere from 1 to 4 coupon inserts each week;  Smartsource, Redplum, Proctor & Gamble and Unilever.   Coupons can vary by region and you typically see the best coupons if you subscribe to your Sunday paper, which you can usually do relatively inexpensively.  Ask your neighbors or friends for their coupon inserts if they do not use them.
4. Blinkies – These are the little coupon machines you see on store shelves in front of products.  You can use these anytime and at any store, not just at the store or at the time you find it. It's best to use them during a sale to maximize savings but they are there to entice you to use them when a product is full price. The store gets their full price AND gets reimbursed for the coupon from the manufacturer. Better for them..not for us.
5. Peelies – Coupons taped onto the outside of products on shelves. Again, you can use them anytime and at any store. Not just at the store or at the time you find it.
6. Free Samples – A lot of times when you request a Free Sample of a product you will get a great higher value coupon along with it.
7. Email Companies –  Yes, you can actually email companies and ask them if they would mail you coupons.  They are usually happy to do so.
You will quickly learn to be on the outlook for coupons.  I have also seen them in Magazines and even Doctors and Dentist offices.
Set a Grocery Budget
Get Started Cutting your Grocery Budget and gain more insight how to use these coupons to maximize your savings each week as well as some other strategic ways to save.
Organizing Coupon
See which coupon organizing style works for you.
Coupon Terms and Abbreviations
Learn the Coupon Lingo you will see when referencing where to find them.
More Money Saving Tips
Don't be brand specific.  If you are open to trying many different brands, you will save more.
A smaller item is sometimes a much better bargain when using a coupon. You can get items for FREE or practically Free sometimes when you buy the smallest size.
Try to shop at a store that doubles coupons. For example, shop at your store that doubles ONLY with coupons for those items when they are on sale to get them at their cheapest, rock bottom price. Otherwise, shop at your cheapest store in town.
Most importantly…Have FUN!! Don't get overwhelmed.  Clip and organize your coupons while watching TV.  You will quickly find that you will want to use coupons on everything you buy! It doesn't stop with the grocery store and/or drug stores either.
AND please feel free to contact me anytime with questions as you start using coupons!