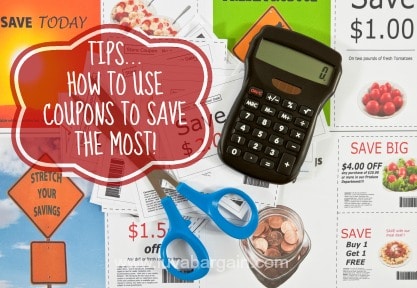 How to Use Coupons
Learning how to use coupons effectively has become increasingly popular in everyone's quest to save, save, save in as many areas of their budget as possible. Below are a few tips to maximize your own coupon usage.
STACKING COUPONS
Stacking coupons is when you are able to use TWO coupons to purchase one item…..a manufacturer's coupon (either a printable coupon or from a Sunday coupon insert) ALONG WITH a store issued coupon. Target, Walgreens, Rite Aid, CVS and even grocery stores allow this policy. You will find the store issued coupons either in-stores in the weekly sales flyers or in monthly coupon booklets and/or available online to print. The key is to look for a coupon with "store use only logo" on it and then use a manufacturer's coupon along with that one.
You can print store coupons for the following stores below:
USE (2) COUPONS DURING A BUY ONE, GET ONE SALE
YES, this is allowed in MANY stores! When there is a Buy One Get One Free sale on a specific item, you can use TWO manufacturer's coupons. One for each item. An example of this is one I purchased very often. Walgreens fequently has Right Guard deodorant on sale Buy One Get One Free. The price is $4.49 each regularly. Plus you can use either (2) of a $1.00 off Coupon or a $2.00 off (2) coupon. Your out of pocket is just $2.49 or $1.25 each!! That is a huge savings over the $4.49 regular price.
There are even stores that will let you use a BOGO coupon during a BOGO sale and get both items for completely FREE. This scenario is more easily understood when you look at it as the store is giving you one for free and then the coupon is giving you another for free.
USE COUPONS IN A SPECIFIC ORDER
When presenting your coupons to the cashier, it is very important to make sure you present them in the following order:
1.  ANY Dollar-Off Coupon – such as a $3 off $10 purchase. You want to make sure your total is high enough before any manufacturer or store coupon to use this type of coupon.
2.  Store issued product coupons
3.  Manufacturer product coupons
4.  Finally, present any store rewards coupons that you have earned. (Like those CVS ECBs, Walgreens Register Rewards, Rite Aid +UP Rewards, Catalinas etc.
USE COUPONS DURING WEEKLY SALES
And lastly, be sure to use your coupons during the weekly sales at stores!! It is much more beneficial to maximize your savings and really cut your grocery budget when prices are lower than the regular price. It is easy timing but your will see your biggest savings when you plan with this strategy in mind.