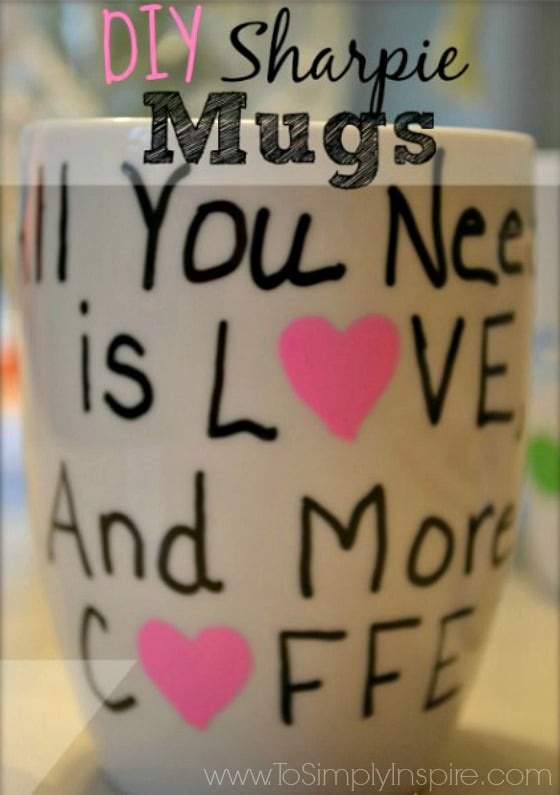 I have seen these adorable DIY Sharpie Mugs on Pinterest for the longest time and my daughter and I finally made some for ourselves! What a fun little craft project.
I was able to find some fairly cheap plain white mugs at TJ Maxx on clearance. I had been hoping to grab some at The Dollar Store but they never had any in stock every time we stopped by.  So I ended up paying $3.00 each at TJ Maxx, which is still good.
We had bought our Oil Based Sharpies at Hobby Lobby with my handy 40% off coupon too.  You will definitely want to use the oil-based  Sharpie markers.  The regular sharpies will wash off.
I have even read more recently that the DecoArt glass paint markers work even better too. But I had already bought and opened our oil based sharpies to use.
We had loads of fun making ours!
Supplies needed:
Plain white mug
Sharpie paint oil-based markers or DecoArt glass paint markers
1. Simply draw whatever you want on your mugs.  You can pencil in on if you want to first and then go over it with your markers. You can also use tape if you want to do a chevron or striped design. Be as creative as you want.  I Googled "coffee quotes" and found loads of fun ideas.
2. Then place the mugs on a cookie sheet and bake the mugs at 350 degrees for 20 minutes to allow the paint to set.
3. Remove from the oven and cool completely.
FYI – You will want to handwash these mugs instead putting them in the dishwasher.
My daughter made this adorable polka dot one.