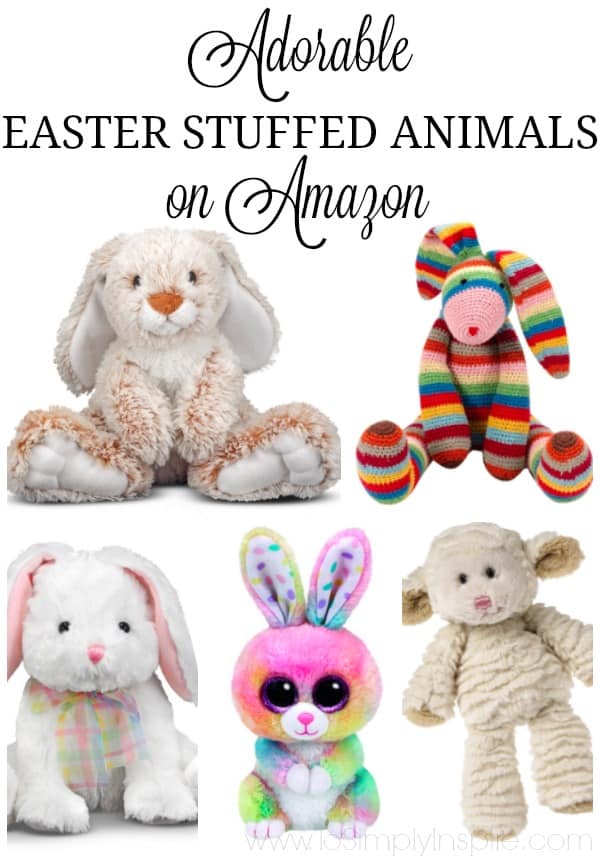 Amazon has loads of cute Easter Bunny Stuffed Amimals
at great prices for your Easter Baskets! You can sort by "Lowest to Highest" price to find the best deals quickest.
Remember, you can also get Free 2 day shipping with an Amazon Prime Membership on several of these.
Here are just a few adorable ones that I spotted:
Melissa & Doug Princess Soft Toys 14″ Plush Burrow Bunny
-$14.32
Melissa & Doug Meadow Medley Ducky Stuffed Animal With Quacking Sound Effect – $10.73
The Petting Zoo Floppy Long Eared 17″ – $18.95
Ty Bubby Multicolor Bunny Plush – $12.99
Webkinz Carrots Mazin Hamster
– $7.99
Mary Meyer Marshmallow Junior Lamb Soft Toy – $16.50
Melissa & Doug Blossom Bunny Rabbit Stuffed Animal – $10.78
Aurora World Miyoni Bunny 8″ Plush, White
– $8.20
Chocolate-Scented Plush Stuffed Easter Bunny Rabbit with Ribbon 7 in. – $6.20
Aurora World Miyoni Baby Lamb Plush, 7″ – $8.37
Aurora World Miyoni Lop Eared Bunny 8″ Plush – $9.58

Carrots the Spotted White Easter Bunny Rabbit – Ty Beanie Babies
– $7.70

Aurora BITTY Rabbit Bunny MINI FLOPSIE 8″ Plush Beanbag
– $6.07
Here are a few more popular, but a little more expensive:
Gund Easter Magnolia Bunny 18″ Plush
– $22.99
Stripes The Long Earred Bunny – $21.99
Gund Easter Splatter Color Patch Floppy Eared Bunny – $19.95

Ty Beanie Boos Carrots Brown Bunny Plush
– $31.95
AND MANY, MANY MORE!!!
Amazon prices can change without notice. This is the price available at the time of this posting. Please verify current price before you checkout.