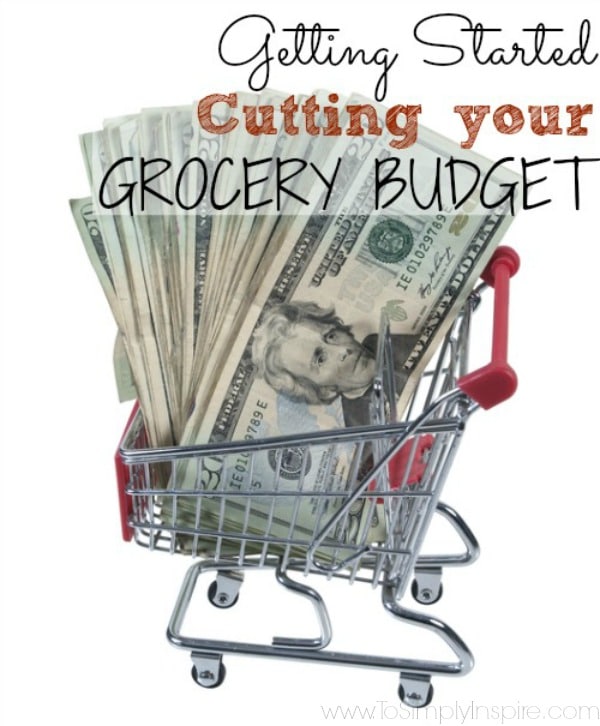 Cutting your Grocery Budget
Are you new to using coupons and want to know more about ways to save money every month?  Getting started cutting your grocery budget isn't as hard as it may seem.
I cut my own grocery costs from over $800 per month to $400 a month with just a few easy ideas. It has made such a huge difference in our budget and lives in general.  It just takes a little planning.  Something that comes very easy when you start to see it pay off 🙂
Here are a few starting points for you to get started saving yourself.
Plan Meals each Week
Having a simple menu plan will save you hundreds of dollars a year on groceries. Really!!!  Just come up with 6 or 7 meals for each week. I plan which day I will have each but you don't have to do that if you don't want.
Plan your meals based on your grocery stores weekly sales (especially meats) if you are just getting started and don't have a lot stockpiled yet.  The key getting started here is to have the ingredients for the meals you plan but NOT buying them at full price!
Matching Weekly Store Sales with Coupons
By doing this simple task, you can quickly see how you can get items for really, really cheap (and a lot of times completely free). It does require a little planning and you may have to shop at different stores to get the best prices, but it is SO worth it. You will not be sorry. Look at it as a fun game and not a chore.
Another tip you may not know is that coupons are issued by companies when prices are usually not on sale hoping you will use them toward full priced items. And they are usually issued as a prelude to a sale. So, cut them a wait a week or so and you can almost bet that you will see them on sale in the near future.
Sales in stores run on about a 6-8 week cycle. Stockpile (buy enough to last you several weeks) on items when they are rock bottom prices with a coupon to save a ton!!  Again, if you are new to using coupons, be sure to read Getting Started Using Coupons.
Buy Store Brands
I buy a lot of Store brands! If there is not a "sale with coupon" scenario that helps you buy a name brand cheaper, this is another area that you can always save.  Especially on your everyday items that you may not ever have a coupon for.  Milk, eggs, and more.
Most of the time, generic products are produced in the exact same place as the name brand….in the exact factory.  Big companies just spend 'big' money on advertising their products which is passed onto consumers with more expensive prices.
Look "up" and "down" on the store shelves
Stores are very smart! They strategically place the most expensive items at eye level. Always look at items on the top shelves and down on the bottom. And also make sure you are getting the cheapest price on the item you are looking at.This information is usually found on the price label with price per ounce or pound. Compare these on similar items.
Be sure to print FREE Coupons to build your Coupon stash if you are just getting started.