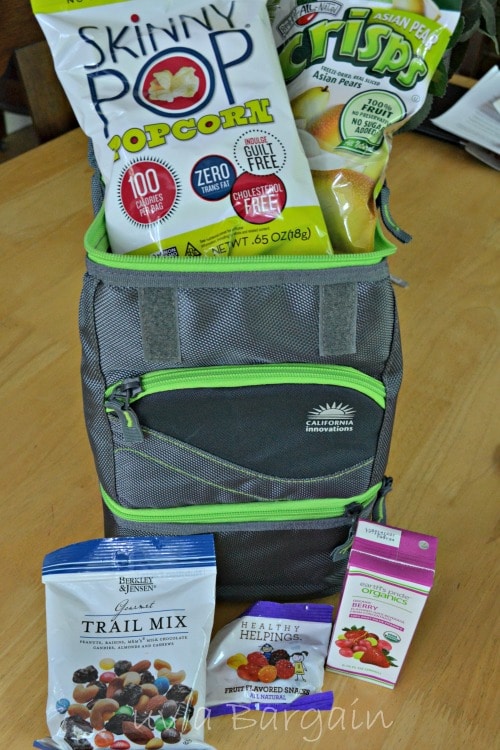 With my daughter headed back to public school this year after our 4 years of homeschooling, it's time for me to start planning for her to have healthy and affordable homemade lunches for her to take every day.
This is going to be a new challenge for me since I am used to heating up leftovers from dinner most days for her.  I'm up for the mission to make her lunches go from "blah" to "oohh la la" each day without processed foods.
One of my favorite stores, BJ's Wholesale sent me a great lunchbox with several really great options for healthy snacks and lunch ideas to help us all with making our childrens' lunches a little more exciting…and healthy.
Here are some fun ideas to help makeover your kids' lunchboxes this upcoming year too.
Reinvent the Sandwich – Sandwiches are the quintessential lunchbox staple, but there are so many simple ways to sneak in nutrients while providing variety.
Instead of using traditional peanut butter sandwich due to allergies.  We love almond butter and cashew butter.  Top that with banana slices.  Um Um Good!.
Use leftover chicken or grab a rotisserie chicken and add lettuce, tomatoes and easy microwavable turkey bacon for a new twist on a BLT.
 Surprise Snacks
My favorite is fresh fruits and veggies cut up and ready to to pack up every morning.  Include a fun individual pack of healthy dips like Sabra Hummus or Wholly Guacamole.and yogurt to change it up a little every now that then.
All types of snacks such pita chips and natural popcorn can be found in easy to send to school small packages.  But you can also create your own snack bags when purchasing snack items such as organic banana chips, Snyders 100 Calorie Mini Pretzels and SkinnyPop Popcorn are always winners.  Skinny Pop is a favorite of my daughter's.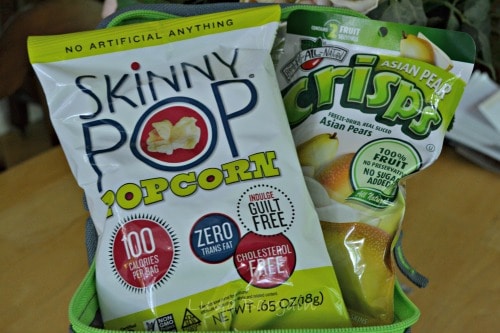 Look at these awesome ingredients.   Right up my alley!!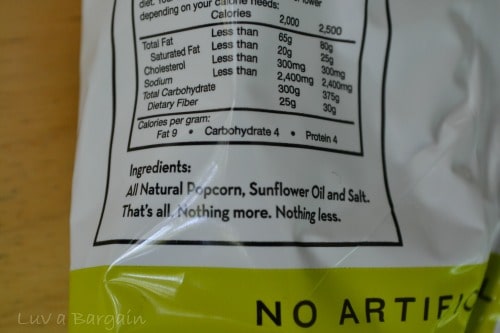 Just be sure to choose snacks that are low in saturated fat and sugar and high in nutrients like low sugar yogurt, nuts, colorful veggies like carrot sticks, red, yellow or green bell pepper strips, fruit salad, cubes of low fat cheese, and guacamole with RW Garcia Organic Tortilla Chips.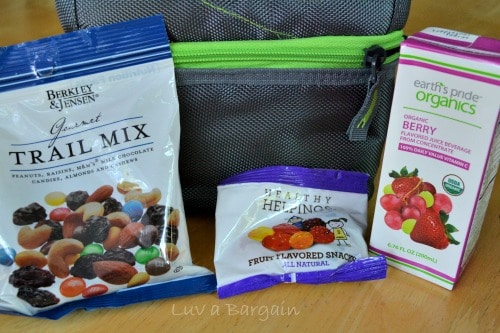 Staying Hydrated
Water – Kids should have a bottle or two of water for the day.
Milk vs. juice –  Milk has almost 8 times the protein than a juice box. If you send a juice box, be sure to send healthy options made with fruit and vegetables or 100 percent juice such as Honest Kids juice pouches.
Smoothie Style – For those who don't like to eat their veggies make a fruit smoothie and add celery, carrots or kale. Kids won't even taste it!
Do you have a favorite healthy lunch idea you would like to share?
OH!!  Before I forget.  Did you know that BJ's is the only wholesale club that accepts manufacturer's coupons as well as their own coupons to help us save even more?? 


Here's the low-down on their coupon policy

· When purchasing a multi-pack of items at BJ's, which is a set of items that could be sold individually (each item has a barcode) shrink-wrapped and sold together, shoppers can combine one BJ's-issued coupon with manufacturers' coupons. However, you cannot exceed the actual retail price in the total value of coupons.

o Examples of a multipack include a three-pack of toothpaste, two-pack of salad dressing or a three-pack of taco kits.

· Members may also use one BJ's coupon and one manufacturer's coupon on a single item.

· In terms of manufacturer's coupons that are 'buy one, get one free' BJ's will honor the coupon for items in stock as long as BJ's price does not exceed the maximum value stated on the coupon. If the manufacturer's coupon does not state the maximum value then BJ's cannot honor the coupon.

Where to Find Coupons:

·       BJ's offers coupons at the front of every club. These coupons are updated twice a month for all Members to use. Additionally, BJ's has their own coupons available on their website at http://www.bjs.com/coupons/

·       BJ's mails out a quarterly publication called the BJ's Journal to a majority of its Members, which contains coupons only redeemable at BJ's.

·       BJ's offers in-club instant savings on tons of items every day. This means no printing or clipping, but more savings.

·       BJ's accepts online manufacturers' coupons.