BEFORE (circa 1996)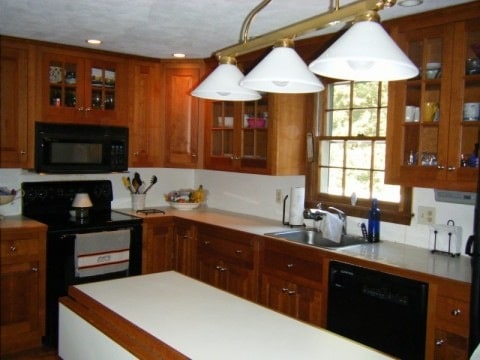 How to Paint a Light Fixture
Our house was built in 1978 and when we bought it in 2005, the light fixture over the kitchen island was still the lovely, ever popular in the 1990's, brass finish.  While I loved the brass look too back in the 90's, I knew that I did not want to live with it now.
I also knew that my bargain-loving self could not bring myself to spend over $150.00 on a new updated light fixture, like the Island Light Fixtures on Amazon or the light fixtures at Home Depot I was pricing, when we had SO many projects and other more important updates on this house.    And I did "Like" the style of the light with the 3 glass globes.
So….. I had a brainstorm.  Paint it!  On my many trips to Home Depot I spotted this spray paint from Rust-oleum.  It is Rustoleum Satin Paint and Primer in One and the Color is Espresso Brown and it's priced less than $7.00!   I now have a new-to-me light fixture for a bargain!   🙂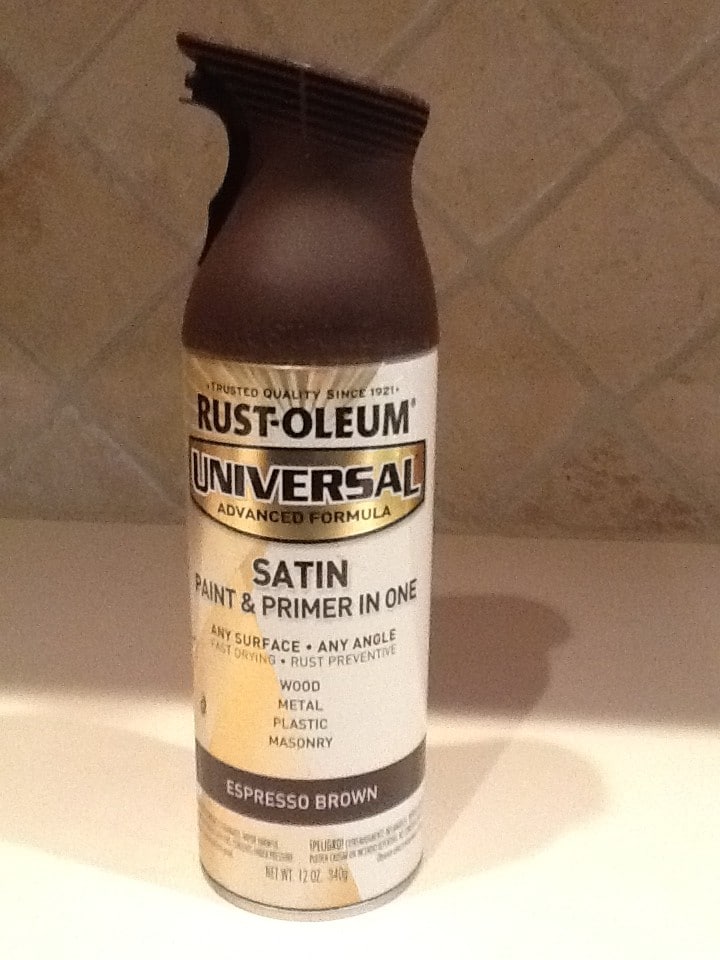 I had my husband take down the light, which is really easy by the way. Then I took the light outside and hung it up under our deck.
How to Paint a Light Fixture
1.  Turn the electricity off!  I mean this….be sure to TURN off breakers that work this light….not just the light switch on the wall.
2.  Remove the light bulbs and unscrew and remove any glass globes that cover the light bulbs.
3.  Unscrew the base of the light fixture from the ceiling.
4.  Unscrew the caps that hold the wires together.  Wires are connected black to black, white to white, , and a copper ground wire. (I took a picture of how it was before so I wouldn't forget how to connect them back.)    I needed help in this step.  It was hard to unscrew and hold the fixture in place so it didn't crash to the ground.
5.  Wipe down the fixture completely to remove any dust.
6.  Hang the fixture outside from an accessible area or tree.  I have a high deck so that worked for me with a hook and rope.
7.  Start spraying! As I mentioned above,  I used Rust-oleum Satin Paint and Primer in One in Espresso Brown. Be sure to turn the light fixture while your painting or walk around it.  There are lots of little nooks and crannies you don't want to miss.   Let the first coat dry completely and then spray another coat the same way.   I even went over mine a 3rd time very lightly on spots I still noticed.
8.  Allow your fixture to dry for several hours.  You don't want little finger prints to show up when you bring it back inside.
9.  Have someone help you hold it up in place and reconnect your wired EXACTLY as they were.  Again, BE SURE your circuit breaker is OFF.  DO NOT touch electric wiring.
10.  Reattach your Glass Globes if you had them and put your light bulbs back in and ENJOY your extremely cheap like-new light fixture.
AFTER