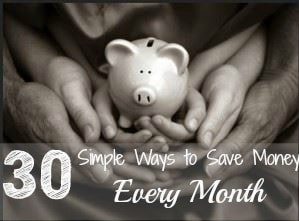 How to Save Money Every Month
If you are looking for how to save money every month, below are 30 simple ways that I personally use.

You will be amazed at how easy these are to start. Challenge yourself and add up your savings each month! You will feel so great knowing you have taken the steps to save where you can.
1. Use coupons..and during a sale to save the most!
2. Plan your meals by the Weekly Grocery Store Sales Ad.
3. Buy Generic – when you can't get it cheaper during a sale.
4. Cut down and/or negotiate your Cable, Phone and Internet.
5. Analyze your Car and Home Insurance Rates – Shop for new rates each year.
6. Shop at more than one store for the best deals.
7. Subscribe to the Sunday paper for the best coupons.
8. Sell unwanted clothes and other unwanted items on Craigslist and Ebay.
9. Make your own cleaning supplies. White Vinegar can become your best friend!
10. Put all your spare change in a savings jar every day.
11. Cook at home every day.
12. Make a grocery list ….and stick to it.
13. Use your own Water Bottle. You can get a nice Stainless Steel water bottle for just $2 plus shipping (reg $12.99)
14. Take/Eat your Leftovers for Lunch.
15. Drive older (paid for) cars and be sure to do your regular maintenance.
16. Use Ebates when you Shop Online and get Cash Back.
17. Make your coffee at home! Amazing how this one can add up.
18. Borrow Books from the library or get FREE eBooks from Amazon.
19. Exercise at Home
20. Buy / Shop for items you need on Craigslist and Ebay.
21. Buy Gifts using Daily Deal Sites big Discounts all year long.
22. Grow your own Veggies.
23. DO NOT carry a balance on a credit card! (Call and ask for a rate reduction if you have a balance).
24. Avoid all Banking Fees. CapitalOne 360 is the best for this PLUS you get $50 when you open your checking account.
25. Do-it-yourself as much as possible. It's so much fun to learn!
26. Do not have credit cards with Annual Fees.
27. Do not make impulse purchases.
28. Earn a little extra taking online surveys in your free time.
29. Pay bills on time to avoid late fees.
30. Have a goal, WANT to save and be very content!
The easy part is finding these ways to how to save money every month, the hard part is just getting started.