Learn how to start using essential oils and where to buy them. There are so many great uses for wonderful natural alternatives. They will change your life! Don't miss the fabulous March Sale on Starter Kits below!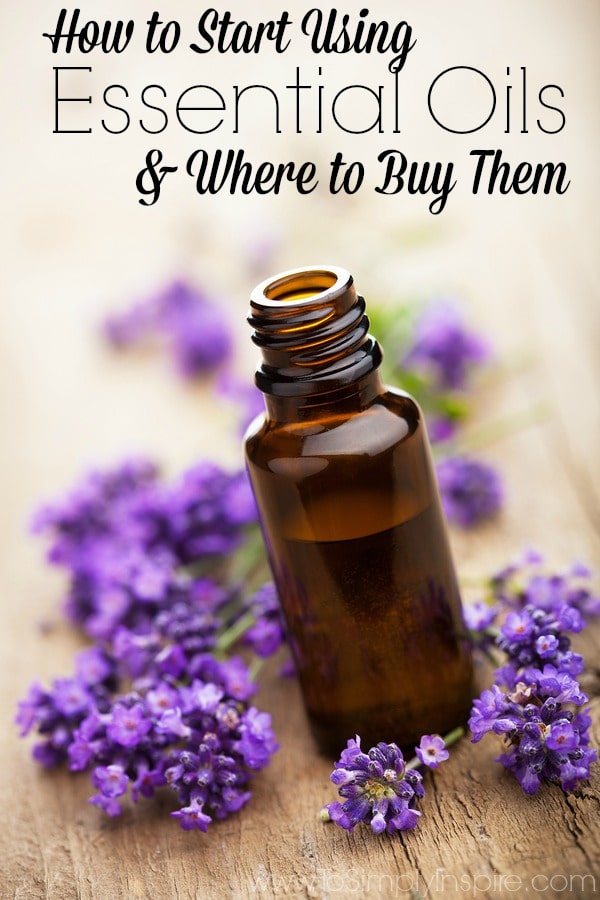 Over the past few years I have changed a lot of my thinking towards my health and my family's health. I'm the first to admit that I had not always made the best choices when it came to the foods we ate and the products I bought.
But it's never too late to make changes, right?! We all learn new things and can apply that knowledge at any time. I have decided I want a healthier life, a less stressful life, and more!
I first started by transitioning to clean eating and the incredible benefits of eating food it's most natural state. Then I also started paying closer the ingredients in other household items to and began to make more of our own natural cleaners to eliminate as many yucky synthetic chemicals as I can.
In doing tons and tons of research about making my new cleaners, I kept seeing the benefits of using pure essential oils not only in the cleaners but in so many other areas of our life daily! I just knew that it was time for me to learn how to start using essential oils!
Several months ago, one of my best friends introduced me to Young Living essential oils and all the amazing ways she and her family were benefiting from using them. I was a complete novice! I had no earthly idea that there were SO many benefits!
I am so happy to be on this journey to being even more healthy!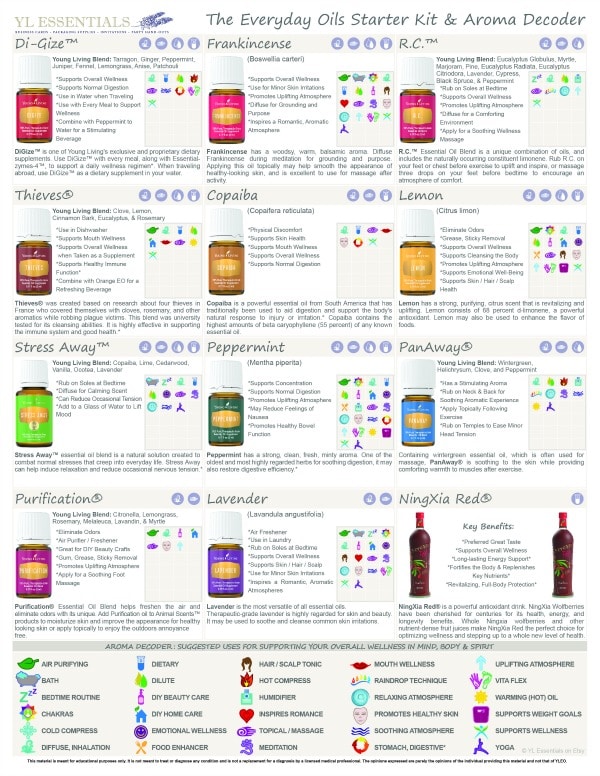 When using essential oils in any way, you want to make sure they are a therapeutic grade and that they NEVER say it is for "external use only" or "do not ingest". (Key warning words that we have no idea how they are made.) It's so common for many brands to claim they are pure but they truly have very little of the actual essential oil in them (some as little as 5-10%)
What makes Young Living stand out from other companies?
They have their own farms that use absolutely NO pesticides
They are actually involved in the cultivating of the seeds. They plant and weed by hand. Just like we would in our own yards.
They own their own equipment to harvest and extract the oil.
They have a "Seed to Seal" motto. I am so impressed with a company that holds themselves to such high standards.
All that I have learned about Young Living solidified that I wanted to only use their products as I journey into using them more and more.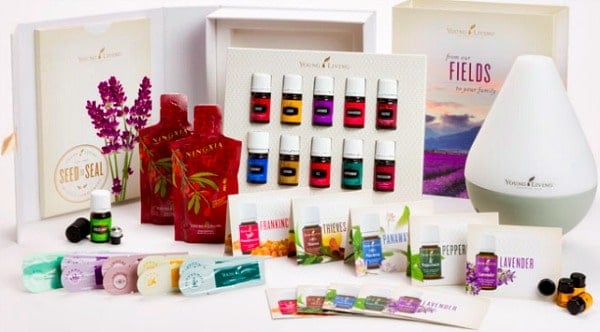 In ordering my first essential oils from Young Living, I was excited that I could just sign up and get a member discount (24%!) and not have to sell anything to anyone. All I have to do to keep getting that discount on all my orders is to buy $50 worth of products each year.
I bought the Premium Starter Kit (pictured above) because it was such a fantastic value! It includes 11 everyday essential oils! Lavender, Peppermint, Lemon, Panaway, Purification, Thieves, Frankincense, Copaiba, RC, Digize and StressAway plus a home diffuser (that is regularly priced at $98 just by itself), and several other goodies pictured above. (Total retail value of this kit is over $300!)
Because I really love these oils and I think you will too, when you sign up here at To Simply Inspire and order your own Premium Starter kit I will be giving you a free $15 Amazon Gift Card to use toward anything you may need or want to compliment your oils like mason jars for candles and lotions, Empty Roll on Bottles, Bottle with Atomizer, shea butter, beeswax, soy wax, and more.
To get your free $15 Amazon Gift Card, simply follow these instructions below.
1. Head over to the Young Living page here and click the blue "Continue" button on the bottom right of the page. Then click "Continue" on the pop up to confirm me as your enroller.

Be sure the "Member" option is checked so that you save 24% off all your oils instead of paying retail prices each time you order. there is absolutely no obligation to sell anything when you become a wholesale member. (You can if you would like to, but it is definitely not a requirement, and most people become wholesale members just to get the fantastic 24% discount on their oils.)

Be sure the "sponsor ID" and "enroller id" say 3401144. (So I can send you your freebies!)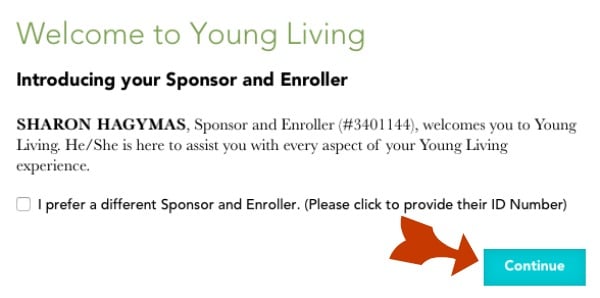 2. On the next page on Step One, you will select your Premium Starter Kit and diffuser. I highly recommend the Premium Kits with the Dewdrop Diffuser for $160 since you get the 11 everyday essential oils and all the other goodies I mentioned above.

3. You can skip Step 2 for now if you'd like or you can go ahead and sign up for the Essential Rewards program that allows you to earn free oils by earning points on products you will be ordering plus save on shipping when you choose to receive auto shipments. But you DO NOT have to do this.
4. At Step 3, you can add more oils, products or another starter kit for a gift to your order. Or click "NEXT" to go to the next page. Be sure to check out the Monthly freebies with minimum PV order you can get at the bottom of this post.

5. Enter your name and other information.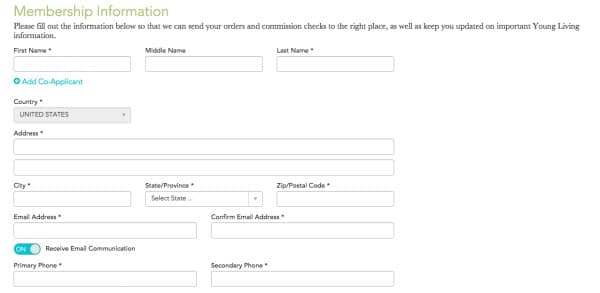 You will then create a 4-digit PIN number that is simply used for customer service to access your account if you ever needed to call them. Just create one that you can easily remember.

6. Check Individual for Commission Processing. If you decide you would ever refer Yound Living products to your friends and family and receive a commission, you can provide your social security number. If you ever make over $600 in commissions, you would then receive a 1099 tax form.

6. Click "Continue" at the bottom right of the page.

7. Checkout and get ready to have so much fun starting to use your essential oils!
8. After you have completed your checkout, FILL OUT THIS FORM to let me know that you signed up through this promotion so that I can send out your freebie!
Your freebie will be sent within 30 days after you have ordered your premium kit. You must be enrolled under me (member ID# 3401144) to qualify for the freebie.
Do you have a favorite essential oil?
*Disclaimer: These statements have not been evaluated by the Food and Drug Administration. This information is not intended to diagnose, treat, cure or prevent any disease. The information on this site is not intended or implied to be a substitute for professional medical advice, diagnosis or treatment. Please confirm any information obtained from or through this web site with other sources, and review all information regarding any medical condition or treatment with your physician. Never disregard professional medical advice or delay seeking medical treatment because of something you have read on this website.