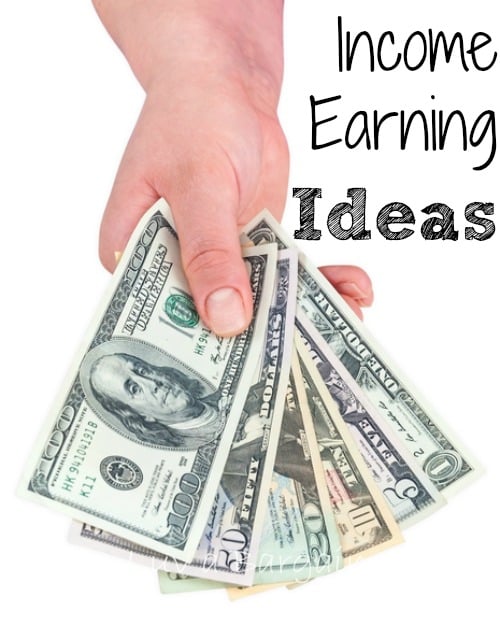 There are several ways to earn a little extra money that you may not have thought about. I'm a firm believer that any amount of extra cash is worth it and can help out in so many ways, especially in paying down debt or even to have extra fun money without the guilt.
Here are a few ideas that I have used over the years to help me extra money to be able to stay home with my children and .
1. Start a blog– I now make an income of over $2,000 a month from my blog and you can too.
Start you own blog with these 3 simple steps and tutorial
2. Earn Money by Shopping Online – Earn a percentage in cash back when you do your regular online shopping through companies like Ebates..  This simple free resource will really adds up!
You can sign up for Ebates here
3. Take Surveys – While I know we won't get rich taking surveys, you can definitely earn a little extra fun money and gift cards.
You can sign up with these free survey companies
4. Searching the Internet – Swagbucks is a great search engine resource where you earn points to redeem for gift cards and more.  I paid for most of my Holiday shopping with Amazon gift cards I have earned through Swagbacks.
 You can sign up for SwagBucks here
5. Amazon's Trade-In Program – This fabulous program let's you trade in books, textbooks, electronics, DVD's, video games, consoles, and more for an Amazon Gift Cards.
6. Cut your grocery budget – My favorite thing I used to tell my husband was that I made us "X" amount of money based on what I "saved" at the grocery store each week.
Learn how to get started cutting your grocery budget here
7. Sell stuff on Craigslist and Ebay
8.Collect all your spare change in a jar. – My kids love to help with this one.  I usually save over $100 a year and cash mine in for Holiday Shopping.
9. Have a garage sale