I mentioned the other day that I had been a very busy girl with a BIG project in my kitchen and dining area. I am so happy to share it with you now that I finished on Thursday. I have seen board and batten trim all over Pinterest and had pinned several pictures over the past year.
This is the last room in my house that had the original wood trim.  I could not be more excited about how this board and batten trim turned out.  BIG squeal!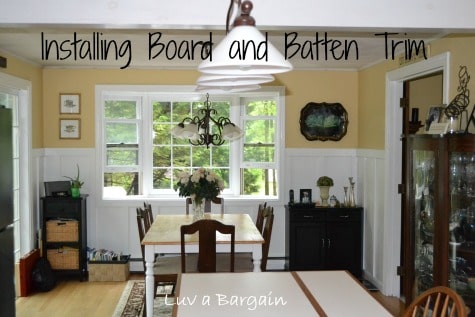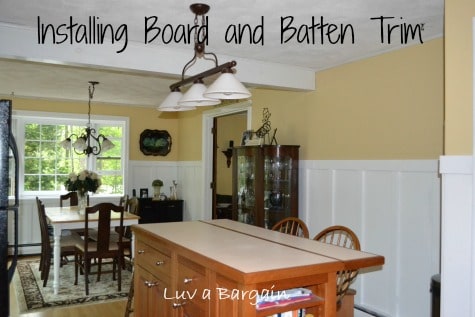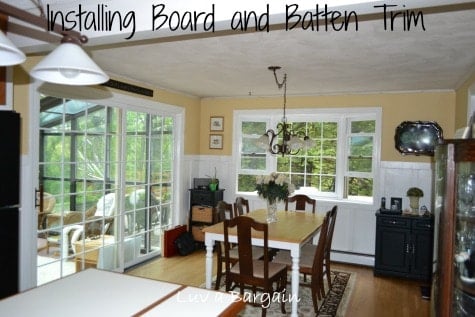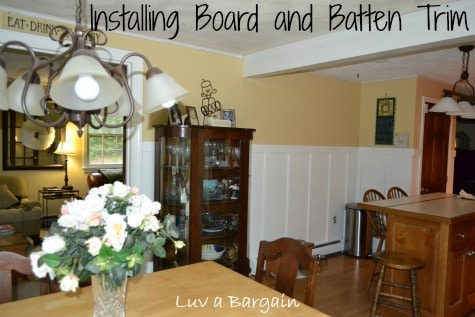 First, I painted the upper part of the wall with the Desert Tan from Benjamin Moore. (I used this in my living room so I had just enough to use for this project.) I started on Sunday afternoon with prepping and taking off the old chair railing and heading to Home Depot with my list of supplies.
Then, I painted the lower walls with my Hi Gloss Decorator White. This is the same paint I used on all of my trim in my house so I wanted it to match.
Then, I primed the wood trim around the big window and the sliding glass doors with 2 coats of primer. I took the pickets off and spray primed them outside.
I used 1 x 4 MDF primed boards as the horizontal board and 1 x 3 MDF primed boards as my vertical boards. I had them cut at Home Depot to 48 inches each. They came 8 feet long so I just had them cut them in half ( be sure they measure the boards if you have them cut for you. They were actually a little longer than 8 ft so I just made sure they were exactly in half.)
I installed the horizontal boards first by holding up a vertical board along each wall and then used my level to make sure every thing was even all the way around the room. I am a big measure-er. 🙂 I used my jigsaw to cut the horizontal boards and the shorter boards that went under the window.
I used 2 inch nails drywall nails to hang all the boards.
I spaced my horizontal boards 12 inches apart. This was another part I measured a lot. I wanted to make sure they would all line up right before I started nailing. But it worked out really great. I have a couple of small corner walls that I didn't worry about the 12 inch rule. I just centered a vertical board on those walls.
Next I caulked ALL them seams of each board. Anywhere there was ANY gap I caulked it. I am in love with caulk!! It makes any unfinished looking job look completely awesome! I ran a line of caulk and then took an old damp t-shirt and ran my finger down the line of caulk to smooth it out.
Next was to finish the painting of these board and batten trim. I used the same white trim paint.
I am going to eventually replace the very small crown molding that was here when we moved in as well. It's in need of a nice thicker piece of molding. The next little project for me.