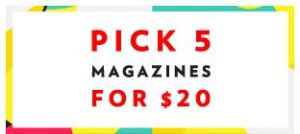 DiscountMags is having a great Magazine Subscription Sale where you can choose (5) One Year Subscriptions for just $20…just $4 per year!
There are over 100 Titles to choose from!
Weight Watchers
Shape
Men's Fitness
Women's Health
Natural Health
Runner's World
Yoga Journal
Running Times
Spirituality & Health
Flex
Life Extension
Arthritis Today
Maxim
GQ
Glamour
Self
Elle
Cosmopolitan
Lucky
Esquire
Marie Claire
Allure
Seventeen
Harper's Bazaar
Details
Nylon
Ebony
Complex
Jet
Bon Appetit
Saveur
Architectural Digest
Good Housekeeping
Elle Decor
Dwell
Old House Journal
Log Home Living
Timber Home Living
New York Spaces
California Home & Design
At Home In Fairfield County
Photography
Popular Photography
Outdoor Photographer
Digital Photo
American Photo
AND MANY MORE…..