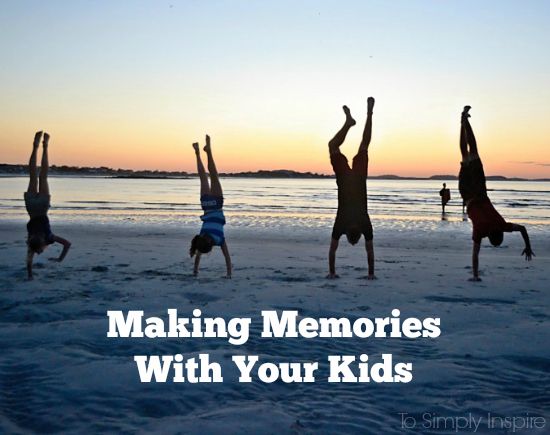 Think back to your childhood for a minute.  What are some of your favorite memories as a kid?
Most of my favorite memories involve doing some of the simplest, un-extravagant things, like fishing in the river down the street from our house, making homemade ice cream at my Grandparents house, having our Friday pizza and game night.  I could go on and on.
One of the key elements of my memories as a kid was family time.  And because we didn't have a lot of extra money, most of my memories were free or very frugally done.
Like many of you, I want more than anything to create memories of our time spent together over the "things" they have gotten or "places" they have been. But I want them to remember that we gave them our time over all of those material things.  I want my kids to appreciate the simplest, un-extravagant things so much more.
There is no better time than right now to start making some more memories with your children.  Ones they will look back to later in life when they are asked the same question as I asked you, "What are some of your favorite memories as a kid?"
Here are a few fun memories that you can make with your kids:
Have a family game and pizza night – Pick a night to play a card game or a board game with your children.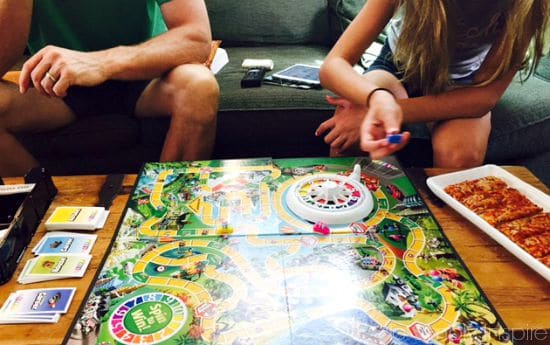 Lie together at bedtime and tell stories – I think there is no better time for things to get shared than the quiet moments of bedtime.  It's a great time to talk about not only what is happening in life right now but also stories from your own childhood.  My husband is the greatest storyteller!  My daughter still loves for him to lie with her and make up funny stories.
Go camping and exploring the outdoors – Camping and hiking and exploring the outdoors is so incredibly peaceful.  It's kind of like stories at bedtime.  Leave the electronics behind.  So many great talks and sharing can happen when you are sitting around a campfire or hiking the trails.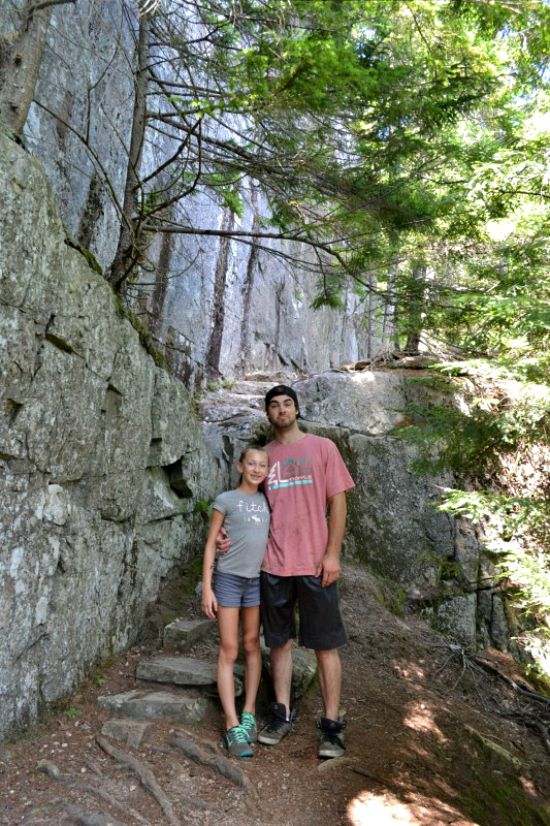 Get outside and play – Ride your bikes, play basketball, go for a walk, swing, or play other fun outdoor games.  After dinner is a perfect time to fit in some silliness outside if even for just 20 or 30 minutes.
Have a campfire in your backyard… with marshmallows! – If you can't fit in a camping weekend, you can still create a memory of backyard campfires.  Roasted marshmallows and s'mores make everything wonderful!
Cook together – Pick a night to have each of your kids help you make dinner.  Or pick a day to make a dessert together.  I have many fond memories of being in the kitchen, learning and chatting with my mother (and my grandmother).
Create annual memory books for each child – Make a special photo book for your child of the past year and give it to them on their birthday or at Christmas.  Fill it with fun picture memories of things that have happened throughout that year.  These books are truly cherished for years and years!
Volunteer as a family – There is nothing more special than volunteering as a family to help someone less fortunate than yourselves.  Find a soup kitchen in your area and serve the hungry, contact Meals on Wheels and offer to help, volunteer at a homeless shelter, visit residents at a retirement home or assisting a toy drive.  There are many ways to help in your community and start a tradition that your children would likely carry on in their futures.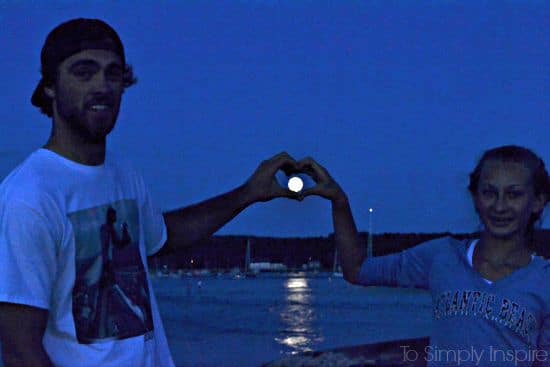 What are some of your favorite ways of making memories with your kids?
This is a sponsored post written by me on behalf of Ellio's Pizza for IZEA. All opinions are 100% mine.