To make sure your blog is running optimally, there are several Must Have Plugins for Your Wordpress Blog that are essential to install to enhance your website.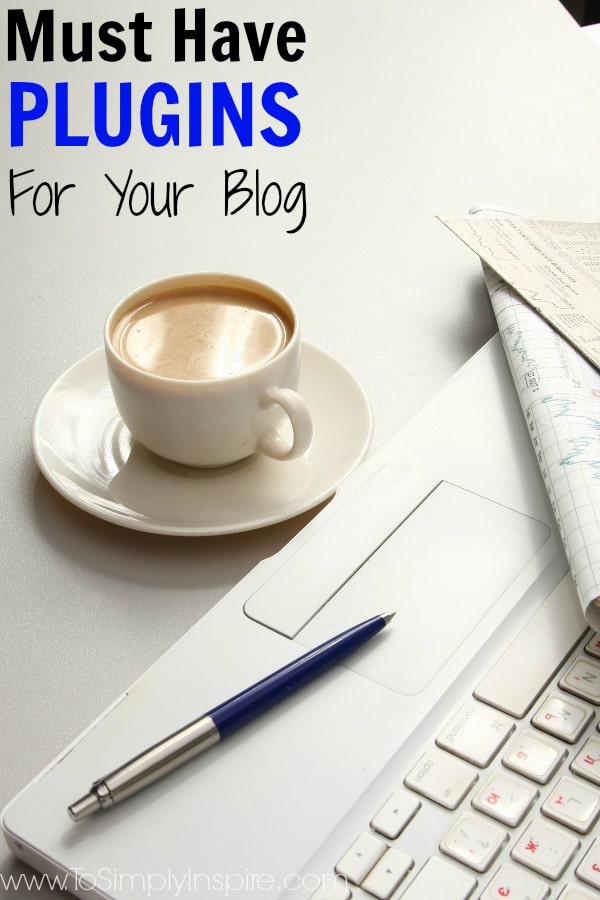 You may be a long time blog owner like me or you may have just taken the leap and started your own blog!  If, so I am so excited for you!  Either way you need to make sure your "baby" is running optimally by installing a few "must have plugins".
If you don't know what plugins are, they are additional software that you upload to your wordpress blog.  Some are essential to helping your blog run better and some just help your blog be more efficient.

You can find all plugins on the left side of your WordPress dashboard under "Plugins".   After clicking on the word Plugins, you will be taken to the plugin page where you will see what plugins are installed and activated on your blog.  You can keep them updated from this page as well.
Most plugins are free to install.  Click on the little "Add New" button near the top of the page.  You can view categories of Featured, Popular, Recommended, and Favorites.
Below are my recommended list of MUST HAVE PLUGINS for your wordpress blog.
Akismet – Filters out those pesky spam comments. – You will be amazed how many this catches! If any sneak through, just hit that spam button to delete them.
W3 Total Cache – Dramatically improve the speed and user experience of your site.
Yoast SEO – Improve your WordPress SEO: Write better content and have a fully optimized WordPress site. – Keywords are essential to help search engines find you and this helps tremendously!
SumoMe – Free Tools share your posts on social media and to grow help your email list.
Comment Reply Notification – When a reply is made to a comment the user has left on the blog, an e-mail shall be sent to the user to notify him of the reply.  – You always want to me sure a commenter knows you  have responded and not have to come back to your blog to find out.
Contact Form 7 – Great to place on your About page. Simple but flexible.
WP Recipe Maker  – Makes it easy to enter, format and print recipes, as well as automagically doing the geeky stuff needed for Google's Recipe View. –  I use this for all my recipes. I do have the premium version which allows you to show nutritional information for the recipes. (which Google prefers)
Genesis Simple Hooks – This plugin creates a new Genesis settings page that allows you to insert code (HTML, Shortcodes, and PHP), and attach it to any of the 50+ action hooks.   – I use this to mostly input code that needs to be before the </head>.
WP Database Backup – helps you to create Database Backup and Restore Database Backup easily on single click. Manual or automated backup.
WordPress Ping Optimizer – Save your WordPress blog from getting tagged as ping spammer. This plugin is a fork of the cbnet Ping Optimizer plugin.
WP Smush– Reduce image file sizes, improve performance and boost your SEO.
Google XML Sitemaps – This plugin will generate a special XML sitemap which will help search engines to better index your blog.