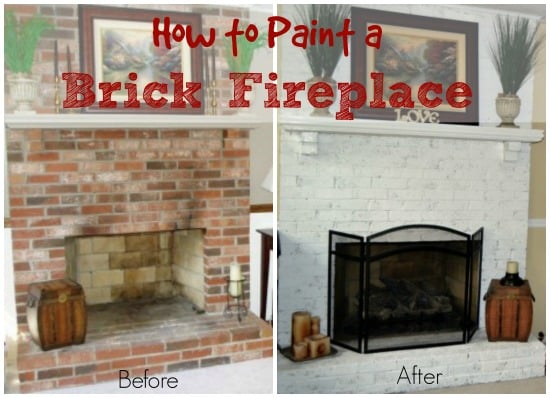 When we moved into our house in 2005, we began our adventures in updating.  As I have mentioned in the past, our house was built in 1978 and while I can appreciate the 70's, I prefer a bright decor vs dark.
Another easy update we did to brighten our small den was to paint the brick fireplace white.   This is probably one of the easiest, quickest projects I have done to our house that has had one of the biggest impacts.
The room went from dull and drab to bright and inviting in just a couple of hours!
I wanted to go for a little bit of an antiqued look so I didn't "completely" cover the bricks with the thickest of coats. You can add another coat if you want it to have no signs of red showing through. I like the the contrast I got.  You can even put a really light coat on for an even more antique look.
Supplies:
White High Gloss Latex Paint
Paint Roller for textured surfaces
Paint brush
FYI – Do not paint the inside of the fireplace with latex paint. You would need to use a heat resistant paint. I didn't even paint the inside box since we have installed gas logs.
First, I wiped down the bricks with a vinegar and water mixture (50/50 ratio) and let it dry completely.
Then, I simply rolled the paint on the entire brick surface. I used the brush to paint the white "grouted" lines and the sides and along the floor.
VOILA!!   Easy and cheap update!  Do you have a project planned for this weekend?