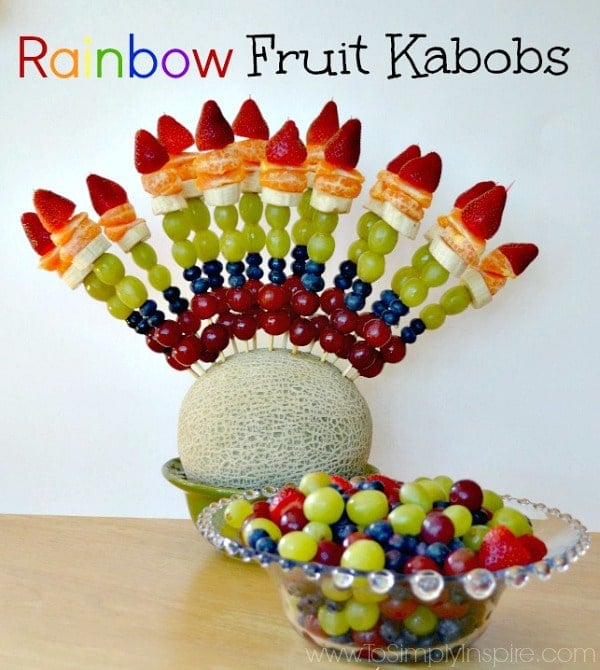 Are you looking for ways to get your kids to eat more fruit?   In my house, I am always amazed at how fast fruit gets devoured if I put it out front and center.  It's like the snack cabinet doesn't exist and I love it!
These fun Rainbow Fruit Kabobs are so easy to make for any occasion.  With St. Patty's Day coming up, they are perfect to make for kids' parties.  But you can make them for party (birthday, baby shower, cookouts) or play date.
My daughter loves helping me put them together.  She memorized the order of the colors of the rainbow at a young age. 🙂  "ROY-G-BIV"  Did anyone else learn that as a kid?   "Red, Orange, Yellow, Green, Blue, Indigo, Violet.
Simply choose your fruit:
RED – Strawberries, Raspberries or Watermelon
ORANGE – Orange or Canteloupe
YELLOW – Bananas or Pineapple
GREEN – Green Grapes, Kiwi or Honeydew Melon
BLUE – Blueberries or Blackberries (they look kind of blue)
PURPLE – Purple grapes
Then, layer them on a wooded skewer in reverse order. Starting with the purple grapes first and working your way down to Red, so it's on top.
I push the skewers down into a cantaloupe to hold them in the shape of a rainbow as well.  Place the cantaloupe in a  bowl so it doesn't roll.  You don't have to do this but can lay them on a plate instead.  If you have bringing it to a party, I would do this because it makes a really cute centerpiece.
Put any extra fruit in a bowl next to your fruit kabobs.   🙂