Thanksgiving is not very far off – enhance your homeschooling adventures or your afterschool teachings with these adorable Thanksgiving themed worksheets.
These Thanksgiving Printables will help your preschool and kindergarten aged children work on recognizing patterns, letters, and sequences.  Plus, they are in an adorable Thanksgiving theme.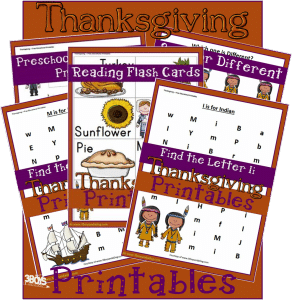 M is for Mayflower – Find the letter M's in this adorable Mayflower themed printable worksheet.
Preschool Handwriting Practice – Squiggles, straight lines, and points – this Thanksgiving themed sheet can help your young child work on motor skills, matching, and pencil skills
Reading Flash Cards – you can use these Thanksgiving themed printable flash cards in many ways from reading practice to printing double and using them to play a matching game.
Same or Different? – Can your youngster find the different item?  Some of these could be a bit hard like can they spot the difference in the boy Indian and the girl Indian?
I is for Indian – Can your child find all the I's amongst other straight letters like L and T?  Use a do a dot printer, a bingo dobber, a shaped stamper, or just a crayon to draw a circle.  These are fun!
Hopefully, these free Thanksgiving Printables will help you plan your Thanksgiving Unit Study.  I hope you find these homeschooling freebies useful for you in your homeschool classes!
More FREE Thanksgiving Printables Resources: