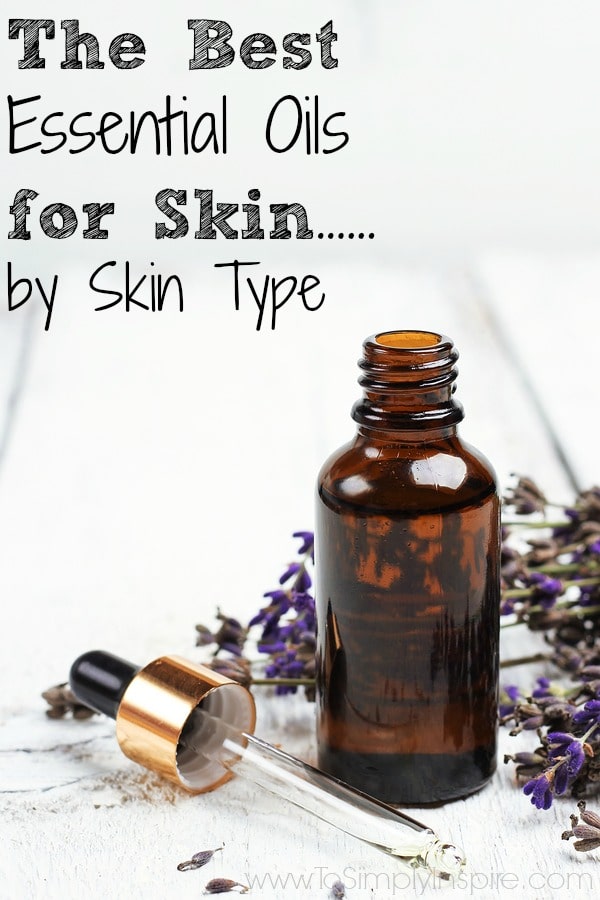 One of the biggest questions I had when I started using essential oils was "What are the best essential oils for skin?"
Finding the right ones depends on your skin type as well. I have dry, eczema prone skin myself. And I also have that other thing going on. The wonderful "aging" skin. More wrinkles than I want to see.
So I set off to find as much information on which essential oils would be best to use to create lotions, moisturizers and wrinkle serum for me to create.
Using high quality, 100% pure essential oils on your skin can be amazing for your skin. Mix about 15 drops of essential oils per each tablespoon of carrier oil.  You can also mix the carrier oils as well like I do in this DIY anti aging serum.
For a deep, moisturizing body lotion (not facial moisturizer), cocoa butter or shea butter are a good carrier base to mix your oils in.
Below are the best essential oils for skin sorted by skin type:
FOR AGING SKIN
Rose Hip Oil, jojoba oil, Meadowfoam Seed Oil, argan oil are the best carrier oils to use on aging skin.
Carrot Seed
Clary Sage
Cypress
Frankincense
Geranium
Lavender
Myrrh
Neroli
Patchouli
Sandalwood
Ylang Ylang
FOR DRY SKIN
If your skin tends to be dry, jojoba oil or Meadowfoam Seed Oil and Sweet Almond Oil are nice carrier oils to mix in your essential oils.
Cedarwood
Clary Sage
Geranium
Lavender
Myrrh
Neroli
Patchouli
Roman Chamomile
Rose
Sandalwood
Ylang Ylang
FOR OILY SKIN:
Rose Hip Oil is a good carrier oil for oily skin as it is a dry oil.  Mix it with with a little jojoba oil if you find it too dry. The oils listed below help regulate the oil production in your skin.
Bergamot
Clary Sage
Cypress
Frankinscense
Geranium
Lemon
Neroli
Orange
Rosemary
Tea Tree
Ylang Ylang
FOR SENSITIVE:

Geranium
Jasmine
Lavender
FOR ACNE AND BLEMISHES:
Add any of the following oils to your moisturizer to help prevent breakouts.  They can also be applied directly to blemishes as a spot treatment.
Geranium
Lavender
Patchouli
Tangerine
Tea Tree
Ylang Ylang
ORDER YOUR YOUNG LIVING PREMIUM STARTER KIT and receive a FREE $15 AMAZON GIFT CARD!  .