Make this healthy Strawberry Blueberry Banana Smoothie for a fabulous breakfast or snack.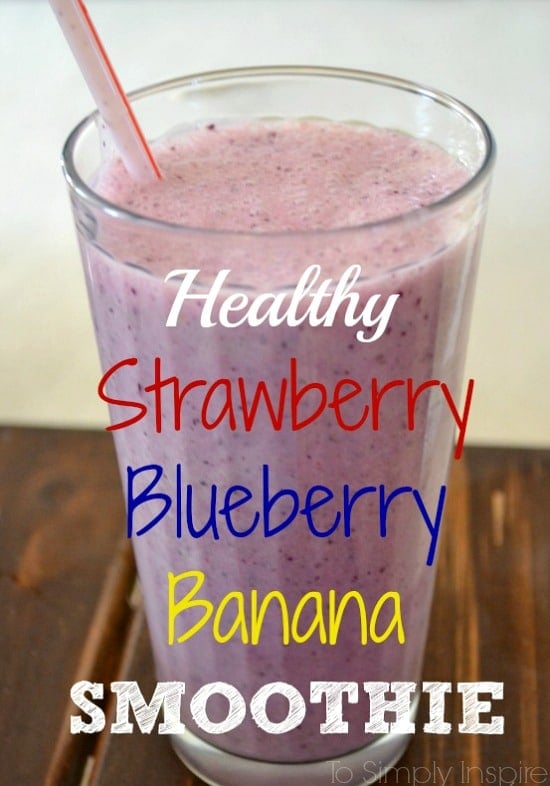 Strawberry Blueberry Banana Smoothie
Another one of my favorite go-to breakfast or afternoon snacks is a healthy strawberry blueberry banana smoothie. These with a few Maple Cinnamon Roasted Chickpeas…yum yum.
My kids absolutely love them too and I love getting in more fruits for them this easy way.
I keep a bag of frozen blueberries and strawberries in my freezer always. Bananas freeze easily too if you have some that are getting too ripe. Just put them in a freezer bag with or without the peel still on. The peel will turn extra brown when frozen but that is completely okay.  Just take them out when ready to use.
Using frozen fruit makes so you don't need to add any additional ice. Which is my personal preference.
Strawberry Blueberry Banana Smoothie Ingredients
Enough for 1 smoothie.   I typically always double this to make 2 smoothies.  🙂
1/2 cup of Skim Milk
1/4 cup of non-fat plain yogurt (Greek or Regular)
1/4 cup of frozen blueberries
5 frozen strawberries
1 Banana
How to Make a Strawberry Blueberry Banana Smoothie
1. Add milk and yogurt to the blender. I do this first because it blends the frozen fruit easier.
2. Add banana, strawberries and blueberries.
3. Blend for 60 seconds or until blended to desired consistency.

 Try these other healthy snack ideas too: