Easily make your own homemade soy candles using just 2 simple ingredients – soy wax flakes and the essential oil of your choice.  Enjoy 50% longer burning with soy candles and less toxins in the air.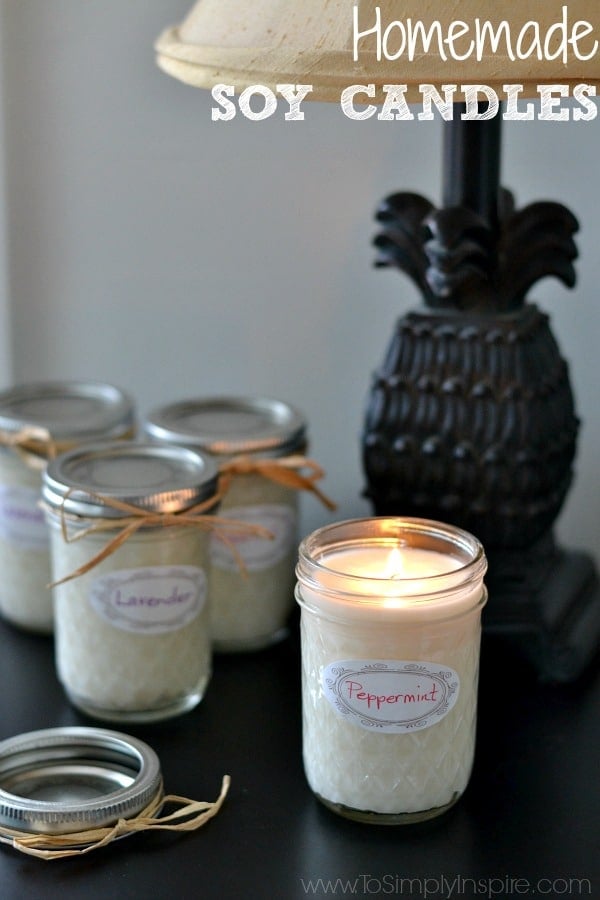 As I mentioned last weekend, now that I have my wonderful essential oil starter kit I am so excited to start putting them to great uses making some fun new things.  These starter kits make such wonderful gifts if you need an idea for someone.
I have been wanting to make my own candles for so, so long and I finally got up the courage to give it a whirl.  I have no idea why I was so intimidated. It is really a simple process!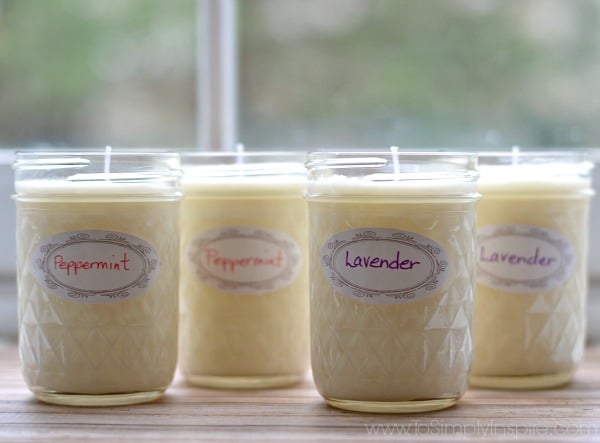 After doing research, I decided to make soy candles because they are burn so much cleaner burning and does not emit carbon dioxide into the air. I also order low smoke Natural Candle Wicks to lessen the chemicals emitted even more. No soot is good!
Another great benefit of soy candles is they burn 50% longer than regular paraffin candles! Cleaner and longer…..I'm in!
Paraffin candles release a petro-carbon soot that stains your walls, furniture and is circulated through your air ducts. This soot, according to the American Lung Association, contains 11 documented toxins, 2 of which are known carcinogens — toluene and benzene.  Source
I also thought I needed a special wax melting pot or something. But all you really need is a microwave and a glass measuring cup. Or you can also create your own double boiler with just a large sauce pan and the glass measuring up to put in it.
I actually set up both ways to test which was easiest. The microwave method is definitely faster but they both work perfectly to melt the soy wax flakes.
After melting the wax, simply add about 10 drops of the essential oil of your choice. We choose peppermint for the Holidays and lavender to relax to.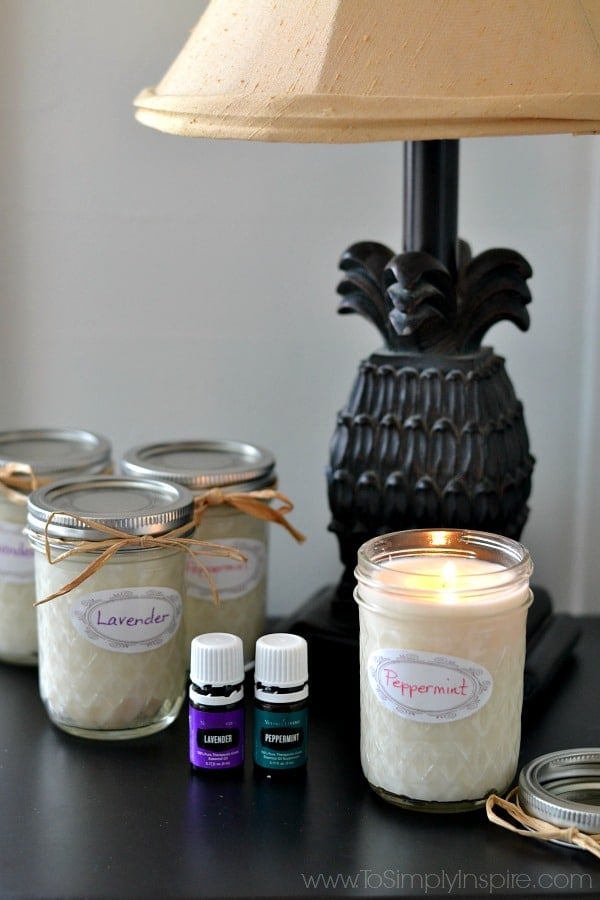 SUPPLIES NEEDED FOR SOY CANDLES
Essential oils of your choice
Clothes pins
Large sauce pan (if not using a microwave)
HOW TO MAKE SOY CANDLES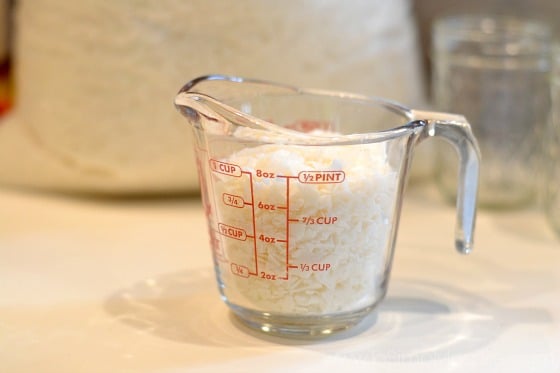 Place 1 cup of soy flakes the glass measuring cup and microwave for 30 seconds.  Then stir and repeat at 30 second intervals until it is completely melted and in liquid form.  Keep adding in flakes as it is melting down. Approx. 7 cups of soy flakes make 4 – 8 oz mason jar candles.
You can use a larger glass measuring cup if you have one as well.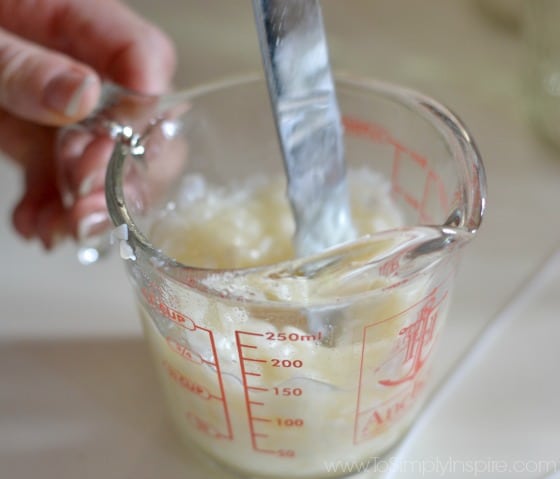 (If you are not using a microwave, place a glass measuring cup in a large sauce pan filled half way with water.  Turn the heat on medium and add soy flakes to the measuring cup to melt)
Continue to add more flakes as it will be melting down as you heat it.
For each full cup of melted wax, add 10 drops of the essential oils of your choice.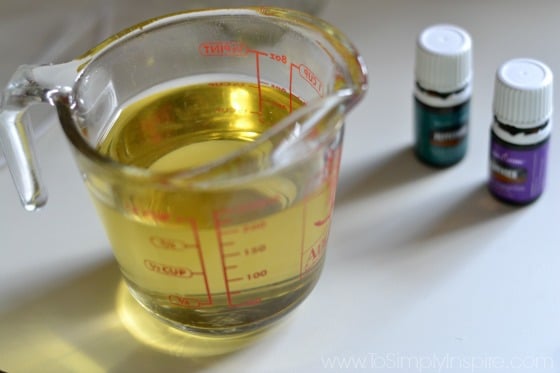 Dip the end of a wick into the melted wax and place into the bottom of the mason jar.  You can also apply hot glue to the end of the wick and glue it into the mason jar.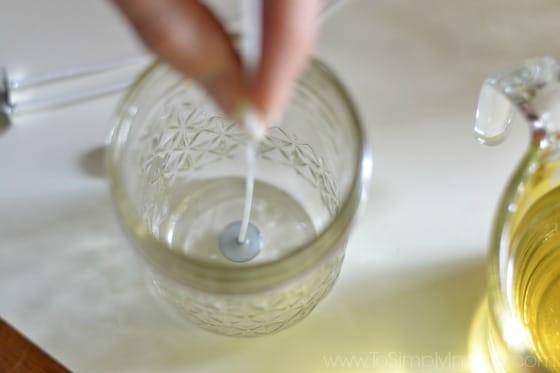 Place a clothes pin onto the end of the wick so that it hold it in place.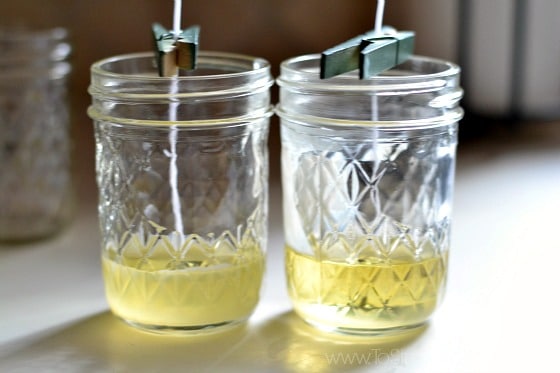 Pour wax into each mason jar about 1/4 of the way full.  Let sit for about 5 minutes and then fill the rest of the way up.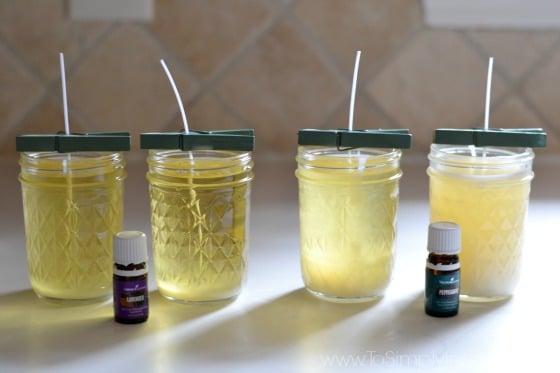 Let sit for at least 4 hours before using.
Trim the wick to about 1 inch.
Pat yourself on the back and ENJOY your new candles!!!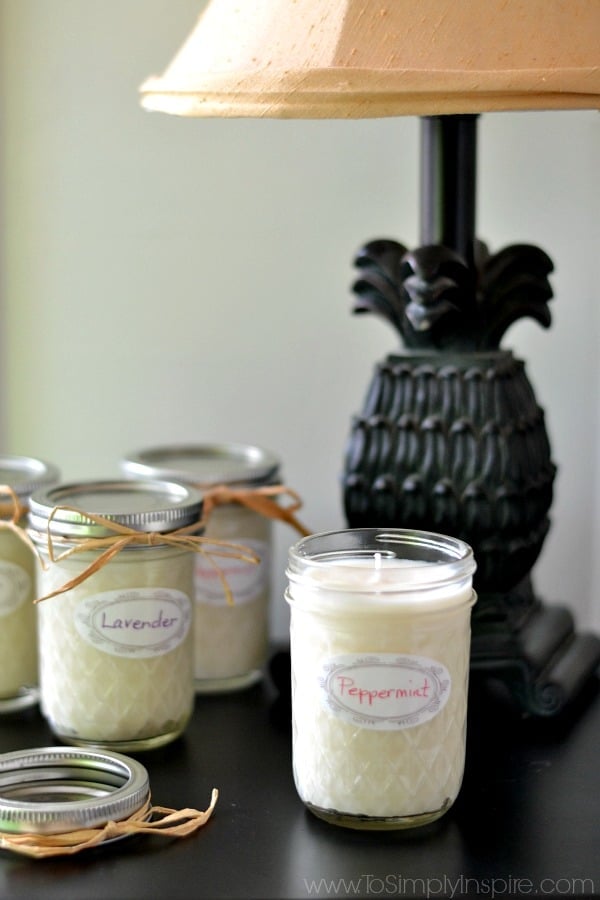 If you are interested, the Young Living Premium Starter Kit I have includes 11 of the most popular essential oils as well as a diffuser and several other goodies for $160.00. The oils included are Lavender, Peppermint, Lemon, Panaway, Purification, Thieves, Frankincense, Copaiba, RC, Digize and StressAway.