This is a sponsored post written by me on behalf of SmileDirectClub. All opinions are 100% mine.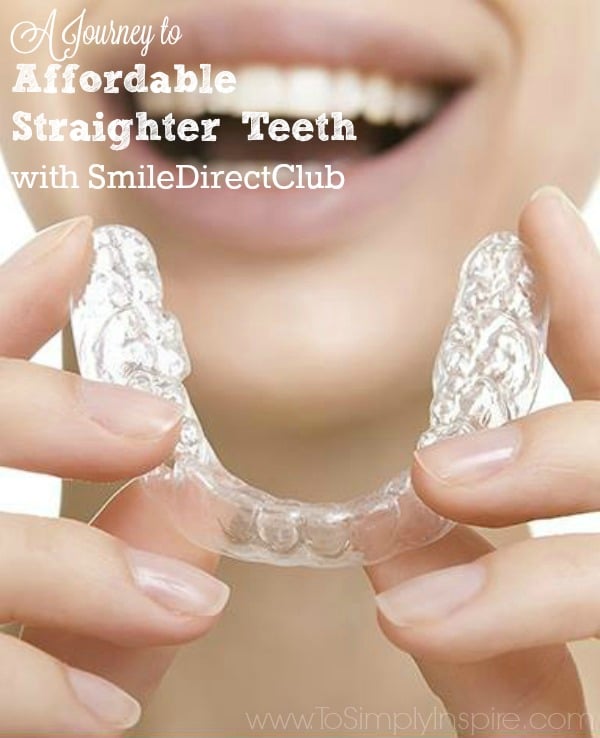 Do you have the smile you want? Or are you like me and think about it pretty much every time you take a picture or look at a picture with you in it.
When I was growing up, my single mother did not have the means to be able to get us braces. I certainly needed them too. When my front permanent teeth were coming in I thought I looked like a vampire because my top second incisors were way high up in my gums. Thankfully, they did settle down a bit as I grew older but I have never been happy with how they looked and I certainly have never been happy with my smile.
Fast forward a few decades and 2 kids later (ones that were fortunate enough to have been able to get braces) and enter the wonderful SmileDirectClub that I recently learned about.
SmileDirectClub is the first digital brand for your smile, leveraging technology to help you avoid office visits and cut the costs of straightening your teeth by up to 70%, which is what caught my eye right from the start.
They provide high-quality, BPA-free plastic invisible aligners made for mild to moderate alignment situations for those age 12 and older. They are even a great solution for those who have even had braces before but didn't wear their retainer as directed. (cough cough – my husband and my son!)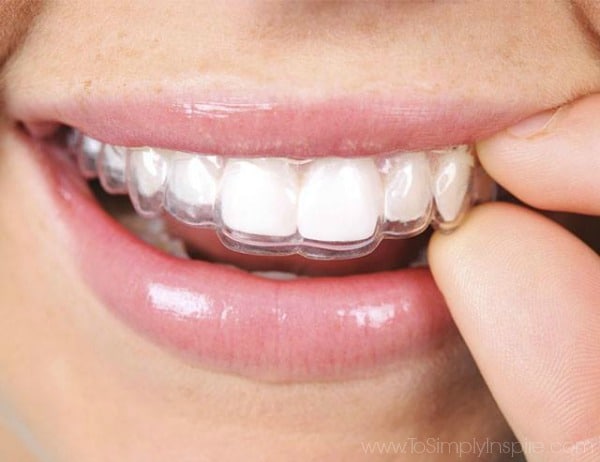 After thinking about it and learning how it works (literally a few minutes), I decided it was a route I wanted to try. I will be updating you along the way at the bottom of this post with progress updates throughout my treatment.
To begin the process, there is a $95 risk-free evaluation to see if you qualify for SmileDirectClub. If you don't qualify, you get your money back.
***SmileDirectClub has been generous enough to offer my readers 50% off the cost of the evaluation when you use discount code TOSIMPLYINSPIRE so you can get started on a smile you love too!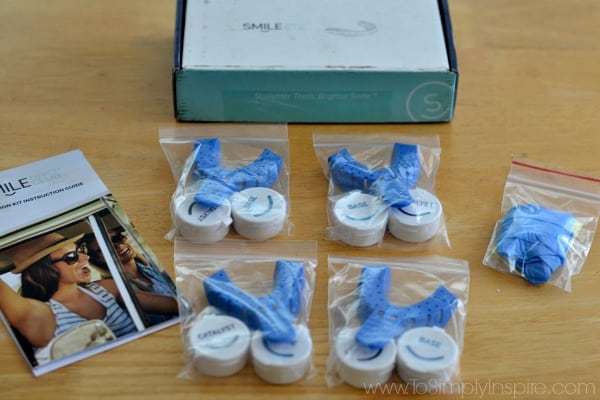 You will upload pictures of your teeth into your account for free smile assessment and a board-certified, state-licensed local SmileDirectClub affiliated dental provider will review your pictures within a couple of days and they will let you know if you're a suitable candidate for the aligners.
These "before" pictures will be so fun to go back to compare to when it's all said and done. I deleted my first set of pics I sent in because honestly I can't say I loved looking at them. But I did take new ones to share with you. Aren't they lovely?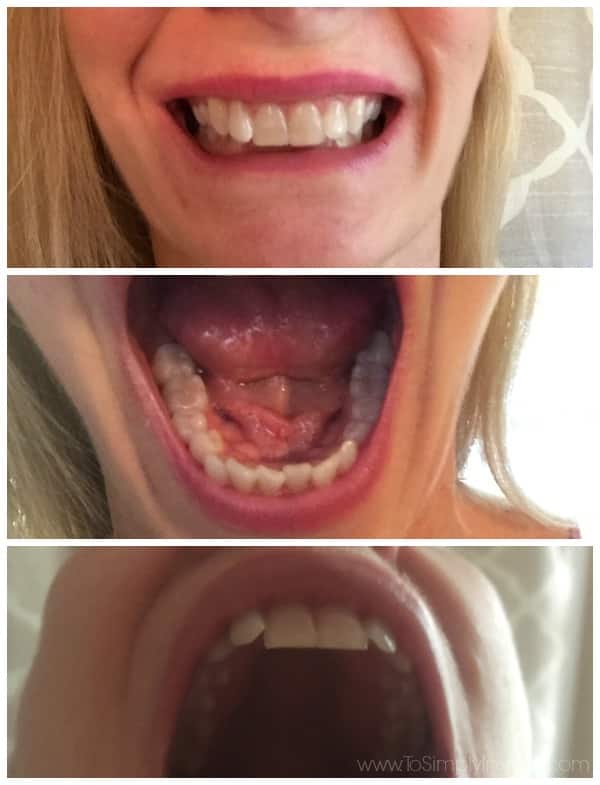 You will receive a kit with detailed instructions and videos online where you will take 2 sets of impressions of your top and bottom teeth with the provided materials and mail it back to them.
After you have sent back your impressions, you will receive a very cool custom 3D treatment plan to show you just how your smile will look at the end of your treatment. I was in awe of this! You can actually see the progress your smile will be making throughout each set of aligners. The typical treatment plan lasts 3-10 months. Mine is set for 6 months!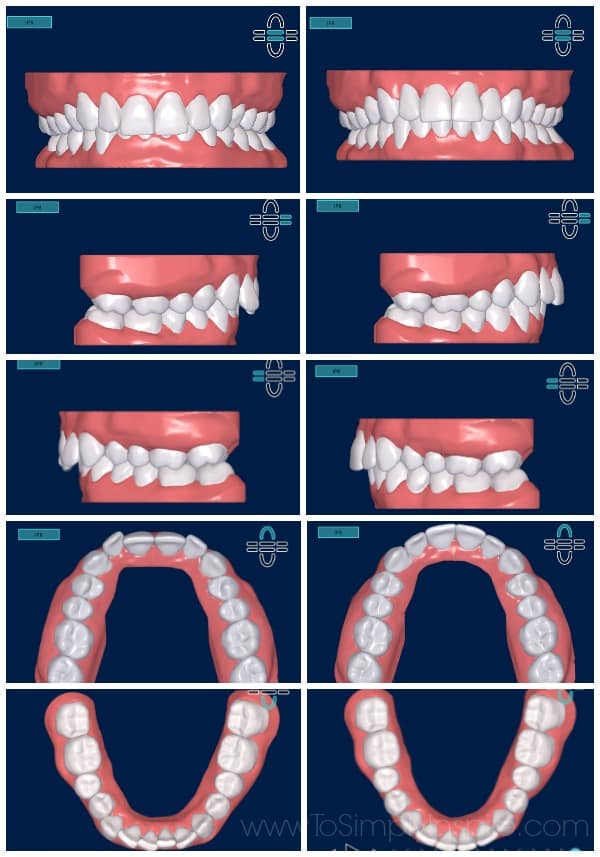 Once you receive that email that your new smile plan has been built and approved, you will decide on how to make payment so they can ship out your first aligner kit.
SmileDirectClub aligners cost a single payment of $1,500 ($235 of lab costs waived) or and easy payment plan of $250 down plus $99/month for 15 months for a total of $1,735 (other invisible aligner brands costs $5,000 on average)
The whole process was professional and I received several email updates letting me know where we were in the process.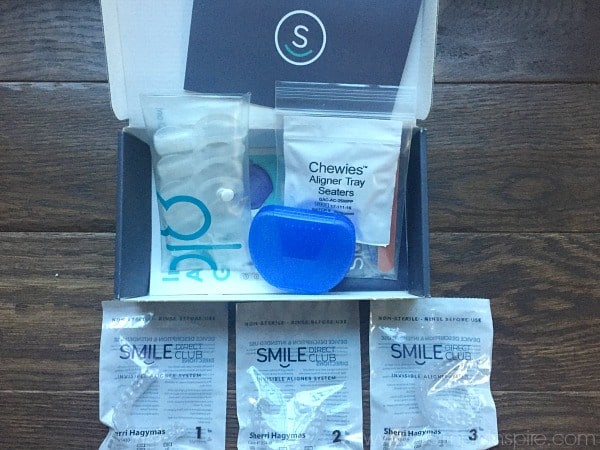 I received my first 3 sets of invisible aligners last weekend and started wearing my first set on Monday. Above is a snapshot of what comes in your first shipment. Along with the aligners, the box included a case, chewies (to bite down on and set the aligners in place), a remover tool, an emery board to file down any rough spots, and tubes of whitening gel.
The 1st set of aligners fit perfect. They are tight but not painful. Of course, I have to get used to having them in my mouth. I have always wondered with my kids how it felt after their orthodontist appointments. Now I kind of know.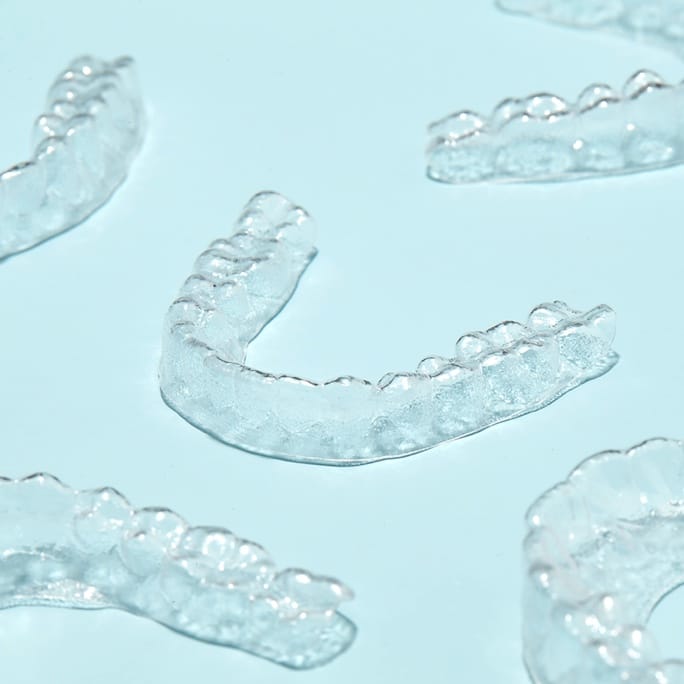 I honestly cannot wait to watch the transformation of my smile! I will update you monthly here with progress pictures and how things are moving along as well.
If you are ready to transform your smile too, head over to SmileDirectClub and start order your evaluation kit. Be sure to use the discount code TOSIMPYINSPIRE to receive 50% off that kit!!
10/10/16: Day 1 Photo of Set #1 – Can you see the aligners? They are very discreet. No discomfort at all.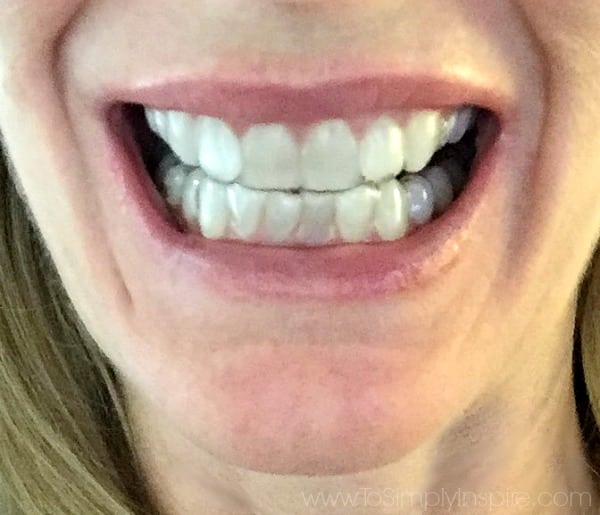 10/24/16 – Set #2 of aligners started. These were a tighter than set #1, especially the bottom ones. I changed them right before bed and took some ibuprofen to help with any discomfort overnight. Also took ibuprofen the next morning just in case. By the evening, they felt much better. I haven't noticed any drastic changes yet so no picture this time.
I also received sets 4 through 6 in the mail last week which was a nice surprise.
11/7/16 – Set #3 of aligners started. These felt pretty much the same as set #2. Just tight when putting them in but felt better with in day. I can see a little change in my bottom teeth shifting. One tooth is being pushed backwards, which I am assuming is to help with the crowding. It's so interesting to see how
11/21/16 – Set #4 of aligners started. Still the same. Noticing that bottom tooth being moved a little more. One thing I notice a lot is how much easier it is to floss my teeth!! I guess I never really realized just how crowded they were and the floss getting stuck SO bad.
I also received sets 7 through 9 in the mail.
12/6/16 – Set #5 of aligners started. I thought is would be fun to take some updated pictures to compare where I am to where my Plan shows I should be after set #4. It looks pretty close to me so far.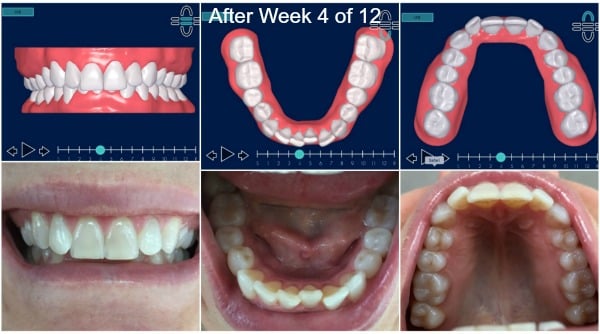 12/19/16 – Set #6 of aligners started. Nothing really to report. Just the typical tightness for a couple of days.
12/27/16 – I have been in contact with Smile Direct Club over the past couple of weeks trying to get my IPR procedure scheduled. I was supposed to have before starting set #7. (IPR procedure is where they would file the sides of my front teeth my minute amounts to help with crowding.) I heard back from them today with an update that they are having trouble getting it scheduled with a provider in my area and would like to update my treatment plan to a "newer technology" that would not require the IPR procedure. I was told this newer technology also is quicker with wearing the aligners 2 sets for 1 week each and one set for 2 weeks.
I am happy and sad about this. Happy because, well, no procedure. Sad because I may have to wait a little longer. That has yet to be determined. My end date would have been March 13th if everything had continued one my original treatment plan. I was told to continue wearing set #6 and I would be sent a kit for new impressions. I also was asked to upload 16 new pictures in various mouth poses.
I have 6 more sets to go (if that stays the same as well) which would mean 8 weeks of wearing the new ones once received I think. Compared to 12 weeks with original plan of 2 weeks each on remaining 6 aligners.
1/2/17 – I emailed all 16 of the pictures that were required. Waiting to receive the new impression kit.
1/12/17 – Still no impression kit so I called to check on it. Told it would be overnighted.
1/13/17 – New impression kit received in the morning. I took the impressions and Fed Ex'ed them back in the afternoon. (Postage paid by SDC.)
1/18/17 – Called to check on status. No update. Told they would email the provider working on my case for an update. I also asked if my treatment plan would be expedited since it was a mid-treatment change. Hoping to hear back good news on this.
1/27/17 – My NEW ALIGNERS ARRIVED!! That's the good news. The bad news? I have to start completely over again with my treatment plan. 6 more months. I was not happy about this at all at first honestly. But I happened to have a teeth cleaning scheduled this week and I mentioned it to my own dentist. He said it is not uncommon for that to happen occasionally.
2/24/17 – Month 2 set #1 started – Cruising right along with treatment. Each month I do have 3 sets of aligners. I wear the first and second set for a week each and the third set for 2 weeks. The most noticeable change I can see is the bottom tooth and gap pictured in my last picture update is closing back up.
3/24/17 – Month 3 Set #1 started.
4/21/17 – Month 4 Set #1 started.
5/19/17 – Month 5 Set #1 started.
6/16/17 – Month 6 Set #1 started.
7/14/17 – Officially finished!! But unfortunately I am not completely happy with the final outcome. I have small gaps between my front bottom and top teeth and I don't think my front teeth look like the treatment plan. I called and they were very nice. I was asked to send in pictures for a refinement.
7/16/17 – emailed my pictures and was scheduled for a new scan (which they now have instead of doing the molds if you are close to a physical location. I am 45 miles from Boston so I opted to go into their office for a scan.
7/18/17 – Went in for the scan. It is so neat to see your mouth /mold created on the computer screen right in from of you! Everything was approved very quickly and my new treatment plan was sent and new aligners were ordered the next day! 2 more months of aligners.
8/10/17 – Received new aligners and started Month 1, Week One.
9/7/17 – Started Month 2, Week One
9/8/17 – Received an email that retainers were ordered
10/5/17 – Done and started retainers. I am still not 100% sure I like the final outcome. I still have a pretty significant gap between my bottom teeth. I debated on contact4ing them about another refinement for a few days. Then I decided I should! Don't settle if your not happy. I emailed them about another refinement.
10/17 /17 – I sent in new pictures and scheduled another scan in Boston.
10/20/17 – Had my new scan done.
10/24/17 – Got my new treatment plan and aligners were ordered.
11/1/17 – Received new aligners. 2 more months of aligners! Hopefully this will officially be it!