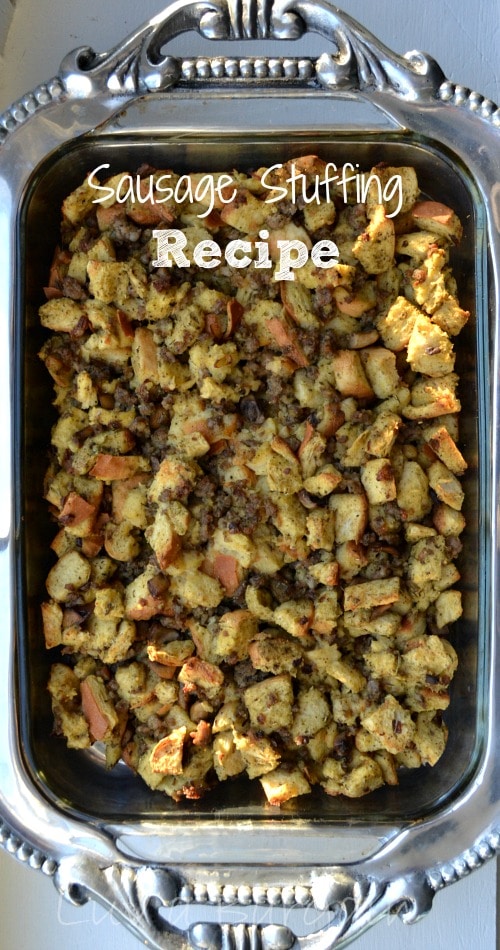 Stuffing is one those side dishes that I wish I made much more often than I do. It goes so great with the slow cooker turkey breast and is so easy to make. It's nice that you can get a really wonderful flavored stuffing without having to stuff a turkey.
This stuffing recipe is the basic cubed bread, onion and herbs. But I love adding sausage, mushrooms and chicken stock as well. It is packed full of flavor and will certainly get a thumbs up from your dinner guests.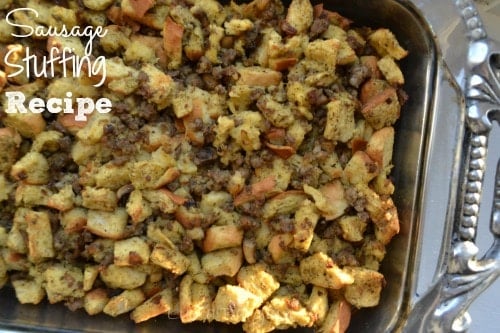 Sausage Stuffing Recipe
Ingredients
12 oz of pork sausage
1 TBSP coconut oil
1 medium sized onion, diced
2 cloves garlic, minced
4 ounces mushrooms, quartered
3 TBSP of poultry seasoning
1 TBSP of sage
1 24 oz. loaf of white bread, cut into ¾ cubes
2 cups chicken stock
2 eggs
salt and pepper to taste
Directions
Cook the sausage about 8-10 minutes, until no longer pink, breaking it apart as you cook. Set aside.
Add the oil and onions to the pan and saute until tender, about 10 minutes.
Add the mushrooms, garlic, sage, poultry seasoning and pepper and saute until mushrooms are tender, about 10-12 minutes.
Break the eggs in a separate little bowl and beat.
In a large bowl, mix the veggies, sausage, and bread in a large bowl and mix in the stock and beaten eggs until all of the bread is moist.
Pour the mixture into a greased baking dish and cover with foil.
Bake for 20 minutes the remove the foil and continue cooking until the top turns golden brown, about 10 minutes.