Simple Kale Salad with Lemon Vinaigrette – a healthy lunch or dinner for a busy night. Added sliced almonds and parmesan cheese pair perfectly with the tangy lemon dressing.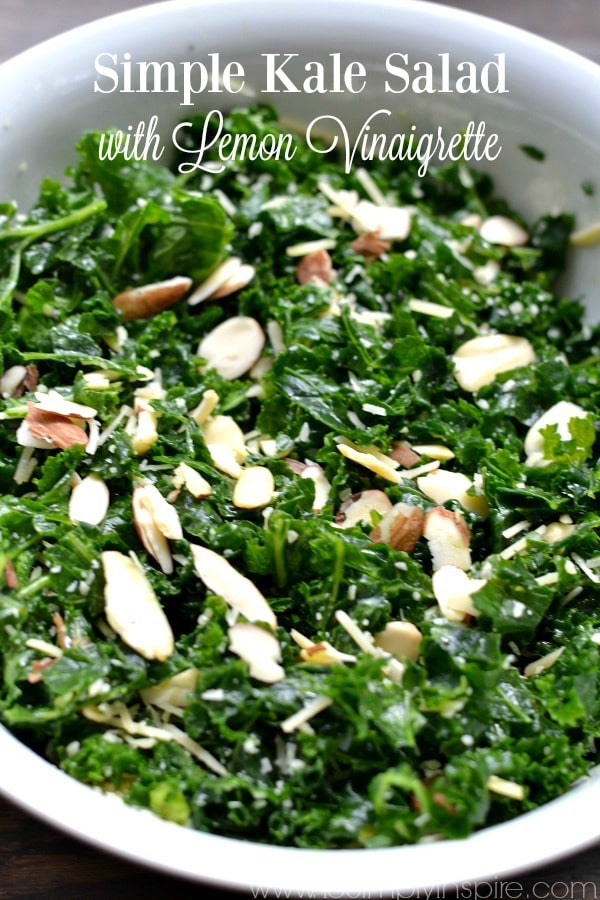 It's Monday and it's still extra hot and humid in New England, which has called for more salad eating this week again as well.
Like last week's Spinach, Asparagus, Tomato Salad with Homemade Balsamic Vinaigrette, this Simple Kale Salad with Lemon Vinaigrette is a wonderful, fresh, super healthy addition to lunch or dinner.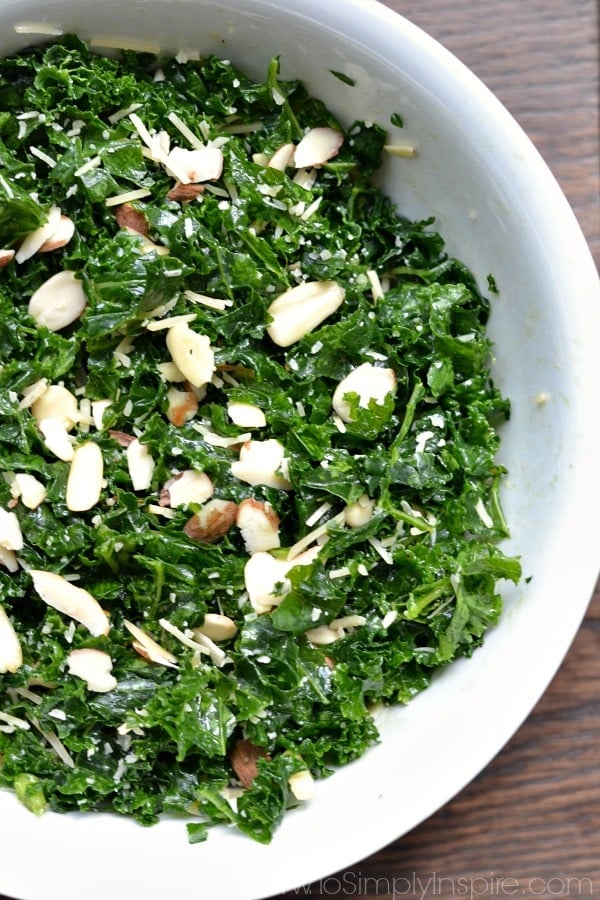 One thing I highly recommend is to massage the kale for a few minutes. Yep, that's right. Just get in there and give that kale the best massage ever. Kind of like you are kneading bread. Doing this will get rid of the bitterness that kale is notorious for. It will turn a lovely darker green in color.
Kale is also one of those fabulous "volume" foods, foods that will make your belly feel full. You can eat a lot of it and not be consuming loads of carbs. 2 cups of kale (85 grams) has only 9 carbs.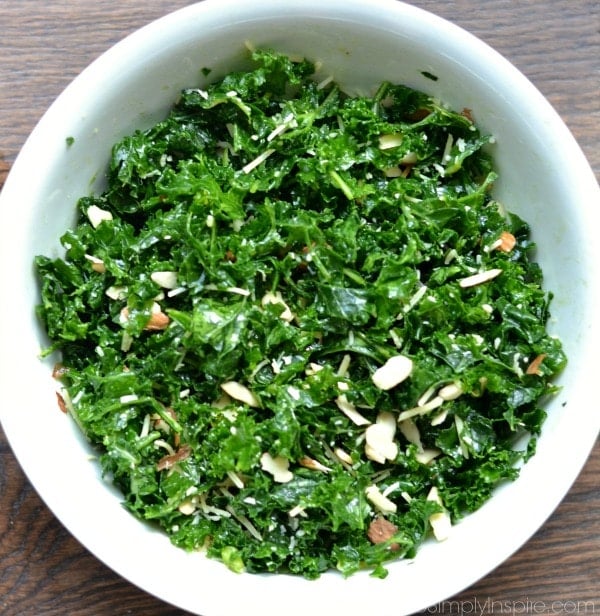 INGREDIENTS
1/2 bag or 1 bunch kale, fibrous stems (in the middle of the leaf) removed
1/2 cup grated Parmesan cheese
1/2 cup slivered almonds
For the dressing:
2 tablespoons fresh squeezed lemon juice
1/4 cup extra virgin olive oil
1/2 teaspoon garlic, grated
1 teaspoon Dijon mustard
1/8 tsp pepper
DIRECTIONS
Remove the fibrous stems from the kale leaves, leaving just the greens.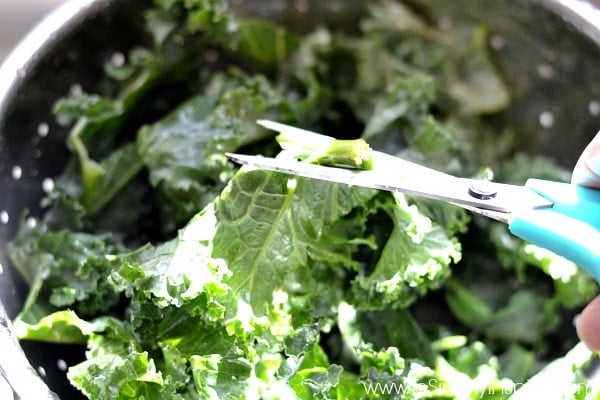 Place the leaves on top of each other and massage with your hands (like you are kneading bread) for about three to five minutes. It may sound strange but it gets rid of the notorious bitterness.
Break or cut the kale into bite size pieces.
For the dressing, add all ingredients to a bowl and whisk together until combined.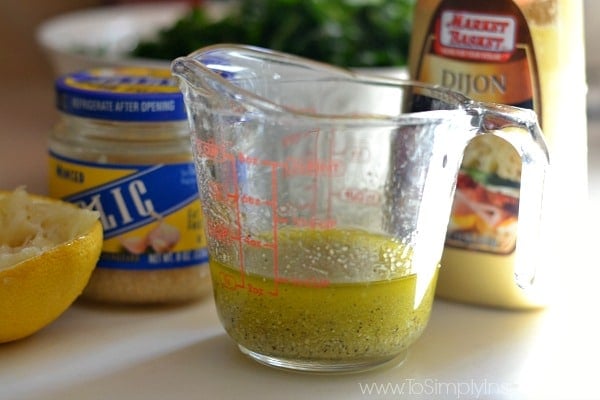 Place the kale into a large bowl and top with sliced almonds and Parmesan cheese.
Pour some of the dressing over top and toss to combine.  (using more or less as desired)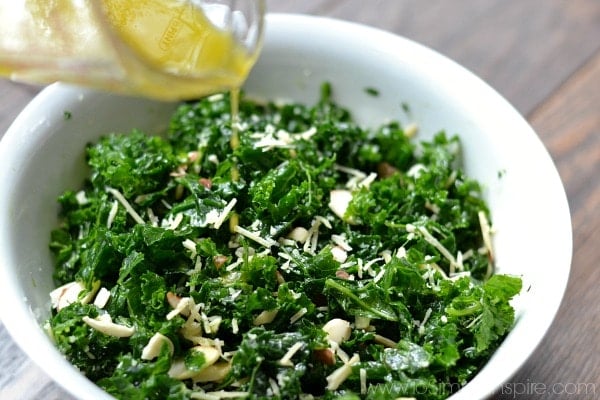 ENJOY!!
Simple Kale Salad with Lemon Vinaigrette
Ingredients
½ bag or 1 bunch kale, fibrous stems (in the middle of the leaf) removed
½ cup grated Parmesan cheese
½ cup slivered almonds
For the dressing:
2 tablespoons fresh squeezed lemon juice
¼ cup extra virgin olive oil
½ teaspoon garlic, grated
1 teaspoon Dijon mustard
⅛ tsp pepper
Directions
Remove the fibrous stems from the kale leaves, leaving just the greens.
Place the leaves on top of each other and massage with your hands (like you are kneading bread) for about three to five minutes. It may sound strange but it gets rid of the notorious bitterness.
Break or cut the kale into bite size pieces.
For the dressing, add all ingredients to a bowl and whisk together until combined.
Place the kale into a large bowl and top with sliced almonds and Parmesan cheese.
Pour some of the dressing over top and toss to combine. (using more or less as desired)