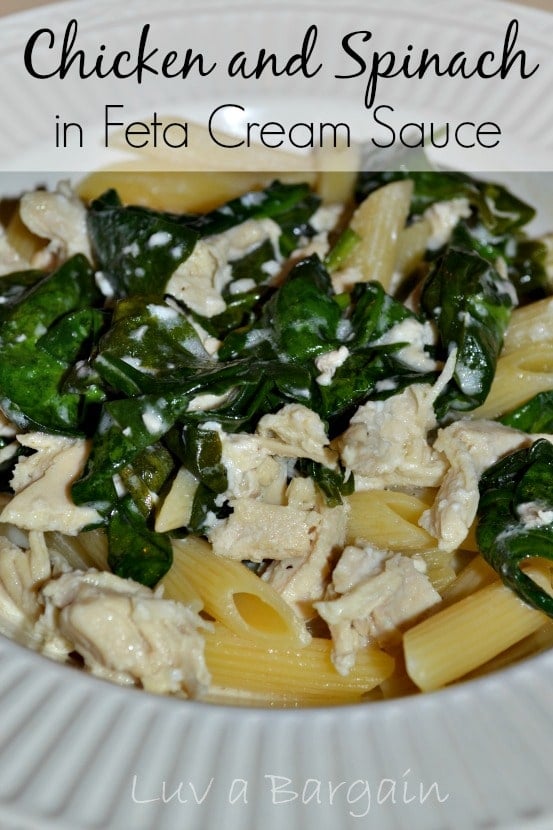 This easy Chicken and Spinach recipe is another one of our favorites. The feta cream sauce is delish!  Our kids love it so much too.  Literally lick the bowl love.
Ingredients
(3) boneless, skinless chicken breasts, cooked and shredded or chopped.
2-3 cloves of minced garlic
1/4 cup of chopped onion
1 lb of fresh spinach
1 cup of chicken broth
8 oz of light sour cream
1/2 cup  of crumbled feta cheese
1/4 cup of parmesean cheese
Pepper to taste
1 lb of Penne Pasta
1.  Cook the chicken in olive oil with garlic and onion until completely cooked through. Remove from pan and place in separate bowl. Or you can also bake the chicken ahead of time at 350 for 30-40 minutes.
2.  Add chicken broth, sour cream, feta, parmesean, and pepper and mix thoroughly.
3.  Add spinach to pan and cook on med heat until done.
4.  Add the chicken back into sauce and simmer on low for about 10-15 minutes.
5.  Serve over penne pasta.
Tip: If you like a thicker sauce, you can mix 1 TBSP of flour and 1/4 cup of cold water and add this to the sauce to thicken it.
Enjoy!