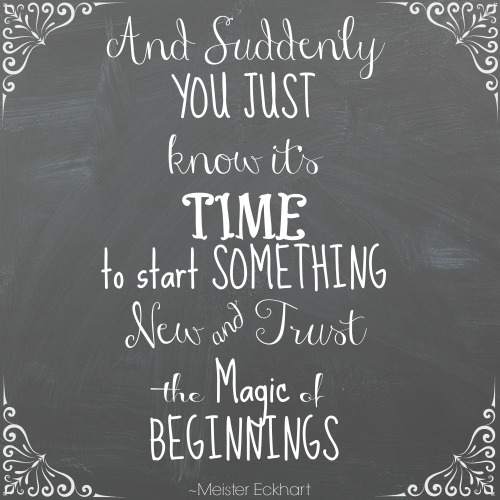 April 2009…..
I decided to start this little blog. I entered into it with absolutely NO idea what I was doing! There is so much to learn and I am still learning every single day!
Back then, I just knew I wanted to share with you all the awesome ways I was saving money so you could too. I had no idea how much I would absolutely LOVE it or how many people I would meet, in this amazing virtual world, that would have such great impacts on my life.
I could not be HAPPIER!! I love chatting with you all, working from home, and writing so many fun posts.
Over the past few months, I have been thinking long and hard about my blog, my life, and my path. Although I still lead a very frugal lifestyle and will never change how I feel about saving money, I have wanted to write about more.  To bring more inspiration to you.
Luv a Bargain has become more that "just" deals.  So much more that the "name" no longer fits.
I started January 2014 with a Clean Eating Challenge that was so well received and we have grown so much in the past year….. to over 500,000 pageviews in the past 30 days! It has sparked something in me that I did not expect.  Over the course of 2014, I fell madly in love with posting recipes.  I am head over heals about learning to take beautiful pictures of food! It's almost an art and it's so rewarding!
Sooo……I've decided to make some BIG changes! Fabulous changes that I promise you will love!
I will be, what is called in the blogging world, "Re-branding".  In the next couple of weeks, if all goes as planned, Luv a Bargain will become a NEW name.
Don't worry — all of the posts here now will still be here.  Just under a brand new name, new URL and a gorgeous new design, thanks to an unbelievably smart tech guy.
Moving forward, I will be sharing many more fun recipes, exciting do-it-yourself projects and crafts as well as thoughts for living a simple, happy life!   For my die-hard bargain lovers, I will still be featuring a few deals that I love and coupons each week.  It will just not be my entire focus.
Change can be scary. But I am SO EXCITED for this new BEGINNING!  I am confident that you will love it as much as me!
STAY TUNED FOR THE BIG REVEAL…….