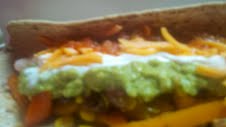 Chicken Fajitas are such a great budget recipe! I love the fact that I can add in quite a few vegetables, and my kids just keep asking for more!
Chicken fajitas take very little time to make. If I am in a pinch, I can make this meal in about 12 minutes by using canned chicken. However, if you want to slow down and take the time to make everything from scratch, you can do that as well!
Budget Recipe: Easy Chicken Fajitas
2 boneless chicken breasts (or any leftover chicken, chicken in the bone, whatever chicken you have on hand to save money will work!)
1 large onion chopped into strips
1 large green bell pepper cut into strips
1 large red bell pepper cut into strips
1 can Rotel (I use my homemade Rotel. I make it once a year, can it & use it all year.)
½ Tablespoon Cumin
½ teaspoon cilantro
1 teaspoon chili powder
cooking oil
Chicken Fajita Toppings:
You can pick and choose what you would like to top your fajitas with. This is my kids' favorite part!
Cheese
Sour cream
Salsa (We use my homemade salsa.)
Green onions
Guacamole
Corn relish
Black beans
Refried beans
Saute the onions and bell peppers in cooking oil for about 7 minutes. Add the chopped chicken and cook until it is no longer pink. Add your Rotel, cumin and chili powder and allow to simmer on the stove until you are ready to eat! Place the filling in your tortillas, and top as desired.
This is one of my family's favorite budget recipes!
Tips to get extra vegetables into your family: My husband and kids don't always love their vegetables, but I have found that you can add just about any vegetables to fajitas (if it is grated) and they won't notice. The last time that I made fajitas, I added shredded carrots, squash, zucchini and eggplant. Just add the vegetables in with the onions to cook them.