I am so happy to share this Chalk Paint Tutorial and TV Stand Makeover that I finished last week. Using chalk paint is so easy with gorgeous results! No prepping, no sanding, no priming!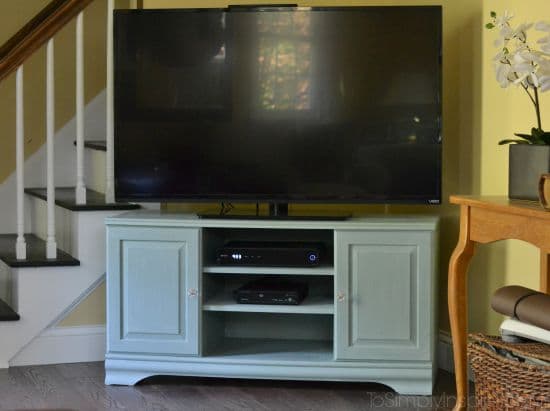 Last week I gave you a little sneak peak of a something I was doing on our Facebook page.   I'm happy to report that my little project is now complete and I couldn't be more excited with how my TV stand makeover turned out!
I have seen so many chalk painted pieces of furniture on Pinterest over the past year or so.  My eyes kept gravitating to those painted in pretty blue tones.  I just knew that one day our TV stand would look so much prettier in one of those colors.
After we finished our hardwood floor project in June, the TV was just too dark against our now dark floors.    I bought this TV stand at Big Lots several years ago.  It is not even real wood!  But it was cheap ($60 cheap) because it was the floor model and had a few dings on the side and feet.  That didn't scare me away because most things in my house will get more dings over time anyway.  Plus I knew that one day it would get a coat of paint of some color to "fancy" it up a little.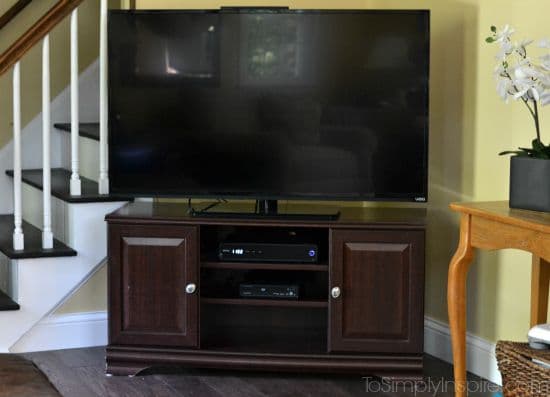 This was my very first time using chalk paint! I used Annie Sloan Chalk Paint. The color I used is Duck Egg and I used the clear wax as the finish. I bought the dark wax as well but haven't decided if I want to use it quite yet. The dark wax would add an even more antiqued look. I'm still pondering it. 🙂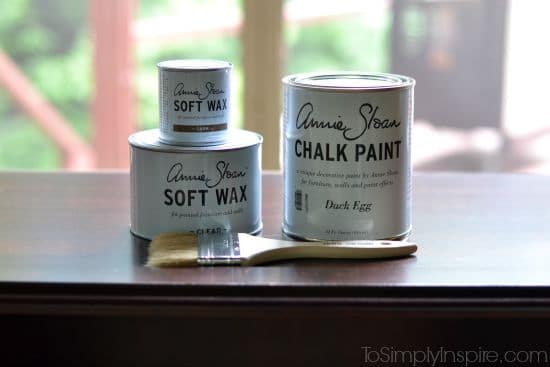 That is what is SO great about chalk paint!  You can use it many different types of finishes.  No prepping, no sanding or priming.  The paint is very, very flat by itself.  And it's also very thick paint so I did add a little water to the paint to thin it.
There is a wax that you use is the finish that gives you whatever degree of shininess that you want.  The more you buff the wax, the shinier it gets. I opted for a medium shine instead of a higher gloss finish.
I did not buy the Annie Sloan brushes.  I had done a little research online and found that many people were using the really cheap chip brushes with success.  Or a Purdy XL brush was used by many too.  I knew I wanted the brush stroke look on the wood so I went with the cheaper one.  I love how antiqued it looks with the brush strokes.
The first coat goes on fairly thin.  But it adheres really nicely to the "fake" shiny wood. Like when applying other paints, paint in the direction of the grain in the wood.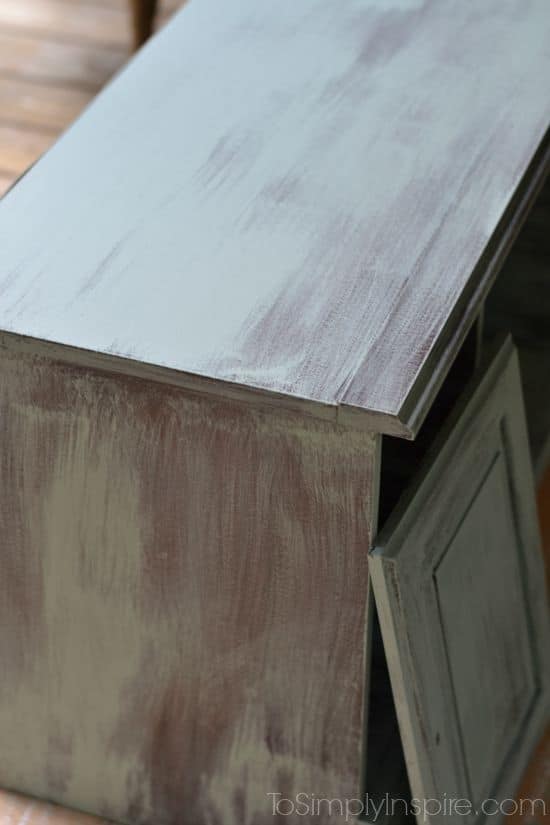 The second coat gives you an much better idea of what your final project will look like.  I ended up applying 3 coats of paint and 2 coats of wax for extra protection.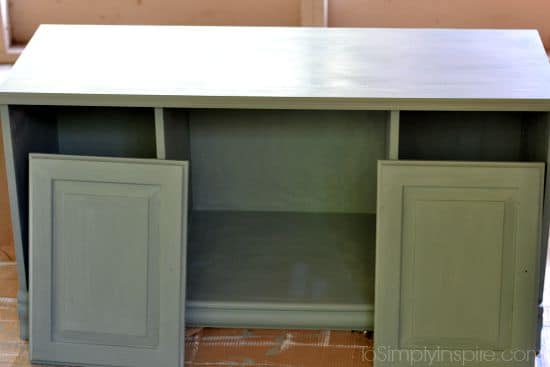 After allowing the paint to try overnight, I applied my first coat of wax the following day.  The wax has a creamy texture (almost like crisco).  I applied a thin coat of wax with an old t-shirt.  DO NOT overdo the wax.  If too much is applied, it will feel extra sticky.   A little goes a long way.  I actually put a few spoonfuls on a paper plate and wiped little bits onto my rag to control how much was going on.
Apply the wax in the direction of the brush strokes.  You can start in circular motions, just finish in the direction of the brush strokes. (sorry I failed to get a picture of applying the wax)
Allow the wax to dry overnight as well.  You can buff after one coat wax.  But I applied a second coat first and then allowed to dry again overnight. Then I buffed to a medium shine.  Just rub over all the waxed area with a clean cloth applying medium pressure to create the shine you desire.
I found these adorable little acrylic glass-looking knobs at Target to put back on instead of the silver ones with came on the TV stand originally. LOVE them too!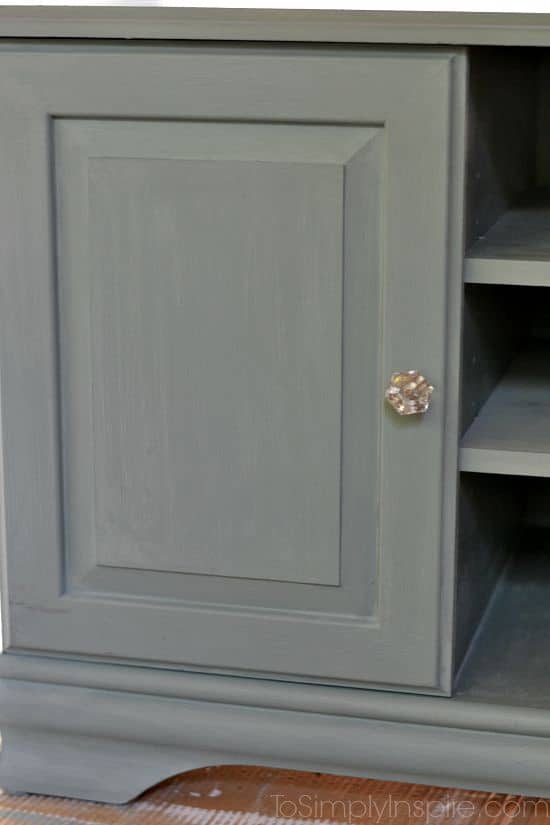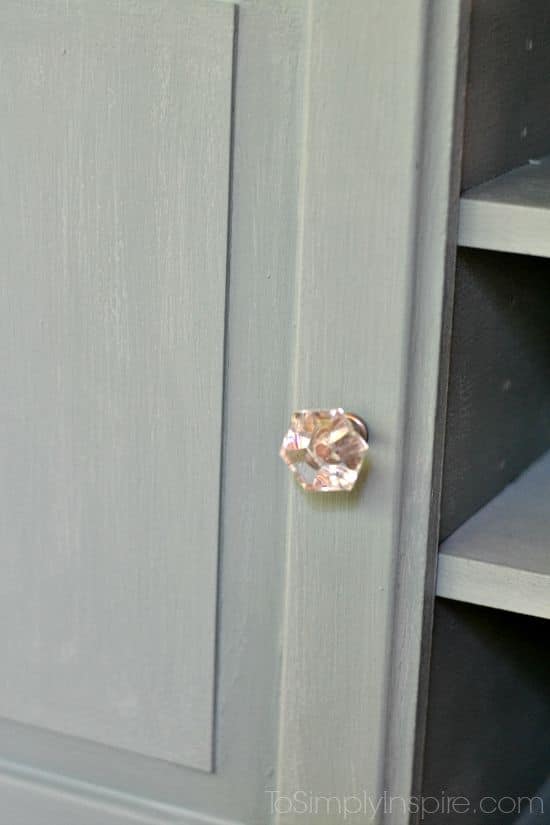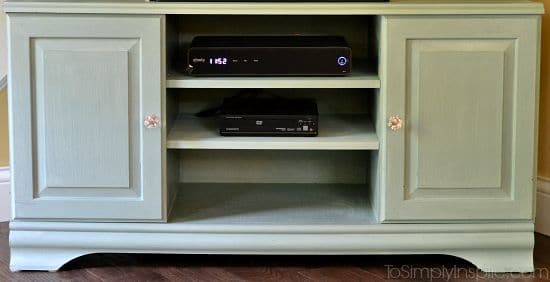 If you have a older piece of furniture or a piece that you just want to spruce up and change the color, I highly recommend chalk paint!