This Cod with Tomato Basil Sauce is so quick to prepare and have a healthy, mouthwatering dinner on the table in less than 20 minutes.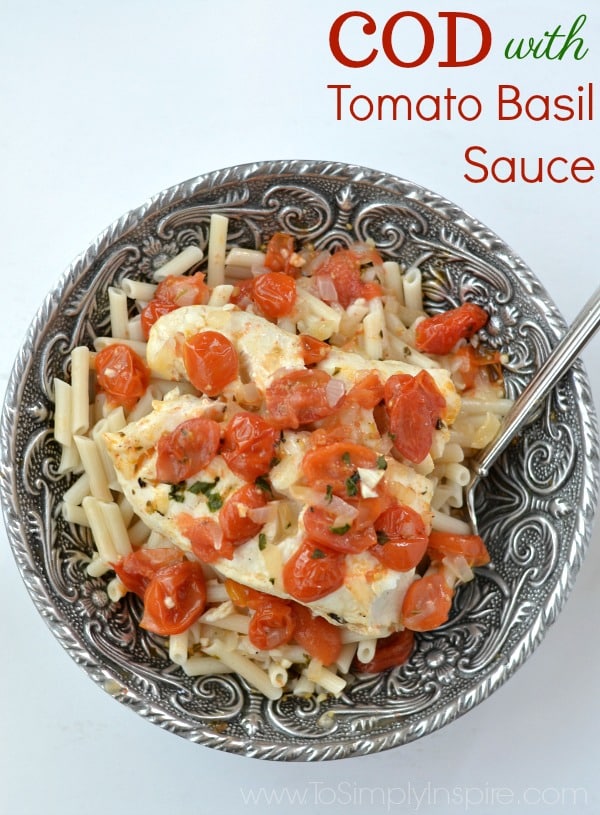 While visiting my brother earlier this year, my sister-in-law made us a meal very similar to this dish and we all fell in love with it. My mind still gets blown at how simple a recipe can be and how amazing it can taste!  When I say it's quick and delicious, I mean super simple, novice-cook, can't mess it up easy.
I was asked by Tresomega to compete in the Tresomega Nutrition "Organics For Life" Blogger Recipe Challenge and thought this recipe would be perfect to showcase alongside their wonderful line of gluten free pastas.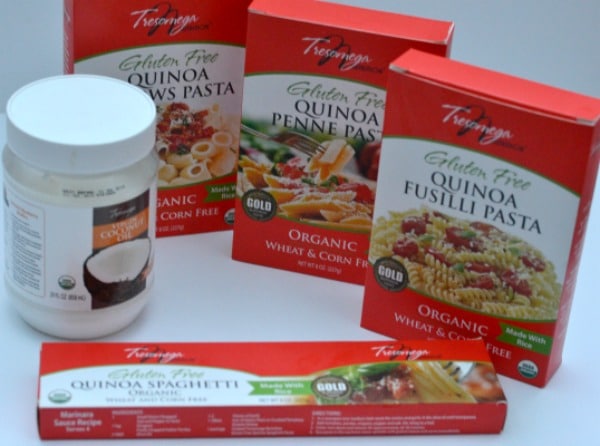 Tresomega pasta products are Gluten Free, Organic, made with Quinoa and exceptional protein source for Vegetarians and Vegans. They also carry other organic products such as coconut oil, coconut sugar and chia seeds.
You can purchase their products at: Tresomega.com. Sams.com, Amazon.com and Walmart.com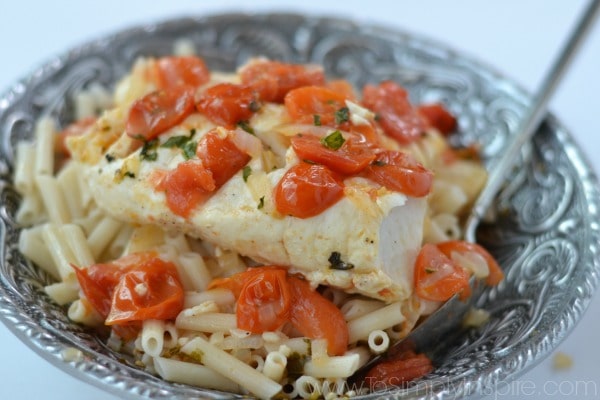 INGREDIENTS
1 1/2 lbs. fresh cod, cut into fillets
2 TBSP coconut oil
2 cloves garlic, minced
1/2 sweet onion, chopped fine
1 pint cherry tomatoes, sliced in half
1 teaspoon of dried basil (1 TBSP of fresh basil)
4 TBSP fresh lemon juice, divided
1/2 cup of water (or white wine for extra flavor)
salt and pepper
Penne Pasta (or pasta of choice)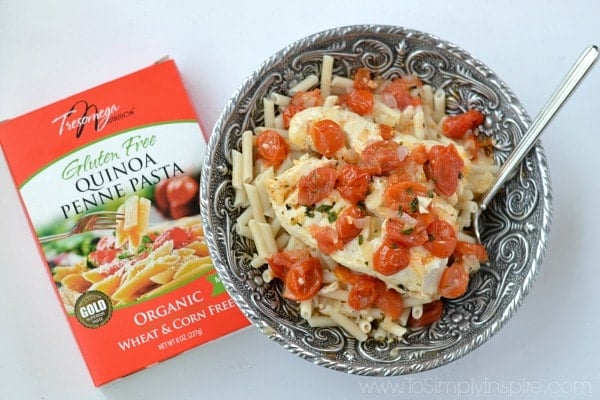 DIRECTIONS
Boil water to cook pasta.
Heat oil in a large saute pan over medium heat.
Add onion, garlic, basil, salt and pepper and saute for 1 minute, or until garlic is fragrant.
Then add 2 TBSP of lemon juice, 1/2 cup of water (or white wine) and cherry tomatoes and cook until the tomatoes are JUST beginning to wilt, about 3 minutes.
Place the fish in the pan and spoon some of the tomato sauce over top of the fish and add the other 2 TBPS of lemon juice.
Reduce heat to medium low.
Cover pan and cook until fish is cooked through, approx. 6-7 minutes.
Serve over the pasta.
ENJOY!!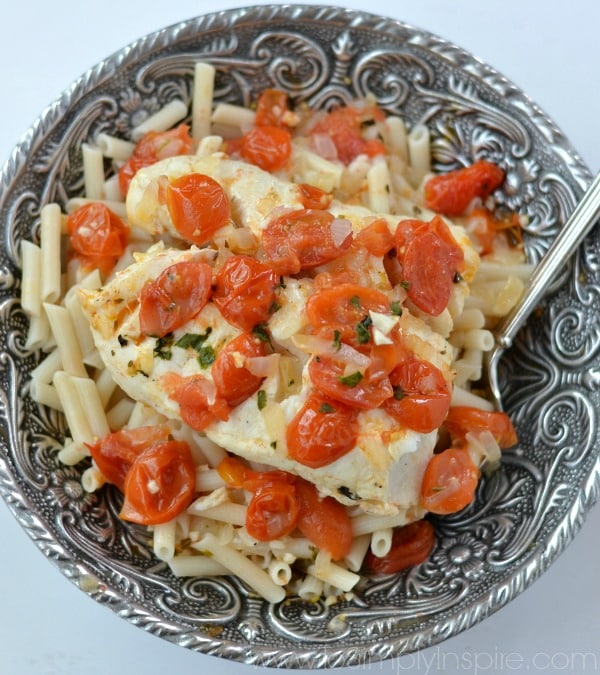 Please let me know what you think in the comments below if you happen to make this recipe!
Disclaimer: This was a sponsored post by Tresomega Foods.  I received products to create recipes for this post. All opinions are my own.
Try these other popular recipes as well: