Making your own Homemade Laundry Detergent is easier than you may think. I make a 6 month supply at once for pennies per load. It smells wonderful and cleans amazing!!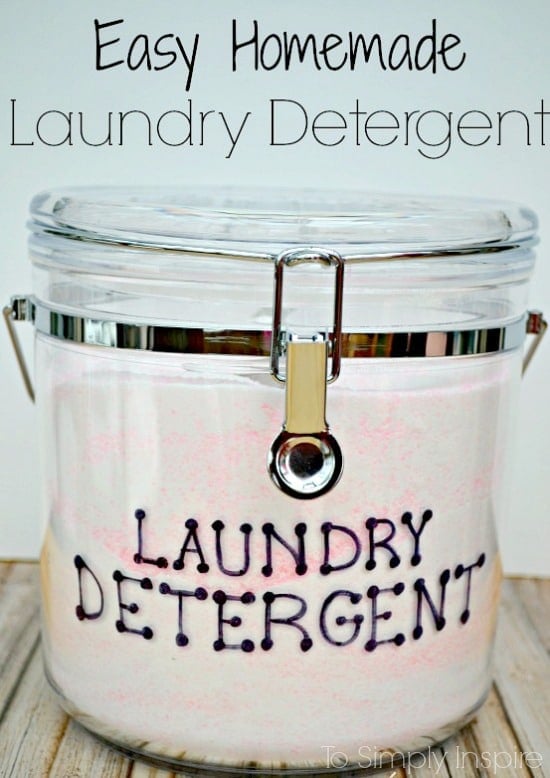 HOMEMADE LAUNDRY DETERGENT
I DID IT! I FINALLY DID IT! I have been wanting to make my own Homemade laundry detergent for years. I have been using Natural Cleaners for years to save money and become more a little more green. But sheer indecisiveness has kept me from getting in gear with making laundry detergent.
I couldn't decide if I wanted powder or liquid. I know, really?!  I have read and read and have several recipes printed.  I kept leaning toward liquid, but most of the recipes have to let it sit for 24 hours and I guess I'm a little impatient and want to start using it right away.
So, with the inspiration of my friend Crystal, I did it!  I made some Homemade Powder Laundry detergent!! I am SO happy with it!  My clothes smell so good.   And did I tell you it is CHEAP, CHEAP, CHEAP.  I would much rather spend that money saved on something else.
The first batch will be a tad more since you may have to buy your container, a scoop and a new 5 gallon bucket with a lid.  I spent about $20.00 on these  items.
The ingredients cost me a little less than $20.00 for 270 LOADS of laundry detergent  Just about $0.07 a load!!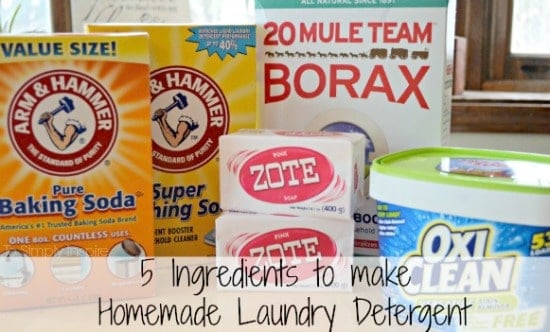 Ingredients – Makes 2 gallons of powder detergent
(1) 76 oz box of Borax -$4.99 at my local grocery store
(1) 55 oz box of Arm & Hammer Super Washing Soda – $3.24
3 lb container of OxiClean – $7.52
(1) 4 lb box of Arm & Hammer Baking Soda – $2.24
(2) bars of Zote Soap (400g ) – $0.97 each at Walmart
*** or (3) bars of Fels Nathpha, grated  or (3) bars of Ivory Soap, grated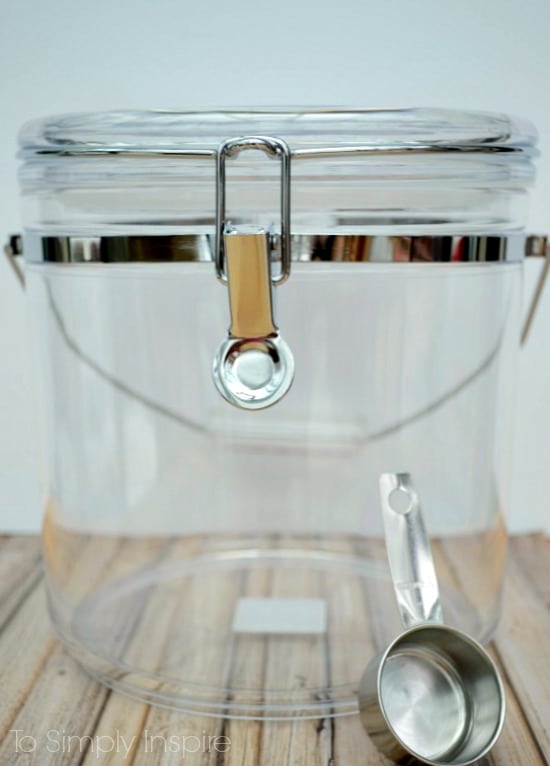 One Time Expense
Container to put the detergent in – I bought mine for $14.97 at Walmart
2 tablespoon Scoop – I bought a coffee scoop at Walmart for $1.67
5 Gallon Bucket with a lid – about $4.00 at Walmart
HOW TO MAKE HOMEMADE LAUNDRY DETERGENT
1. Pour the 1st 3 ingredients -Washing Soda, Borax, and OxiClean into the 5 Gallon bucket
2. Grate the Zote Soap in a food processor. It will fit through the feed tube of the food processor if you cut it in half and then cut those pieces in half. You can also use a regular cheese grater if you don't have a food processor just be sure to grate it as fine as possible. I have also read that you can heat the soap in the microwave 4 minutes if you don't have a food processor.  Then let it cool and it will crumble easy.
I did use my food processor because it's so much faster.  It's only soap so it's just fine when you wash afterwards.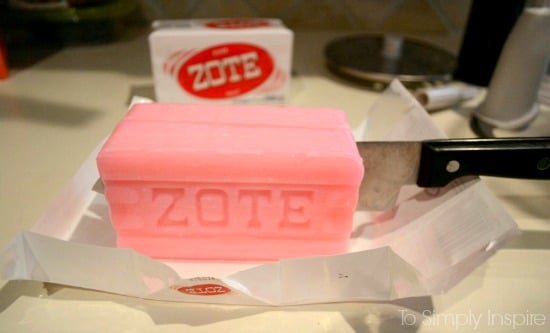 3. Use the shredding disc on the food processor to grate the Zote Soap 1 at a time. Put the first batch in a separate bowl.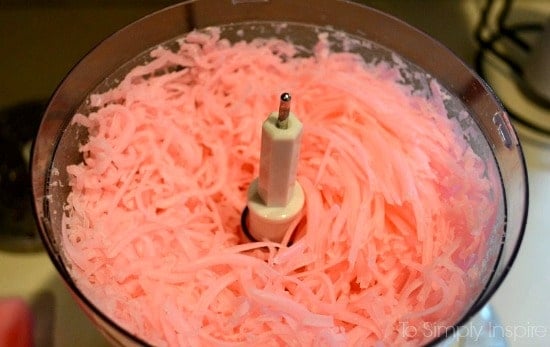 4. Put the regular blade back onto the food processor and add 2 cups of shredded soap with 1 cup of baking soda at a time.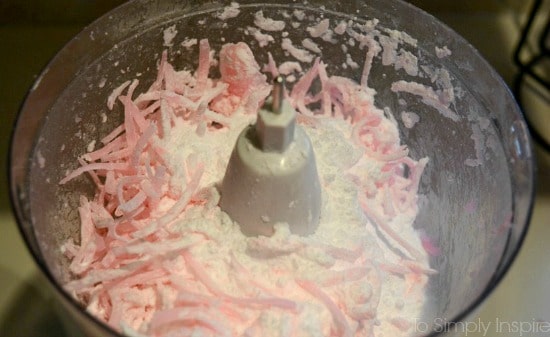 5. Blend the soap and baking soda for about 20-30 seconds until it forms a powder. (mixing the baking soda with the soap keeps the soap from getting clumpy.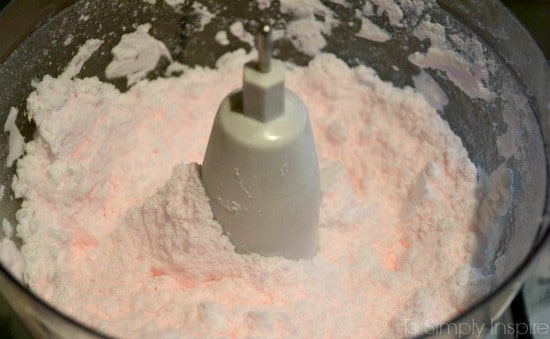 6. Add each batch you pulse to the 5 gallon bucket as you go. When you are done with all the Zote, add the rest of the baking soda to the bucket as well.
7. Put the lid on the 5 gallon bucket and roll and shake it until it is mixed completely.
8. Voila!! You're done! Pour or scoop the detergent into your choice of container!
Use 1 scoop or 2 tablespoon for each load of laundry.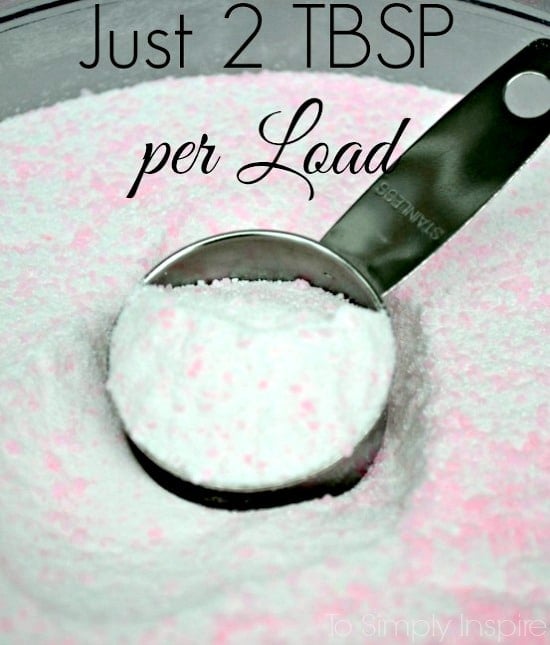 For HE Front Load Washers – You can either add it to your dispenser if your washer says it accepts powder or liquid.  Or you can simply but it directly into the tub before adding the clothes.
Regular Top Load Washer – Add it first then add clothes as the cycle starts.