Making this easy roasted asparagus a couple of times a week is the perfect healthy addition to any meal.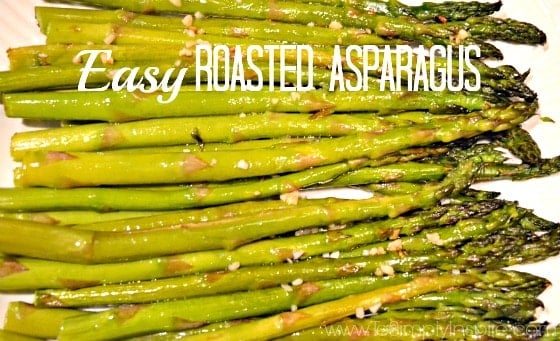 This is my favorite way to cook asparagus and it is so, so easy, healthy and yummy! It is perfect if you have a large crowd to double or more the recipe.
Ingredients
1 lb of asparagus
2 cloves of minced garlic
1 tablespoon of Coconut Oil (my favorite kind) or Olive Oil.
Pepper to taste
Parmesan cheese (optional)
Directions
1. Preheat oven to 350 degrees.
2. Cut about 1 inch off the bottom of the asparagus. (some people cut more but I just make sure to remove the hardest parts.
3. Place the asparagus in a glass pyrex dish.
4. Coat asparagus with the oil, garlic and pepper and toss to cover well.
5. Bake for 20-25 minutes or until desired tenderness.
Sprinkle with Parmesan cheese to change it up a little bit if you want.
TIP: I have even actually microwaved it just like this for about 10 minutes and it is just as good.