Ghost meringue cookies are an adorable mini treat that are super easy to make and have that crunchy, and melt-in-your-mouth texture that's easier to achieve than you think!
If you've always thought meringue was a dessert only found on the menu at a fancy French restaurant, think again! Just like my Easter Meringue Nests these are SO EASY to make and are always a hit at parties with both kids and adults alike!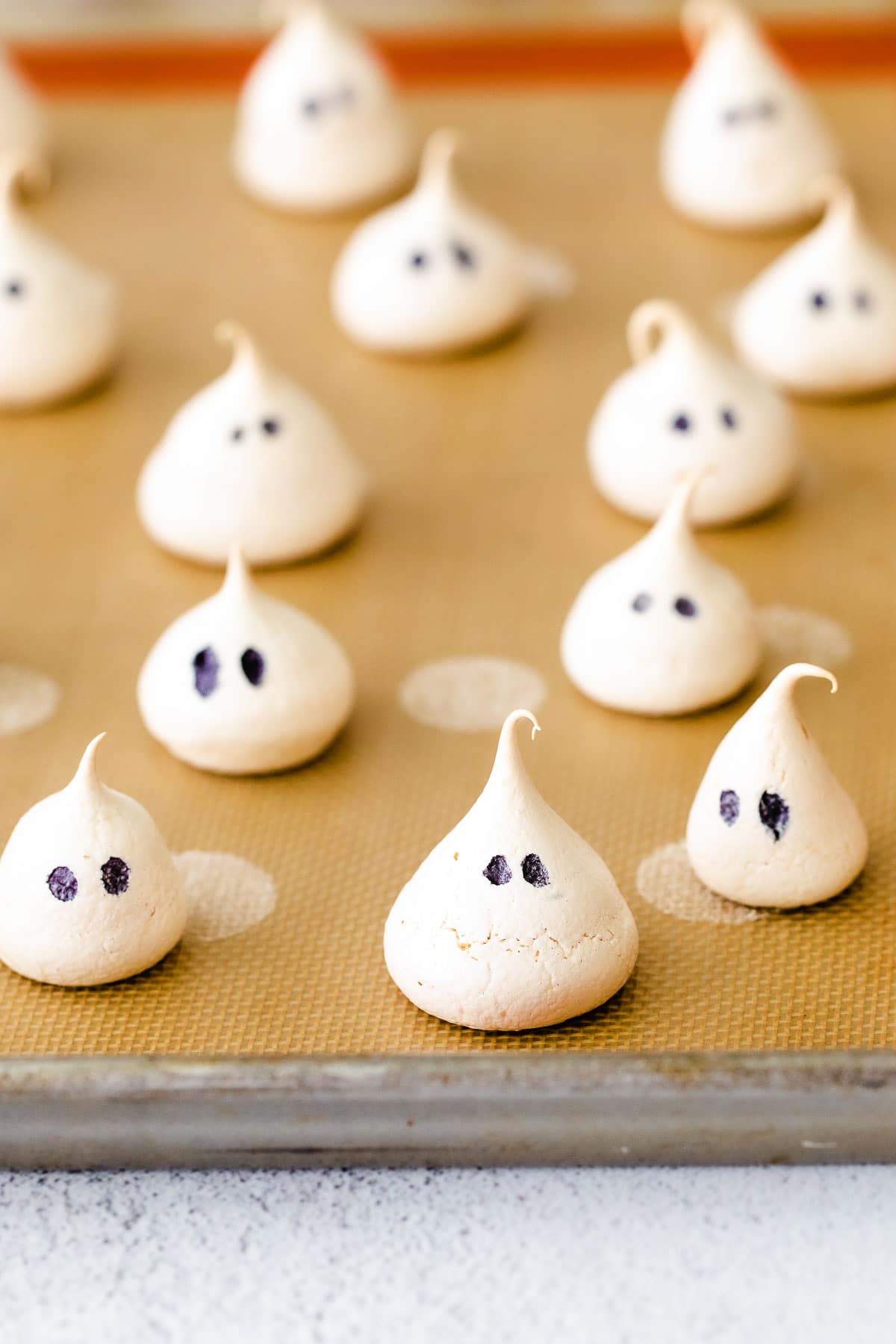 Halloween Meringue Ghosts
Aren't these ghost meringues adorable?! When I made the nest meringues for Easter, I got to thinking about what else I could make with meringue. These cute mini Halloween treats are what came to mind! This recipe will guide you through the very user-friendly way to make them at home! They're in the shape of Hershey's kisses, so really if you don't want to use them as ghosts, you can skip the addition of the eyes and use them for another occasion like Valentine's Day, Christmas, or a wedding or baby shower.
They are so simple to come together with using just a few ingredients and it's a meringue recipe without cream of tartar which might make things even easier for you if you don't have any on hand!
These light and airy cookies are made with egg whites, sugar, and vanilla extract. The only additional ingredient is the black food marker (or black frosting gel) for the eyes. Meringue bakes on low, so it'll be about an hour in the oven, which allows them to puff up and get nice and airy, yet chewy and crunchy. They're so good! Most of that is hands-off time, which means you can take the time to get other treats done, set up decorations for a party, or sit and have a hot cup of coffee!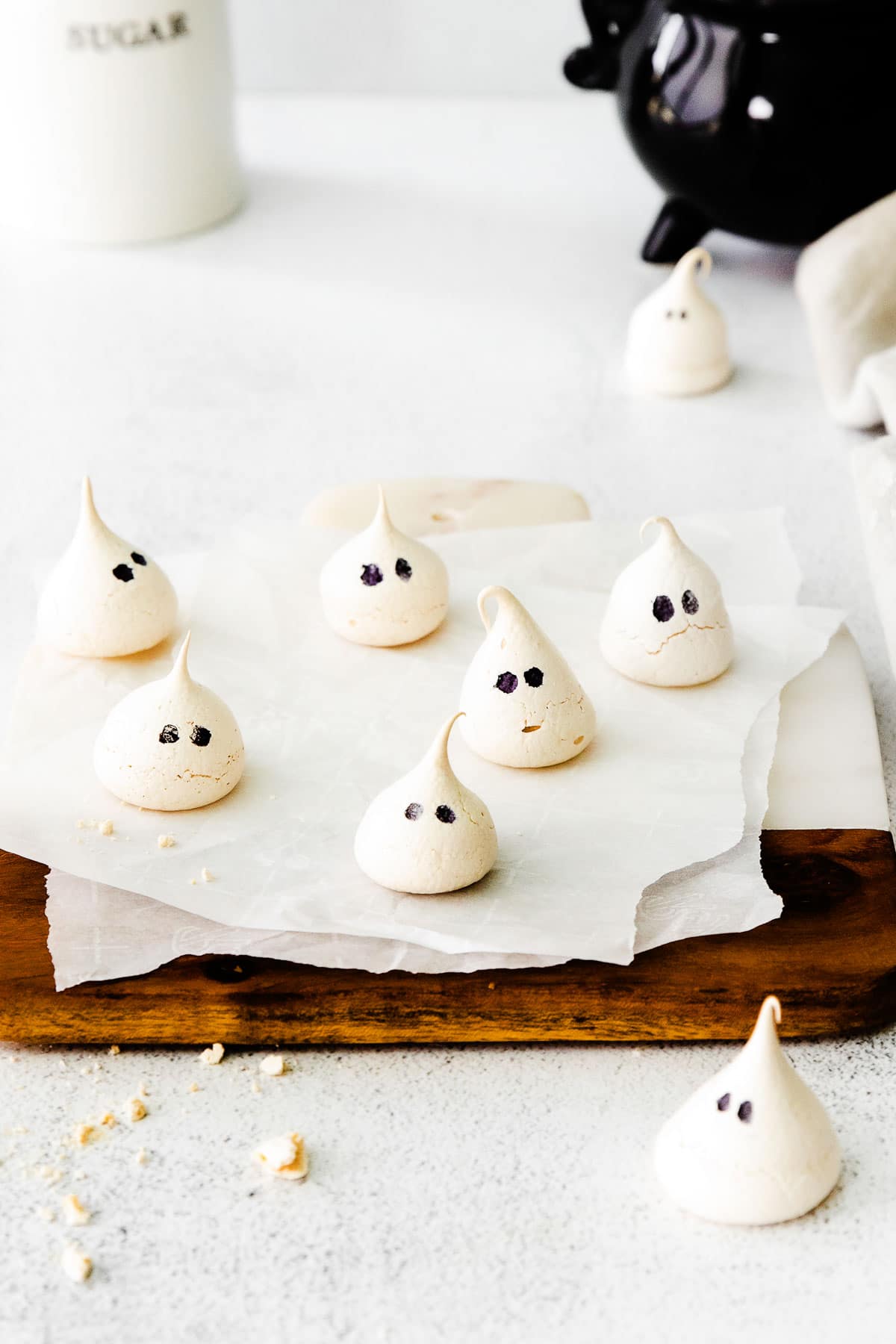 Why we love this recipe
They're so easy to make and a great Halloween activity to get your kids active in the kitchen.
They're a hit at Halloween parties! They're simple but they're a showstopper because of how cute they are.
They can be made ahead of time as they last for a few days at room temperature.
Can be customized to your decorating abilities and preferences.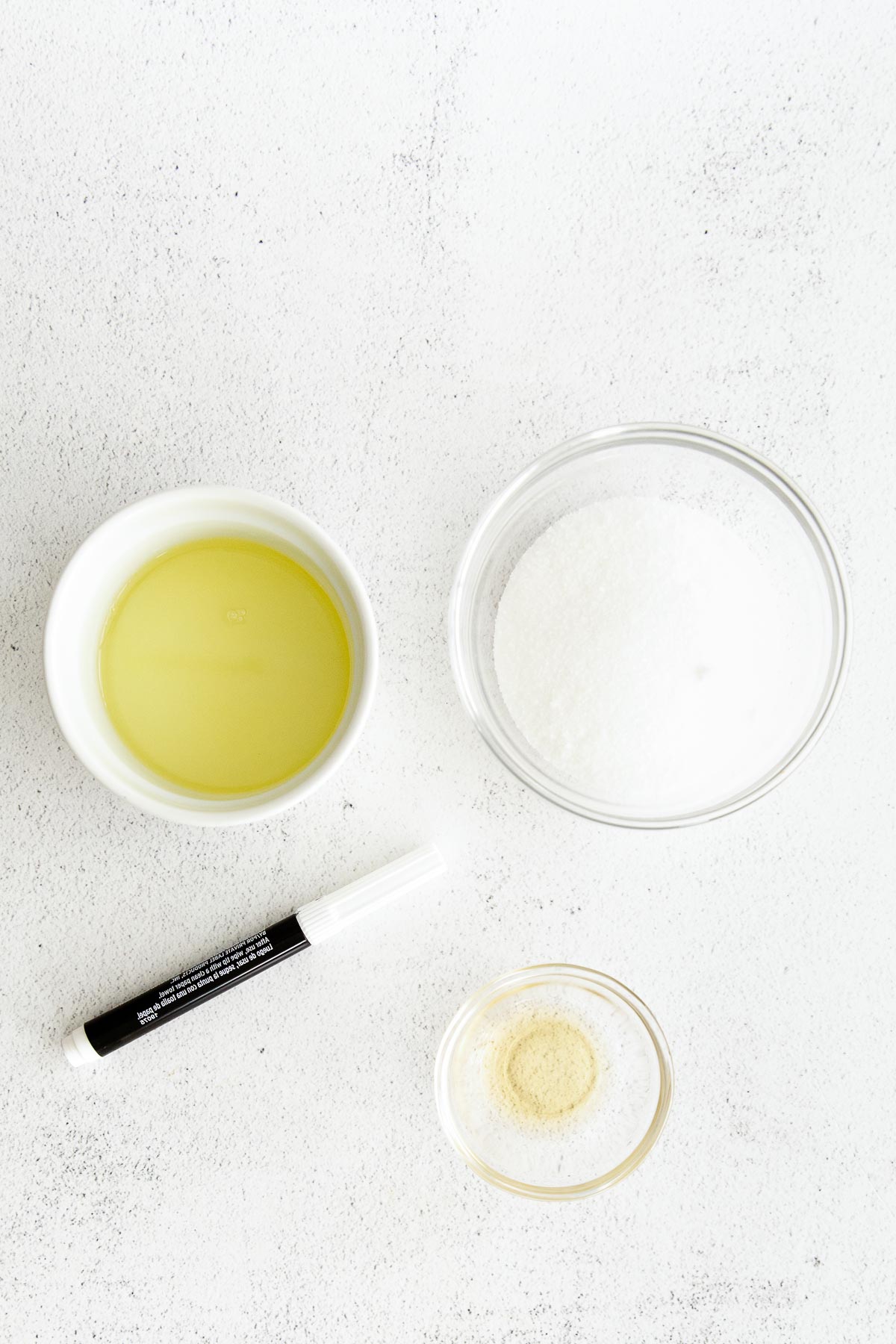 Ingredients/shopping list
Egg whites – Separate the yolks and use them for something else (tomorrow's breakfast). Meringue only requires the egg whites to be whipped, as that is the base of this type of cookie. It makes them light and fluffy.
Sugar – white sugar is needed to sweeten the cookie as well as help to solidify the egg whites as they bake.
Vanilla – For flavor. A warm, delicious flavor to these decadent, yet simple ghost meringues.
Black food marker – Can be found in a pack of colored food markers or as a stand-alone in any baking supply store, on Amazon, or anywhere that sells crafts.
TIP: To make your own black marker combine ¼ teaspoon black food coloring with 1 tablespoon of vodka. Mix thoroughly and dot the eyes using a q-tip.
How to Make this Recipe
This recipe will come together in a few simple steps and then the oven does the rest of the work!
Step 1: Preheat the oven to 275 and line cookie sheets with parchment paper or a silicon baking mat.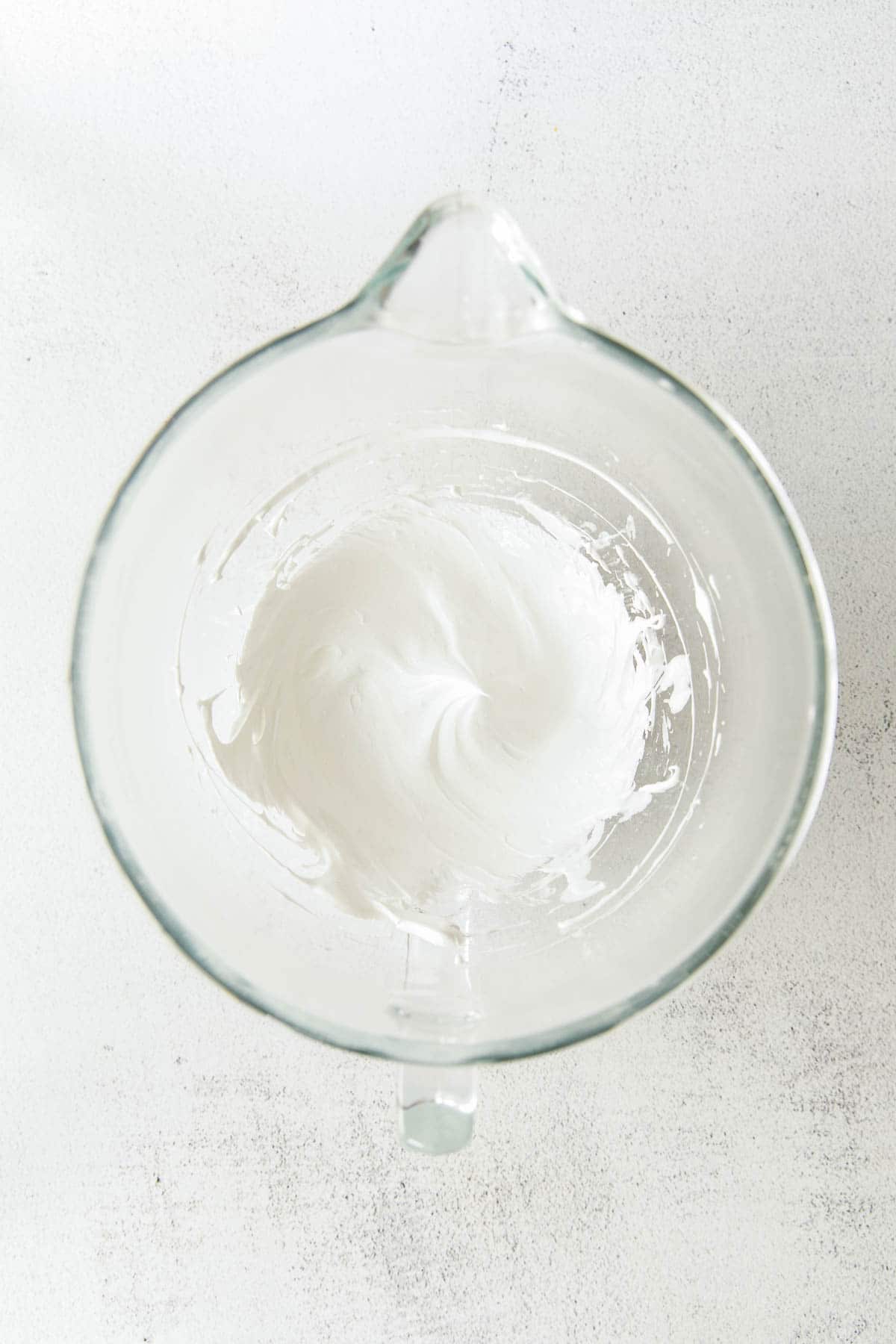 Step 2: Beat egg whites at medium speed using an electric mixer and slowly add 1 tablespoon of sugar at a time.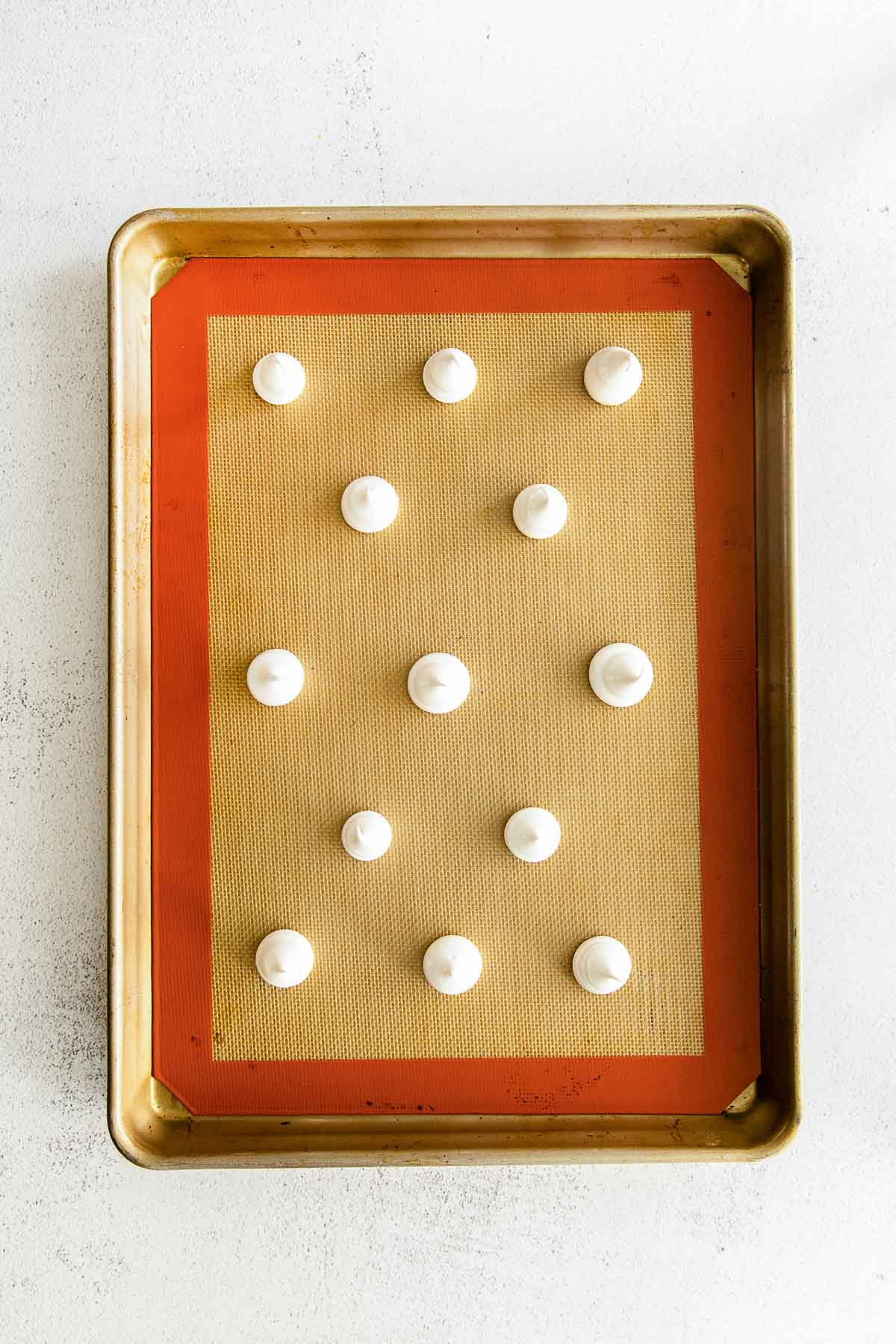 Step 3: Add in the vanilla and up the speed to medium-high or high speed and continue beating until stiff peaks form. This will be about 5 minutes.
Step 4: Scoop the meringue mixture into a piping bag, pastry bag or just a Ziploc bag with the corner end of the bag cut and pipe out small round dollops onto the prepared baking sheet into ghost like shapes. They should be about 1" in diameter and far enough apart from each other that they're not touching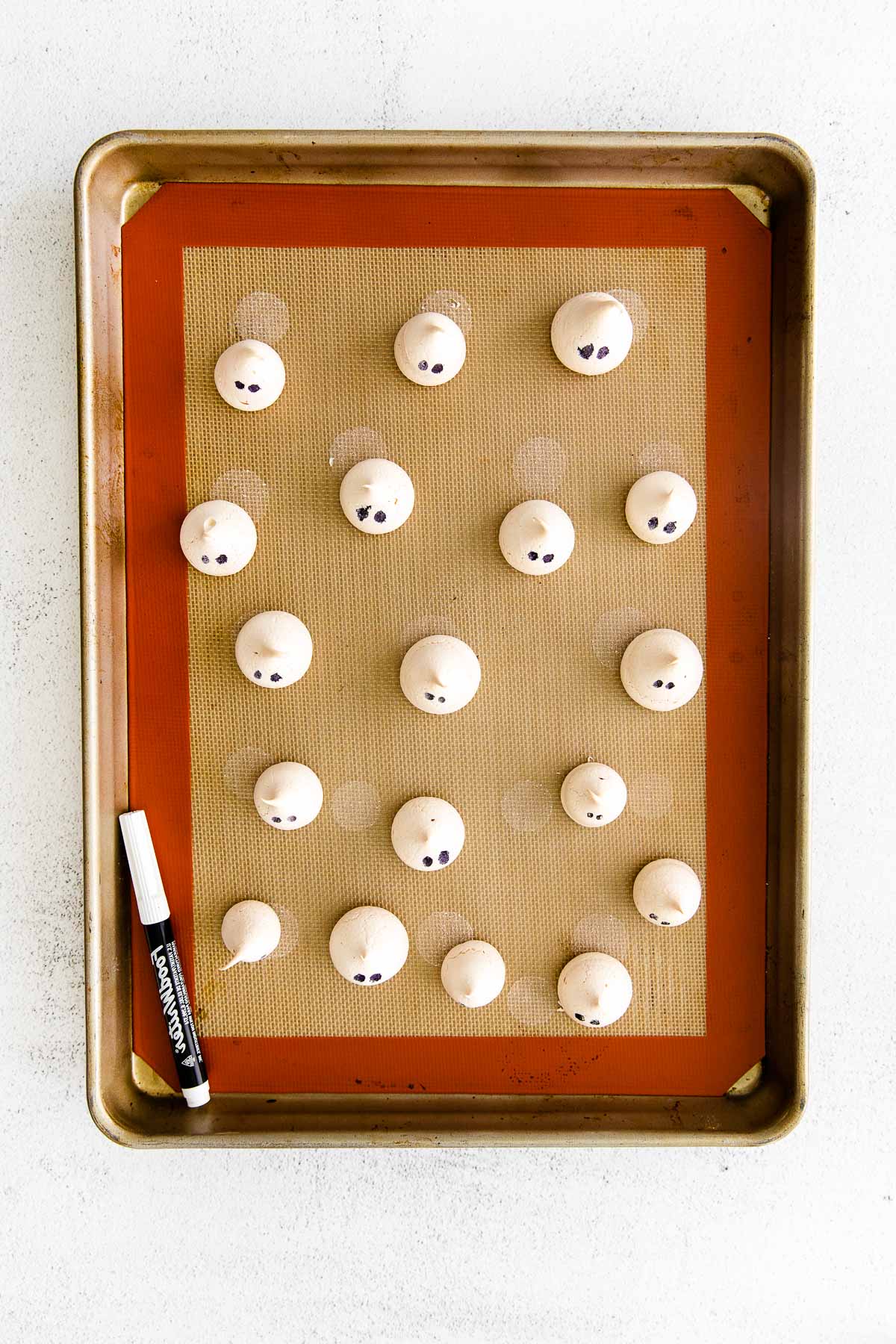 Step 5: Bake for an hour (do not open the door while they bake). Once the hour is up leave the meringue cookies in the oven to cool completely. When they're all done, set, and cooled, use the black food marker to pain on two dots for the ghost eyes.
Variations/ Substitutions
1: Use edible candy eyes or even mini chocolate chips instead of using a food marker.
2: Use clear vanilla extract for even whiter meringues.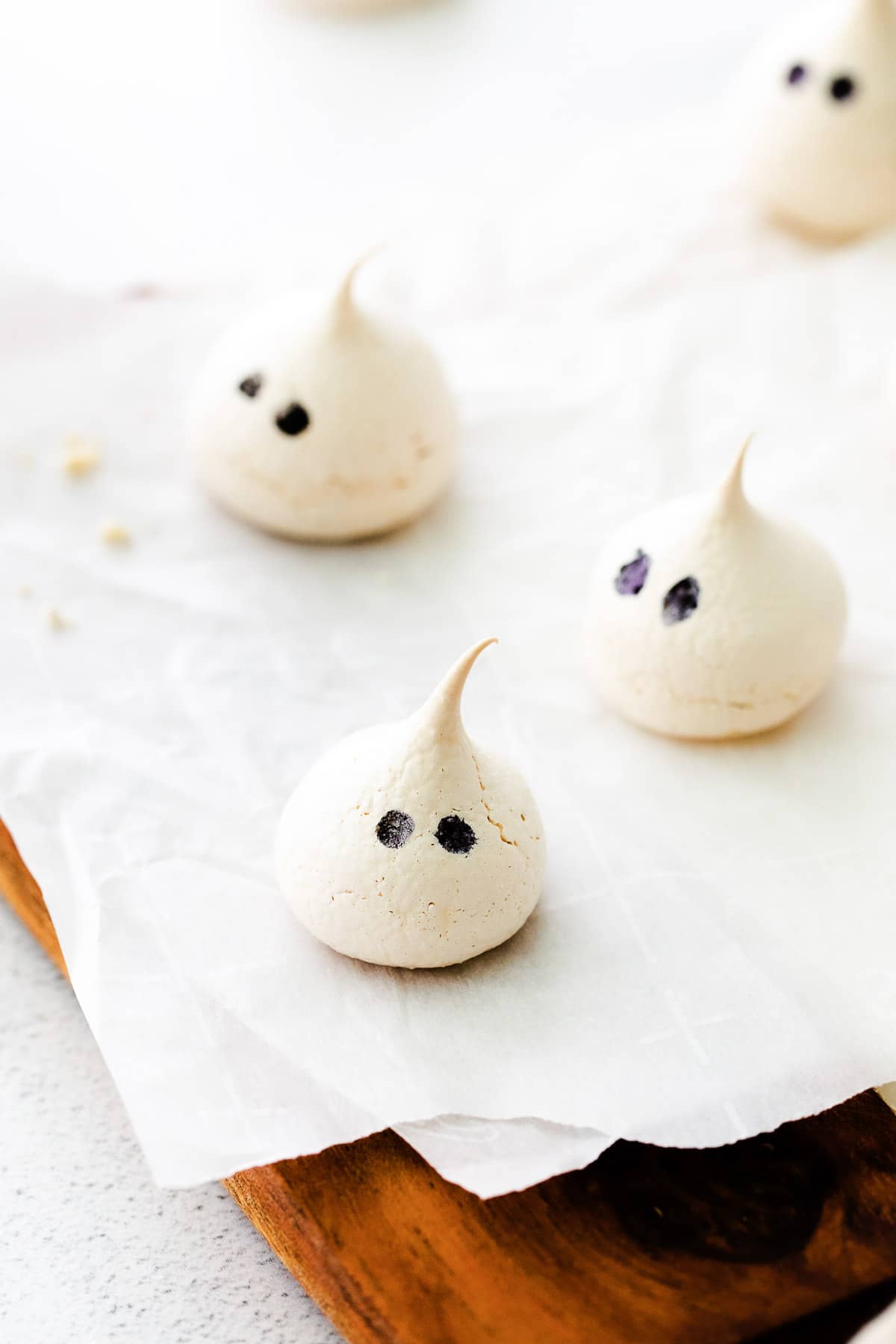 Tips
Bring the eggs to room temperature at least 30 minutes before you begin. This isn't a must, but it does help them whip up to an even lighter and fluffier consistency.
Using a stand mixer with a whisk attachment is best only because it will save you energy and effort, but a hand mixer will work just fine.
After baking, leave the oven door slightly open to allow it to cool to room temperature.
Keep a close watch while they bake. If they get too brown, they may start to taste burnt.
Paint on a cute ghostly mouth as well as eyes if preferred.
FAQ's
How to Store?

Not that you'll have many left, but if you do, they'll stay fresh at room temperature for up to 3 days, in an airtight container.
How to tell if meringues are done?

It should lift off of the baking sheet easily. It will be solid, but not browned, and will have a crunch to it followed by a melt-in-your-mouth consistency once eaten.
What are stiff peaks?

When whipping things like egg whites or heavy cream for a certain amount of time, eventually it transforms into a whipped consistency. At first, they'll be soft peaks, then medium, and as you continue whipping, eventually you'll get stiff peaks. No more than that, otherwise, you're on your way to lumpy butter town. You can tell you've made stiff peaks if when you lift your beaters out of the mixture, none of it falls back into the bowl. It's stiff enough to hold on to the beaters and hold its shape.
Other Fall Dessert Recipes
If you like this recipe, please leave us a comment and rate the recipe below. You can also find us on Facebook, Pinterest, Twitter and Instagram!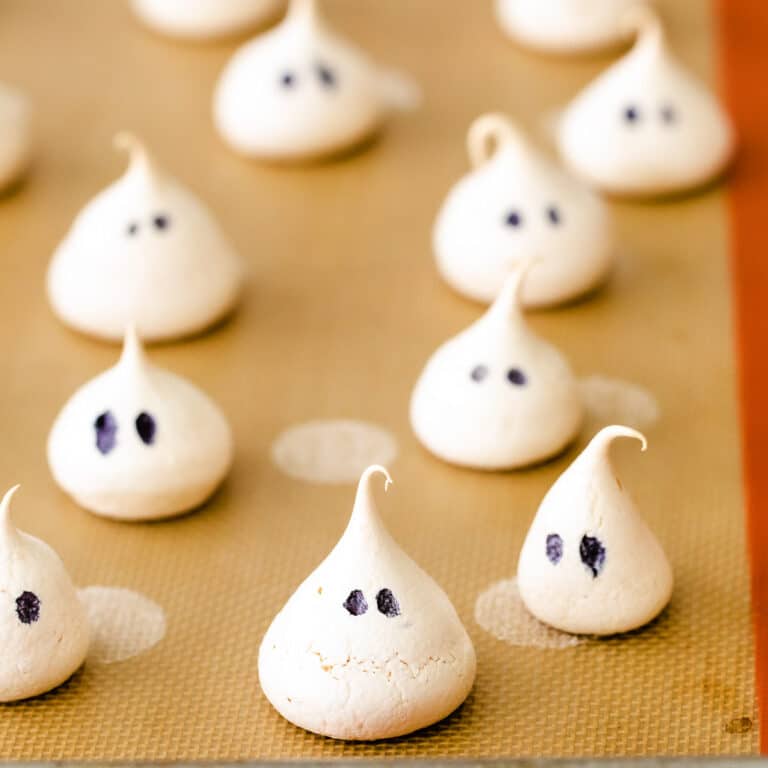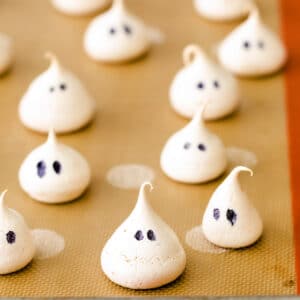 Ghost Meringues
Ghost meringue cookies are an adorable mini treat that are super easy to make and have that crunchy, and melt-in-your-mouth texture that's easier to achieve than you think!
Print
Pin
Rate
Ingredients
3

large egg whites

at room temperature

½

cup

granulated white sugar

½

teaspoon

vanilla extract

Black food marker
Instructions
Preheat the oven to 275° F.

Line a baking sheet with parchment paper or a silicon baking mat.

Add the egg whites to the mixing bowl and mix on medium speed. slowly add 1 tablespoon of sugar at a time. A stand mixer with a whisk attachment is best but a regular hand mixer will work as well.

Add in the vanilla extract and beat at medium-high speed for approximately 5 minutes or until stiff peaks form.

Transfer the meringue to a piping bag or a plastic zip closure bag with a small hole cut in a corner. Pipe out small round dollops onto the baking sheet approximate 1 inch in diameter.

Place in the preheated oven for 1 hour. Then turn off the oven and let the meringue cool in the oven completely.

Using a black food marker, paint on two small dots for eye ghost eyes
Notes
Store to an airtight container for up to 3 days at room temperature.
Egg whites are the base of our meringues. They'll develop more air and become lighter if your egg whites are at room temperature but they don't have to be!
Granulated sugar sweetens the meringues and helps stabilize the egg whites.
Vanilla will enhance the sweetness of the meringues and add a subtle vanilla flavor.
find food markers in most craft stores or on amazon. Make your own by mixing ¼ teaspoon black food coloring and 1 tablespoon of vodka and blend together thoroughly.
Nutrition
Serving:
1
meringue
|
Calories:
12
kcal
|
Carbohydrates:
3
g
|
Protein:
1
g
|
Fat:
1
g
|
Sodium:
4
mg
|
Potassium:
4
mg
|
Sugar:
3
g
|
Calcium:
1
mg
|
Iron:
1
mg