Topped with sweet buttercream and chocolate mini eggs, these meringue nests are deliciously light, crunchy, and quickly melt in your mouth!
Meringue is such a simple dessert with just 6 ingredients, including sugar, egg whites, and Cadbury mini eggs. They're a beautiful way to celebrate Easter, along with these Resurrection Rolls, which are one of my family's favorites. For other occasions, this easy dessert can easily be transformed using other fillings like fresh strawberries!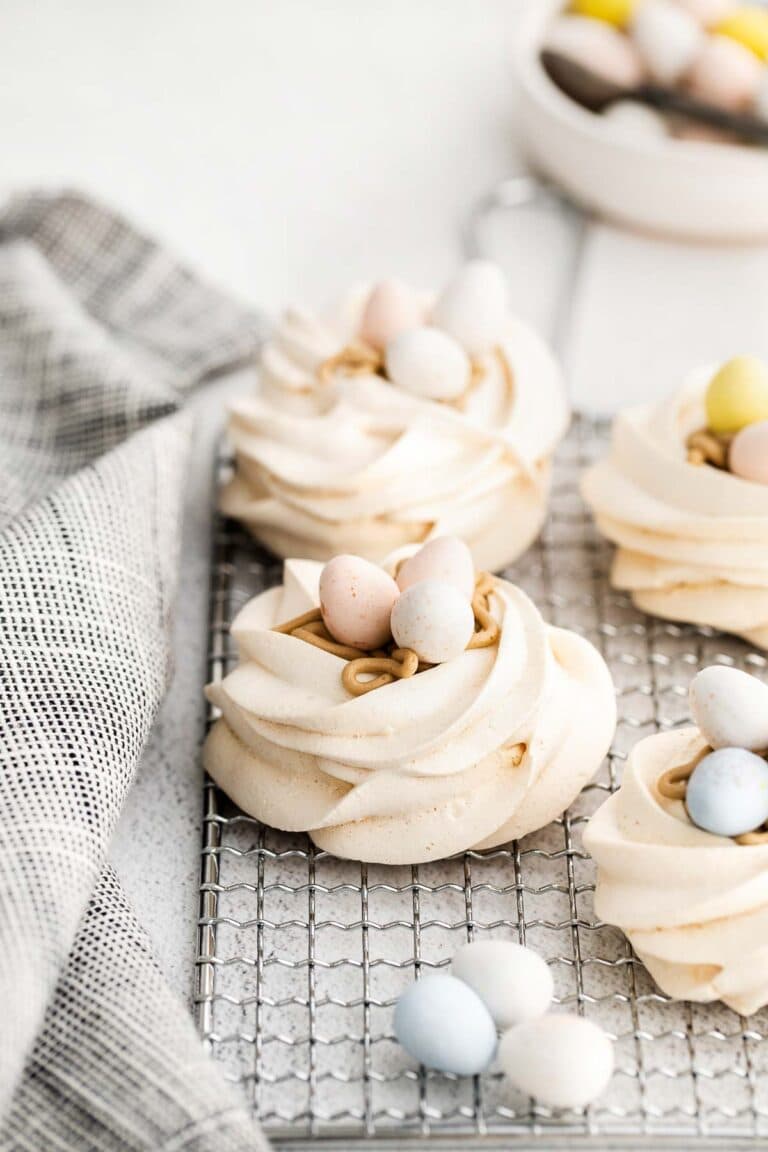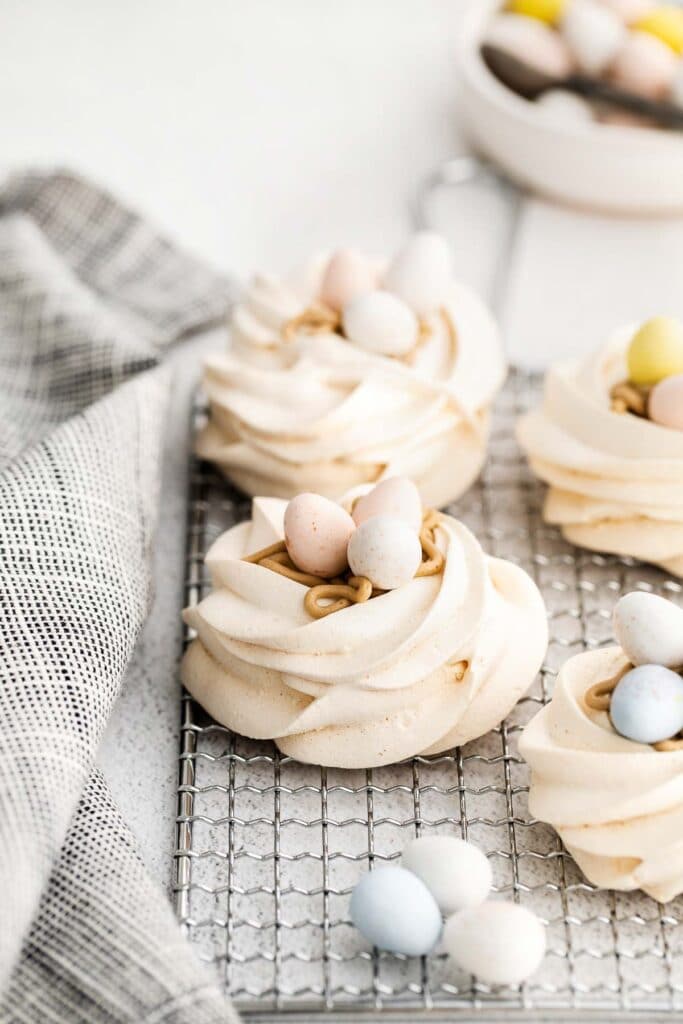 Table of Contents
Easy Mini Meringue Nests
These meringue nests are almost too pretty to eat! They're a dainty dessert recipe probably most famous for their incredible texture. At first bite, they are crunchy yet chewy and almost immediately melt in your mouth. They're sweet customizable meringue cookies that when shaped into a nest can hold so many delicious fillings.
This recipe uses the best buttercream filling topped with everyone's favorite mini eggs. Laying these out on a dessert table for Easter dinner, when hosting a spring baby shower, or on Mother's day, would make such a special statement.
Meringue is very tasty all on its own, but it's such a neutral flavor that it pairs so well with whatever you decide to fill it with. I make these as often as I can for any special occasion, simply because they're easy, kid-friendly, and they're just so cute.
It's a gluten-free dessert that comes together in minutes and has a rest time of a couple of hours. This means that they can be made ahead of time and filled just before serving.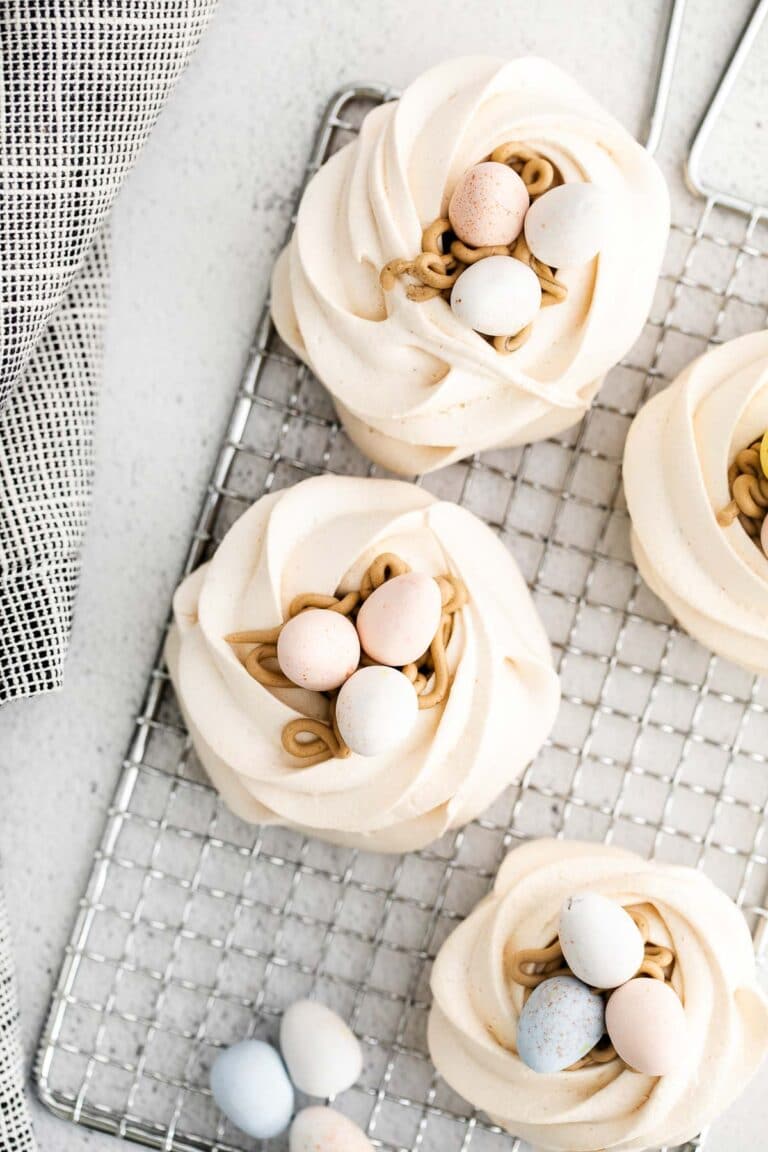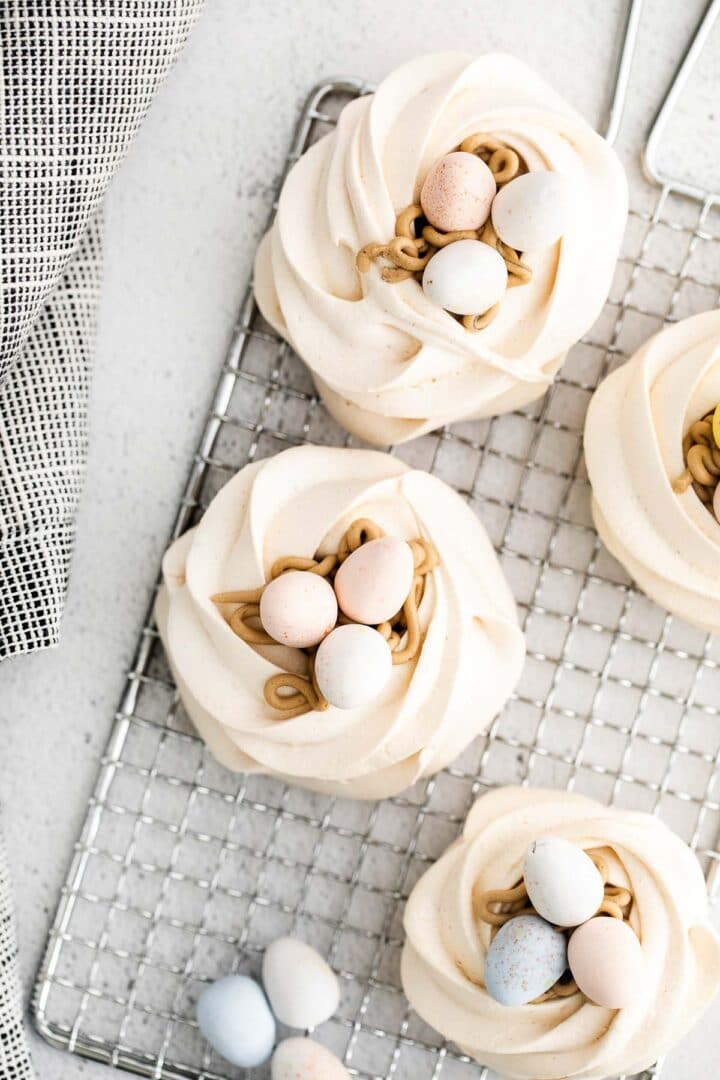 Why this recipe works
It takes just a few simple ingredients that you probably already have. You'll just need to pop over to the grocery store for some mini eggs!
They're so cute and make such a pretty presentation.
Mini desserts are are always a great recipe for parties.. They are easy to handle and can be eaten while mingling.
Can customize size and filling to whatever suits the occasion.
They can be made ahead of time, up to 24 hours.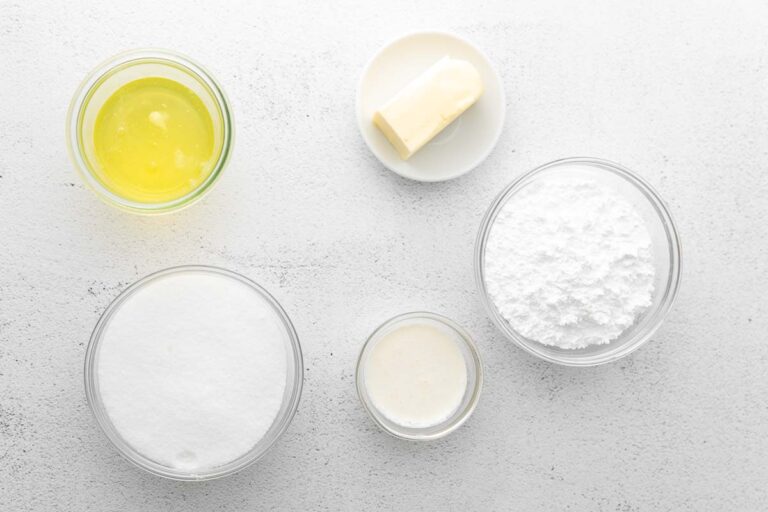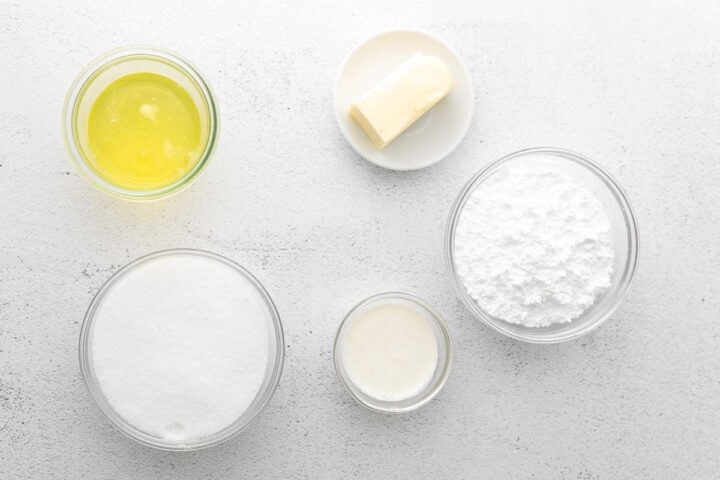 Ingredients/shopping list
Egg whites – Separate the egg whites, and keep the yolks for tomorrow's breakfast.
Granulated sugar – Added into the egg whites for a sweet meringue.
Butter – Softened. Take out of the fridge ahead of time. Makes for easier mixing.
Powdered sugar – Used to sweeten and thicken the cream.
Heavy cream – The heavier cream is needed for richness.
Cadbury mini eggs – A 10 oz bag will do.
How to Make this Recipe
This makes a great make-ahead dessert that can be filled just before serving!
Step 1: Whip egg whites in a large bowl at medium speed with a whisk attachment of a stand mixer or an electric hand mixer. Slowly add in the sugar and turn the speed up to high speed until stiff peaks form.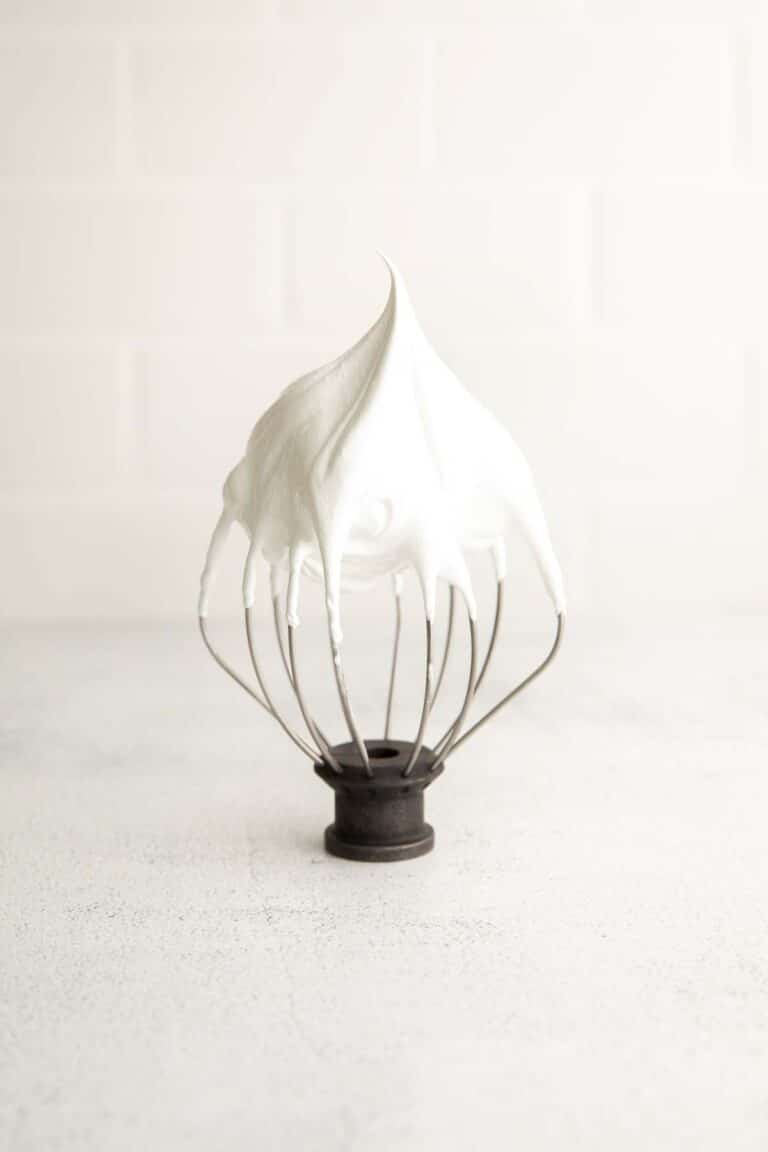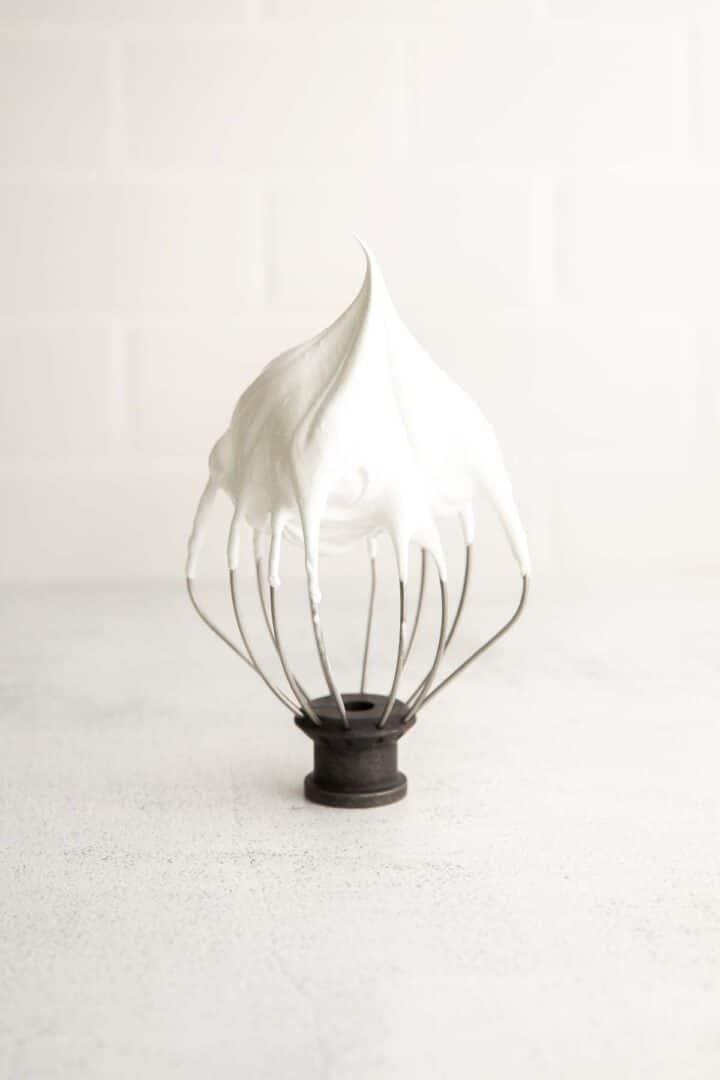 Step 2: Add the meringue mixture to a piping bag or pastry bag and pipe the mixture into about a 3″ diameter circle right onto a baking sheet lined with parchment paper. Using the back of a spoon, gently press down in the center of each meringue, creating a well.
Step 3: Place the baking tray in the oven and bake in a preheated oven until the nests are firm but not brown. Turn the oven off and allow the nests to cool for up to 2 hours inside the oven. While they are cooling, make the buttercream filling.
Step 4: Pipe buttercream into cooled nests, creating the look of sticks, then top with the mini chocolate eggs.
Variations/Substitutions
Variation 1: Although these meringue nests are Easter themed, you can omit the buttercream and eggs and fill the nests with whipped cream and fresh fruit, like blueberries, strawberries, blackberries and raspberries. This makes them more like mini pavlovas.
Variation 2: Top them with chocolate or caramel syrup and powdered sugar if desired.
Variation 3: Fill them with a lemon curd or lemon pudding.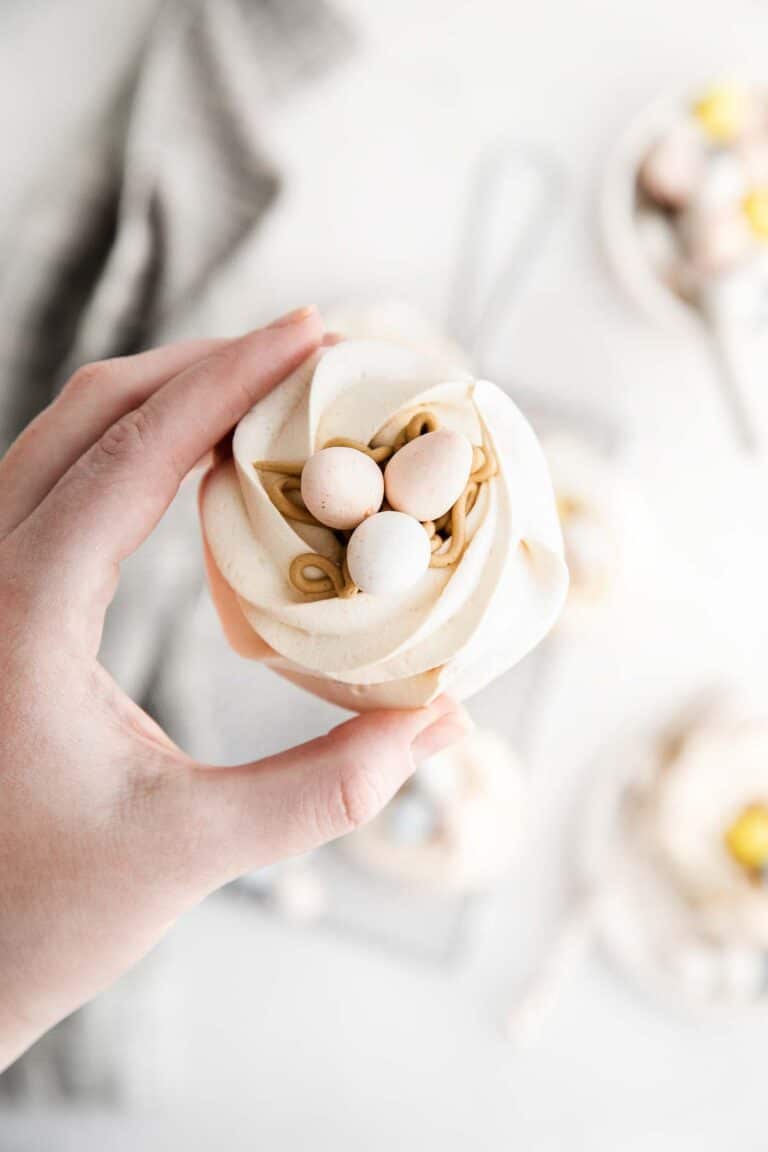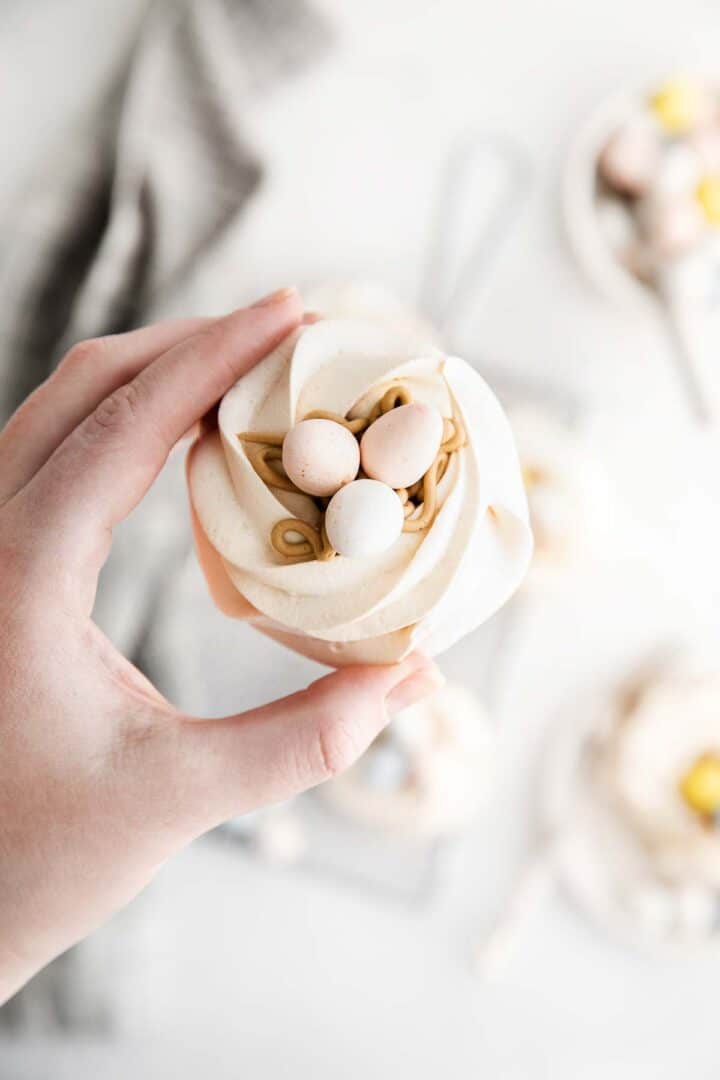 Tips
Use a star tip on the piping bag for the perfect nest shape.
Be sure to let them cool completely in the oven to avoid cracks.
To prevent meringues from cracking, do not open the door while cooking or cooling.
The reason we don't want our meringues to turn brown is that they can very easily taste burnt. The slow drying out process is what we are looking for, which is why we allow them to cool in the oven.
If you don't have a piping bag, you can simply drop meringue onto the lined baking sheet and press center down with the spoon to create the well.
Fill the meringues when you are ready to serve, otherwise they will get soggy.
Filling the meringues too soon, while they are still warm, may melt the buttercream into a messy situation.
Don't be in a rush to add the sugar to your egg whites. Allow the whites to foam, then slowly add in the sugar. Keep as much air in your mixture as possible in order to create the desired texture and consistency.
You can make these up to 24 hours ahead of time and fill them when you're ready to serve.
FAQ's
How to Store?

Meringue nests aren't fussy! Any unfilled nests can be kept at room temperature in an airtight container for up to 2 weeks. The filling may cause them to get soggy, so it's a great excuse not to leave any leftovers!
What is the difference in Meringue and Pavlova?

They are actually quite similar in process and ingredients. The main difference is in their textures. You'll notice that the meringue is dry throughout. It is crunchy and chewy, however, it's not until it melts in your mouth that you notice this. Pavlova has a chewy, marshmallowy center right from the start.
How to Stop Meringues from cracking?

As hard as it is to not open the oven door to check on them, Meringues crack easily when there is a drastic temperature change. That's why it is imperative that they cool down slowly in the oven before removing them.
Other Easy Dessert Recipes
If you like this recipe, please leave us a comment and rate the recipe below. You can also find us on Facebook, Pinterest, Twitter and Instagram!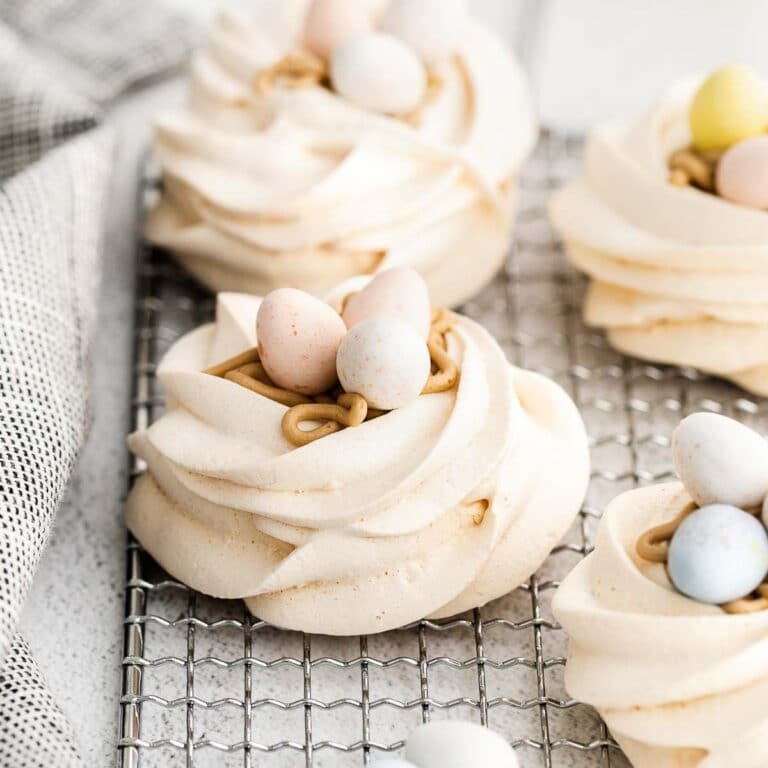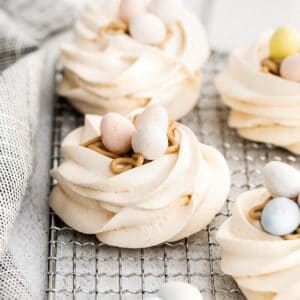 Meringue Nests
Topped with sweet buttercream and chocolate mini eggs, these meringue nests are deliciously light, crunchy, and quickly melt in your mouth!
Print
Pin
Rate
Ingredients
4

large

egg whites

1

cup

granulated sugar

4

tablespoons

butter

softened

1

cup

powdered sugar

2

tablespoons

heavy cream

10

ounces

Cadbury mini eggs
Instructions
Preheat oven to 250 degrees F

Line a large baking sheet with parchment paper or silicon mat.

Add the egg whites to a large mixing bowl, and whip the egg whites on medium speed with in a stand mixer or using a handheld mixer.

Slowly add in the granulated sugar (about 1 tablespoon at a time) Take at least 2-3 minutes to mix in all of the sugar.

Once the sugar is added, turn the speed to medium-high for another 1 ½ – 2 minutes, until stiff peaks form

Add the mixture to a piping bag and pipe the mixture into 3" diameter discs onto the baking sheet.

Then using a spoon, create a small well in the center of each meringue.

Place sheet in the oven and bake for 1 hour, or until the meringues are firm but not brown on top.

Turn the oven off the oven and leave the meringues inside the oven for 1-2 hours to cool.

While the meringues are cooling, place the softened butter in a mixing bowl and beat until it becomes fluffy.

Then add the powdered sugar and heavy cream and beat on medium speed (scaping down the sides several times) until the mixture becomes creamy

Transfer the buttercream to a piping bag and cut a smaller hole into the bag.

Pipe it into the center of the meringue nests creating the looks of sticks.

Top with a mini eggs.
Notes
The meringues can be made up to 24 hours in advance but leave the additional cream off until ready to serve.
Store in an airtight container at room temperature.
Nutritional information does not include Cadbury Eggs.
Nutrition
Serving:
1
nest
|
Calories:
227
kcal
|
Carbohydrates:
40
g
|
Protein:
2
g
|
Fat:
7
g
|
Saturated Fat:
4
g
|
Trans Fat:
1
g
|
Cholesterol:
20
mg
|
Sodium:
79
mg
|
Potassium:
32
mg
|
Sugar:
40
g
|
Vitamin A:
230
IU
|
Vitamin C:
1
mg
|
Calcium:
6
mg
|
Iron:
1
mg