Fun and festive Halloween Sugar Cookies are made with swirls of black and orange cookie dough rolled together in a slice and bake easy recipe!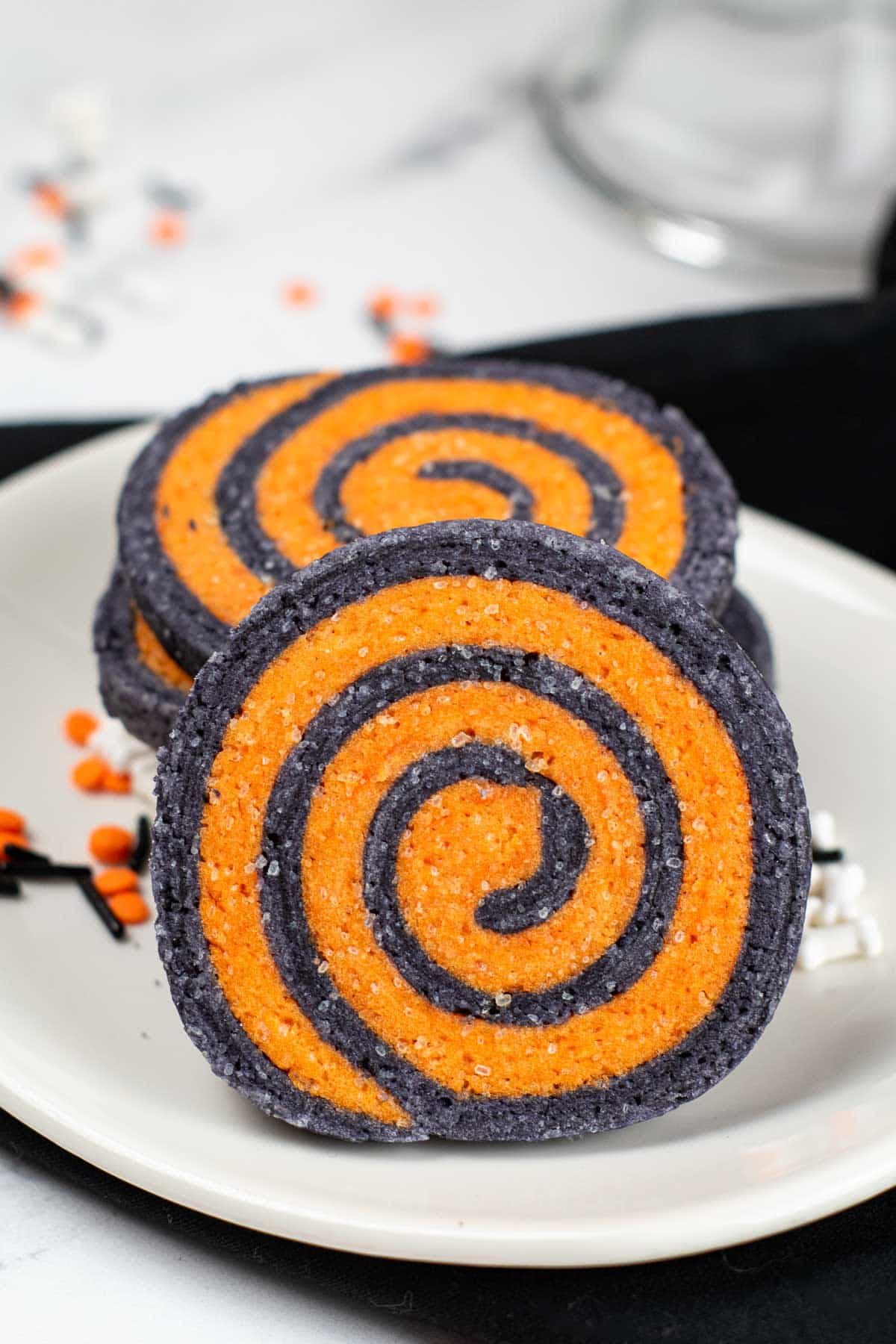 Table of contents
Halloween Cookie Recipe
With Halloween fast approaching, this is the time I start thinking about all the fun recipes I can start baking and decorating! Gone are the days when it's all about how much candy I'm going to get. Just like this Halloween Fudge, making these Halloween cookies is where the fun is at!
These black and orange pinwheel cookies are at the top of my list this year for halloween parties and gift-giving! These sweet treats are easy to make using basic sugar cookie ingredients, most of which I always have on hand, plus they require chill time so I can make them in advance and then slice and bake when I'm ready!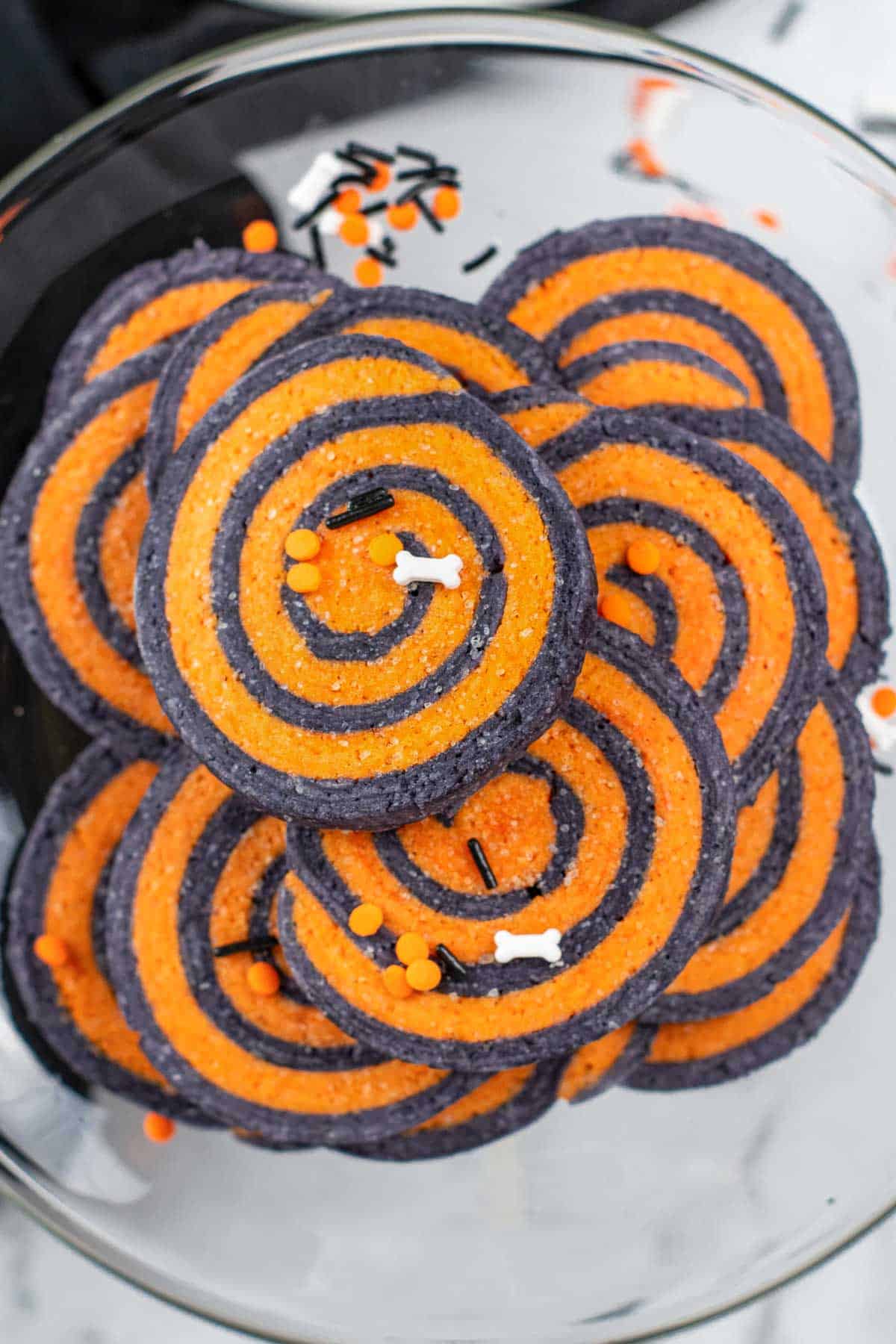 This recipe is such a fun way to make sugar cookies from scratch and they're already decorated coming out of the oven! There's no need for icing or fancy decorating skills because these round Halloween butter cookies are already spooky!
Sugar: Because sugar cookies need sugar!
Butter, softened: Using room temperature, soft butter helps it to cream into a smooth consistency while keeping the cookies buttery and melt-in-your-mouth.
Large eggs: Helps to bind the ingredients together so they hold their shape and don't crumble in your hands.
Vanilla extract: A tasty flavor enhancer used in many baking recipes. Use a good quality pure vanilla extract if you can. It makes a difference!
Flour: All purpose flour is my go-to flour for a simple sugar cookie. But you can use a gluten-free flour as well. I like Bob's Red Mill one-to-one flour.
Baking powder: Helps to keep the cookies soft. Use the amount as directed otherwise your cookies may spread too much. The eggs will help counteract that and helps to keep their shape.
Salt: Brings out the flavor of the other ingredients to maximize the great taste in these cookies.
Food coloring: I use orange and black for Halloween. Liquid or gel, it's up to you.
Variations/ Substitutions
1. Change the colors: Use different colors of the food coloring. Make them green and orange, purple and orange, or purple and green!
2. Add sprinkles. Roll the outer edge of the dough slices in your choice of festive sprinkles before baking.
3. Extra flavor. Add a dash of pumpkin spice in your cookie dough for a fall flavor variation.
4. Add a couple of drops of almond extract if you'd like.
5: Feel free to add a buttercream frosting on top after cooling. All you would need is 1 cup of powdered sugar, 1 stick of softened butter, 1 teaspoon of vanilla and a tablespoon of milk to mix together. Make black icing, or orange frosting (or any other icing colors) by adding a few drops of food coloring to it. Then pipe in onto the cookies with disposable piping bags.
How to Make These Pinwheel Cookies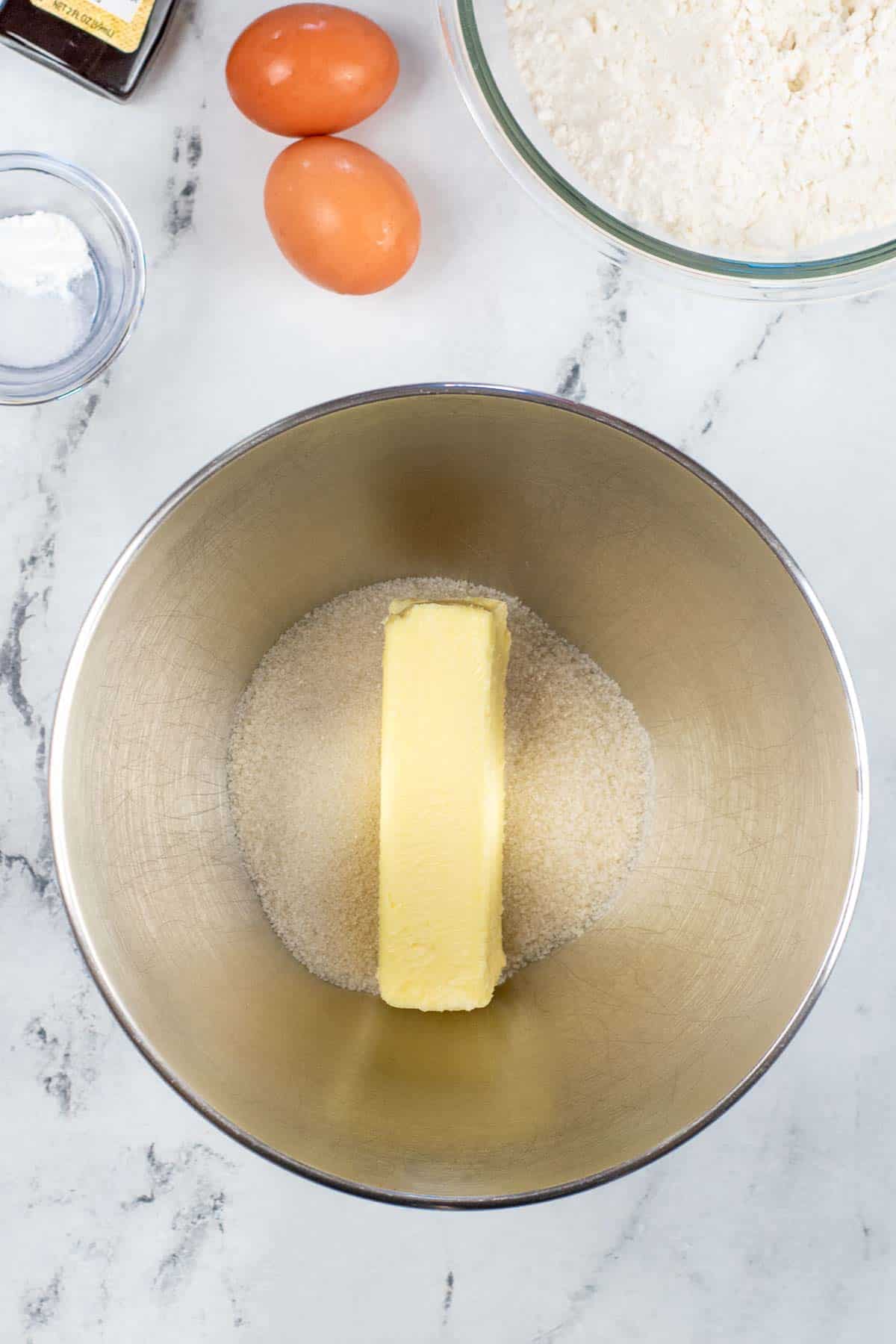 This easy slice and bake recipe comes together quickly. It's the chill time that takes a bit, but don't skip it. It's worth the wait!
Step 1: In a large bowl, cream butter and sugar with an electric mixer on medium speed. You can also use a stand mixer with the paddle attachment.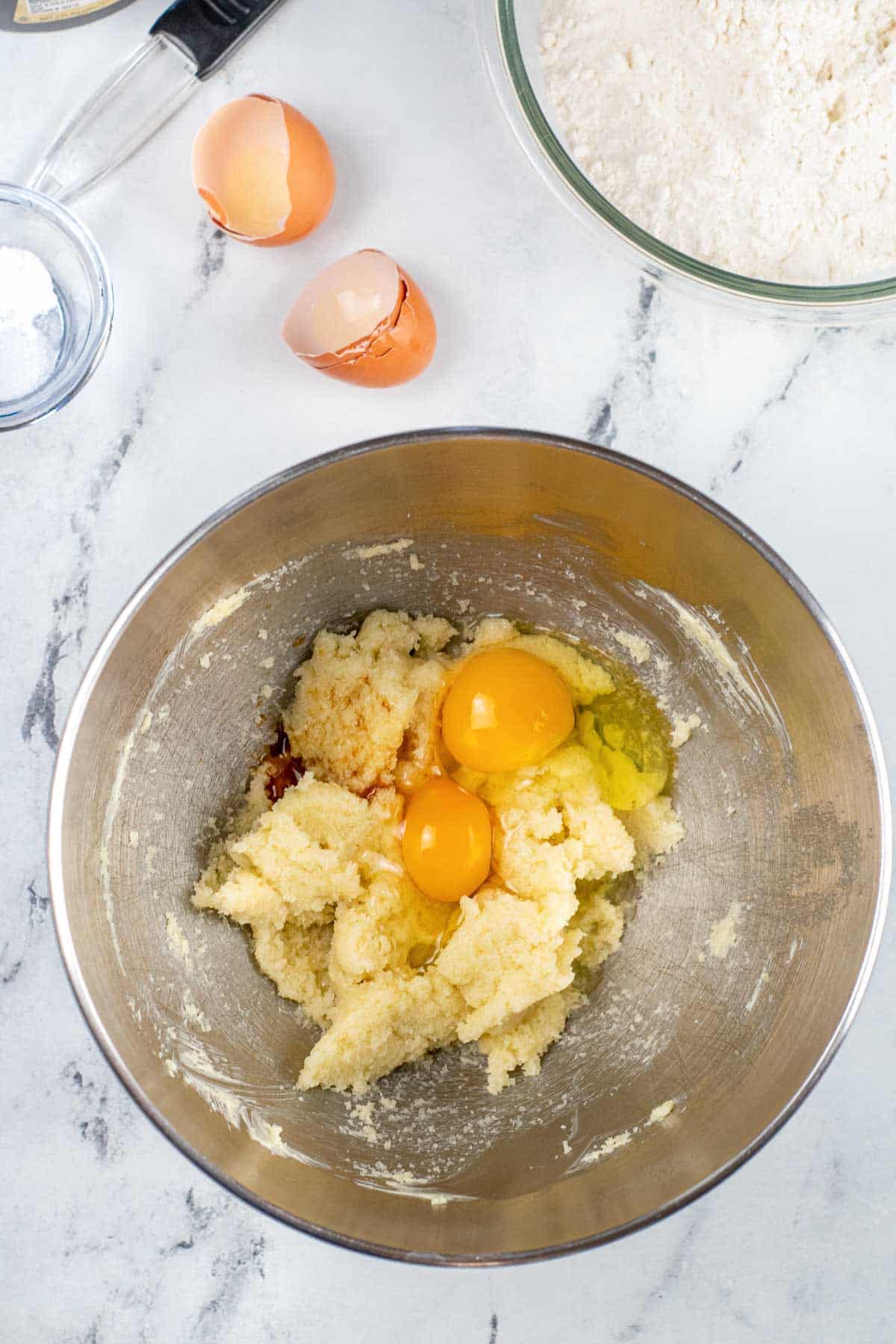 Step 2: Add the eggs and vanilla and mix well.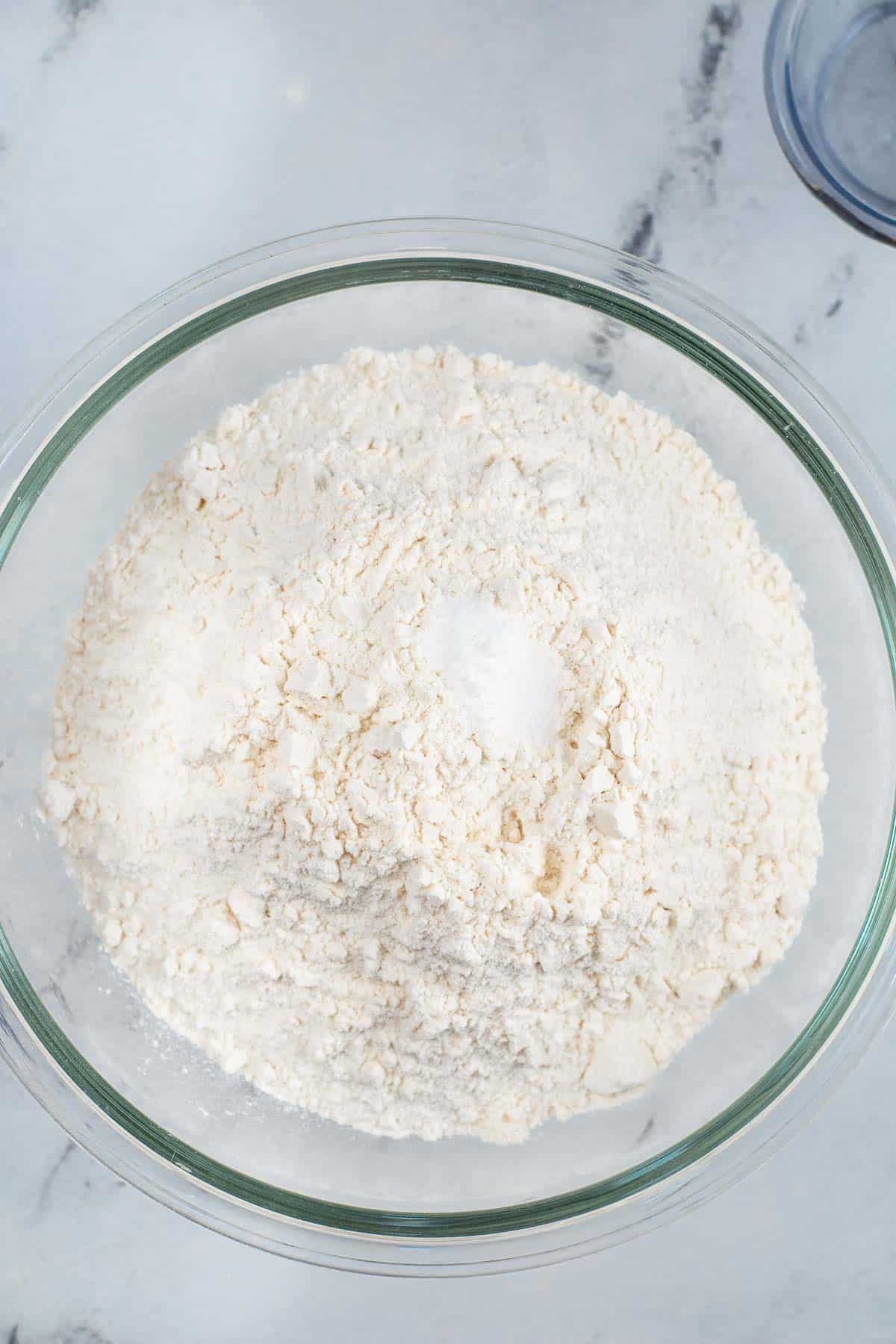 Step 3: In a separate bowl, stir together the flour, baking soda and salt.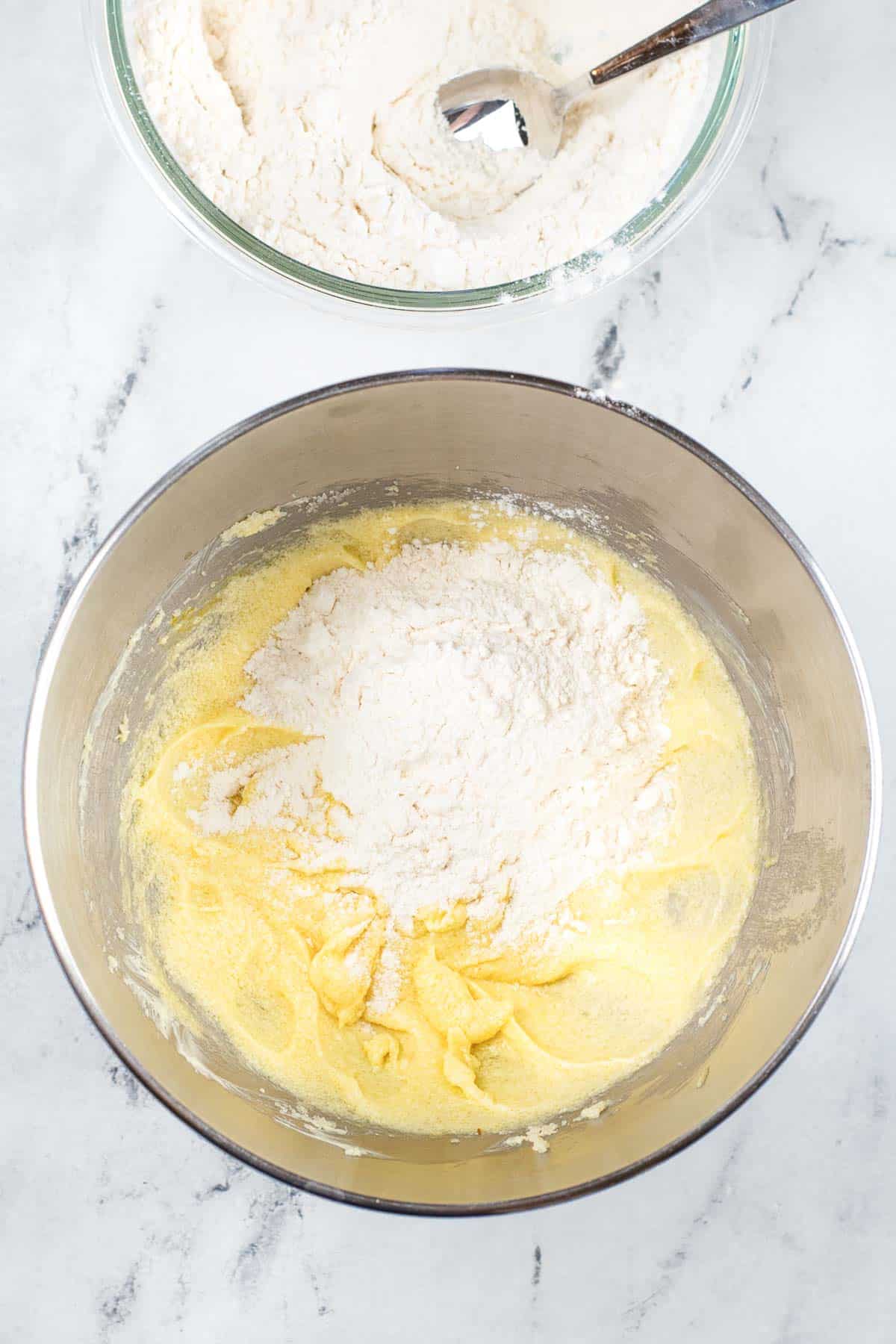 Step 4: Then, you're going to add the dry ingredients into the wet ingredients in batches, mixing on low speed and incorporating between each one, until the dough forms. Be sure to scrape down the sides of the bowl as you miix.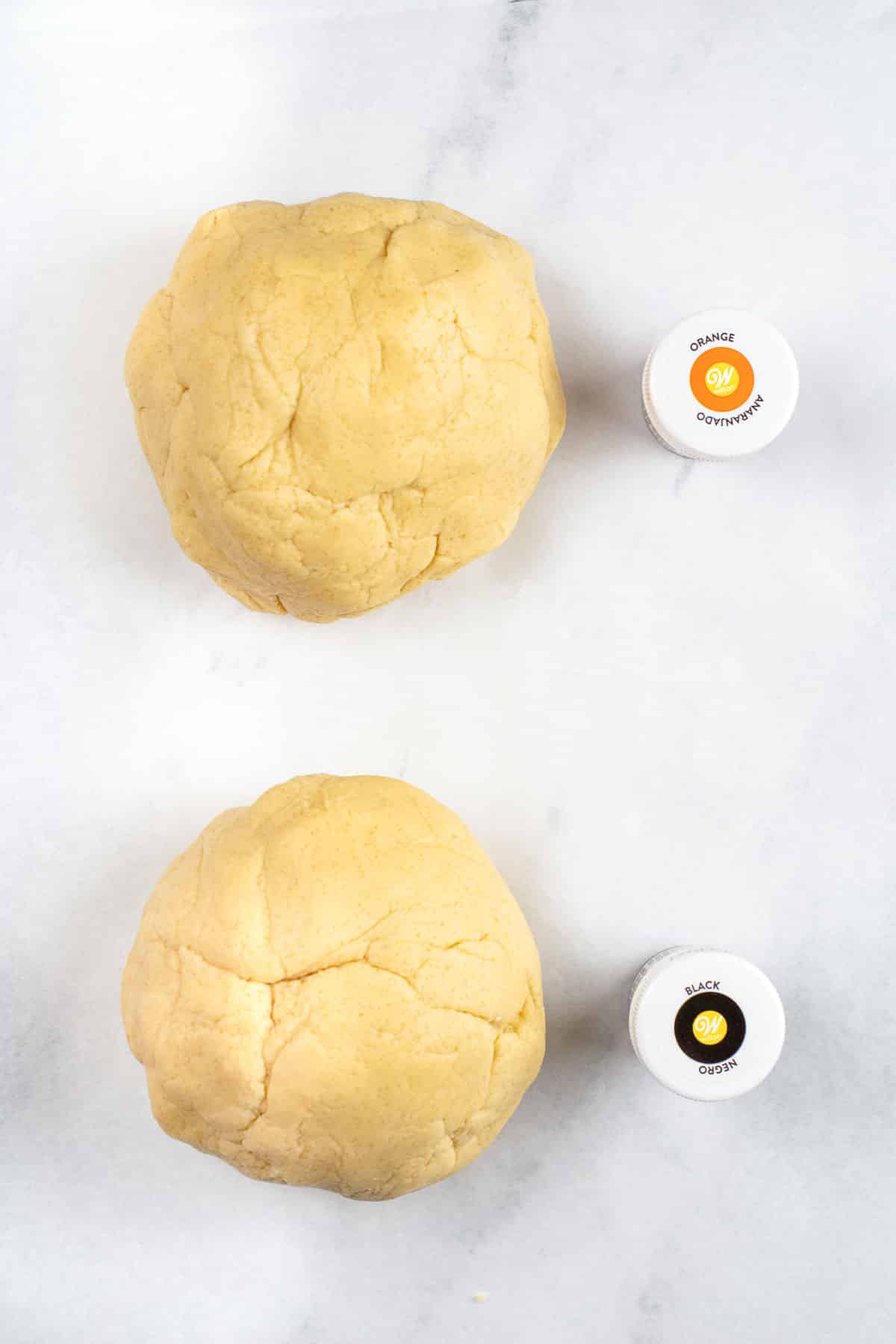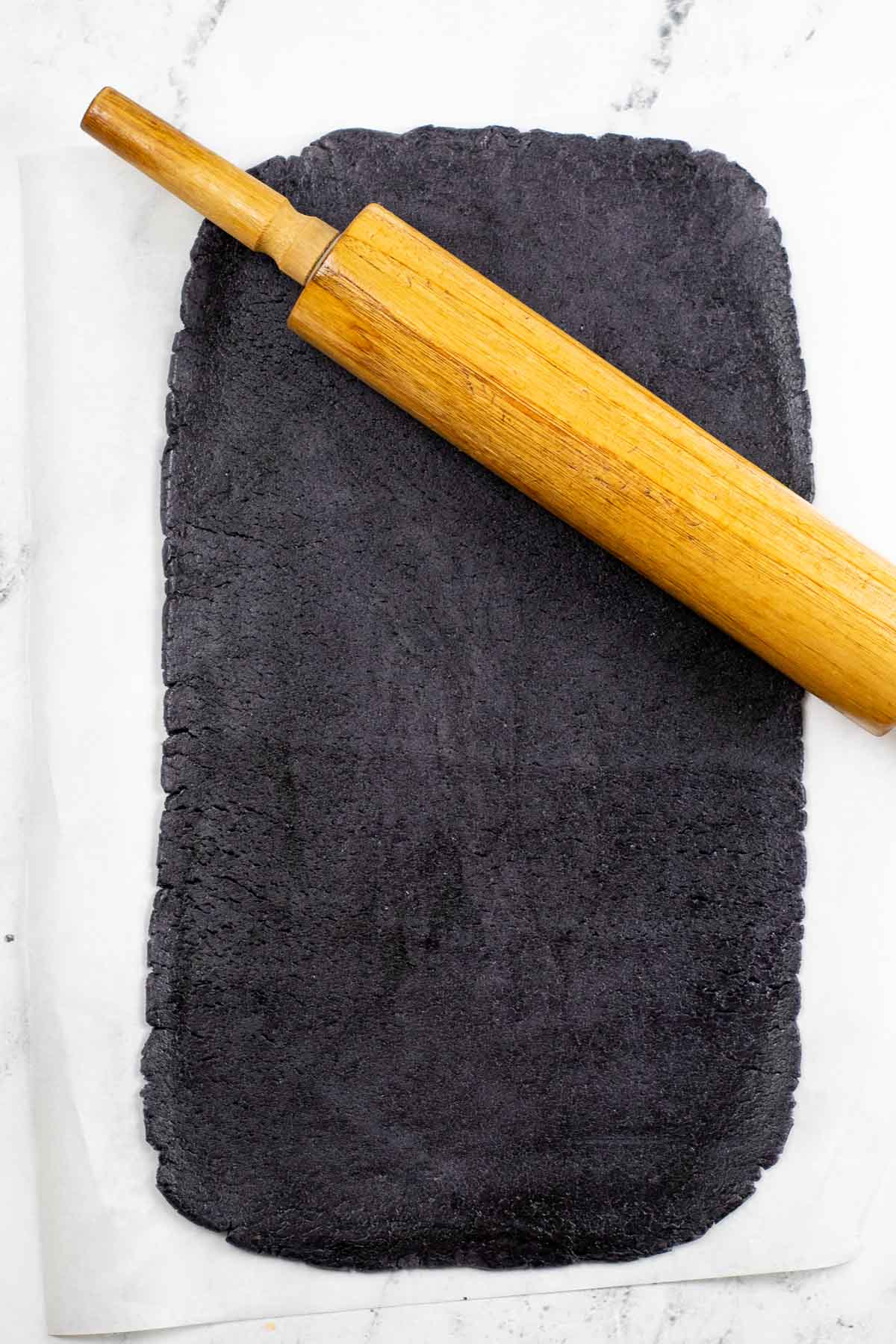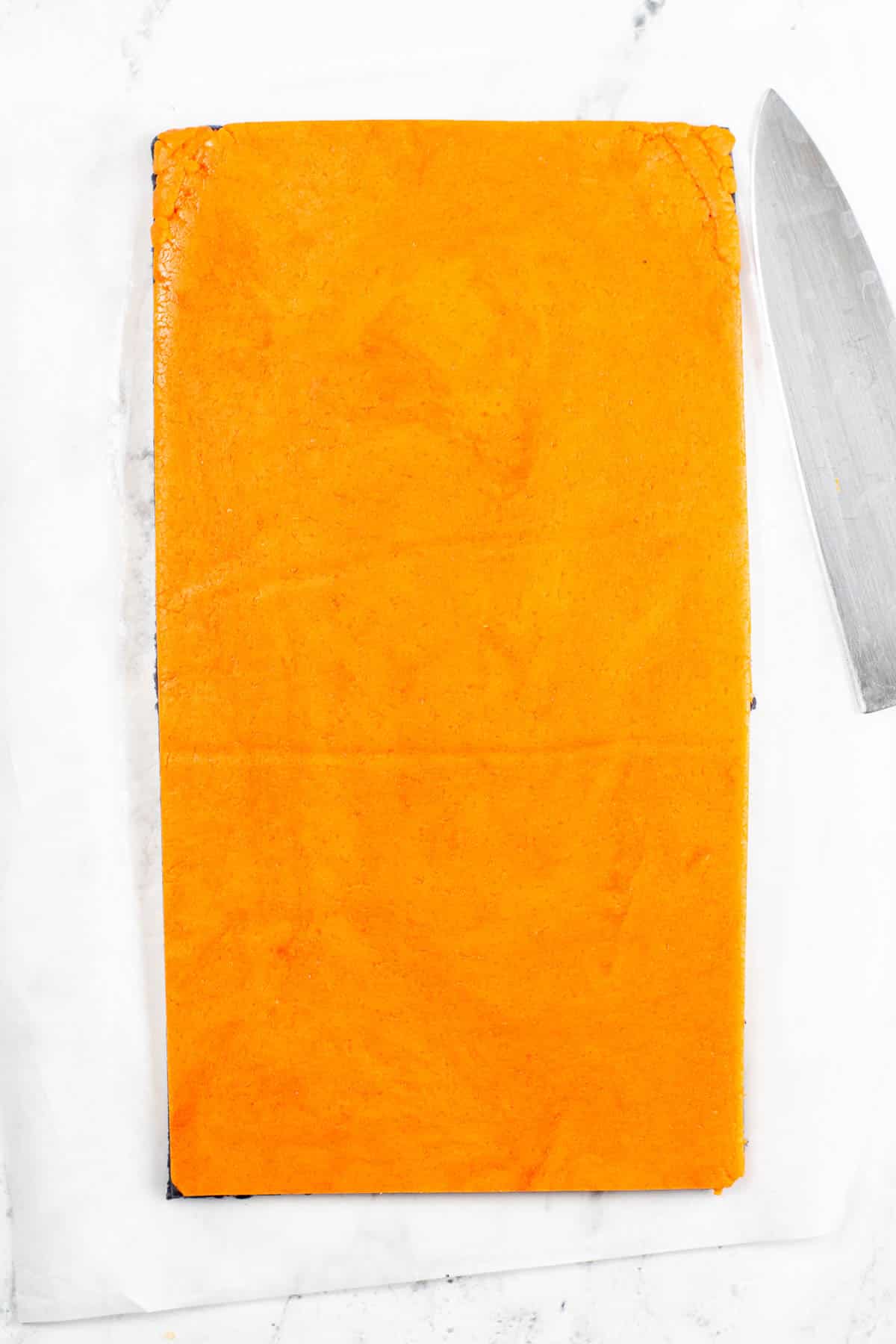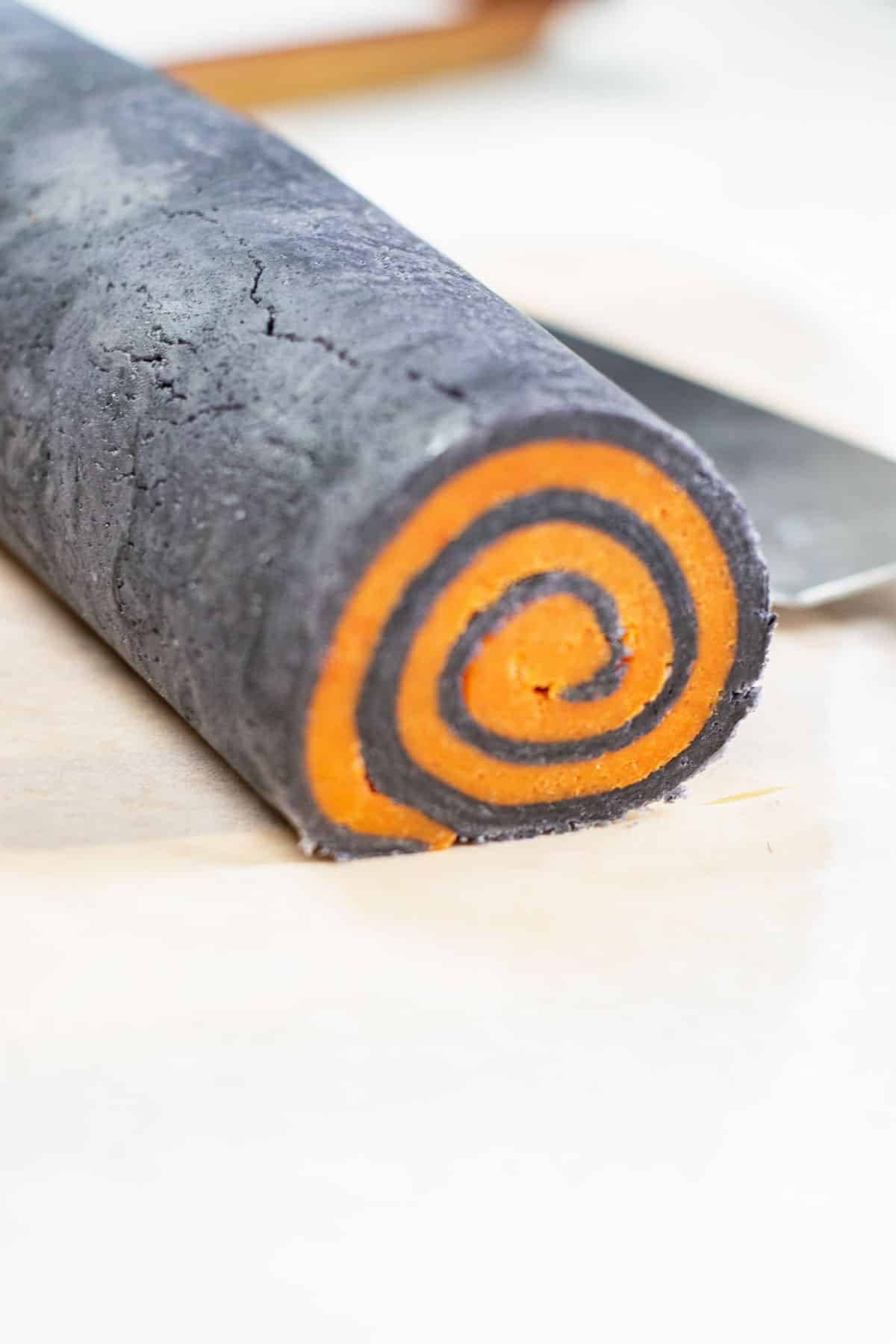 Step 5: Remove the dough from the bowl and divide it in half.
Step 6: Add orange food coloring to one half and knead until the color is incorporated. Do the same with the black food coloring to the other half of the dough.
Step 7: Roll out the black dough on a piece of parchment paper into a 9×15 rectangle. Do this separately with the orange dough, then stack the orange rectangle directly on top of the black rectangle, keeping the parchment paper there to separate them. Chill in the fridge for 15-20 minutes.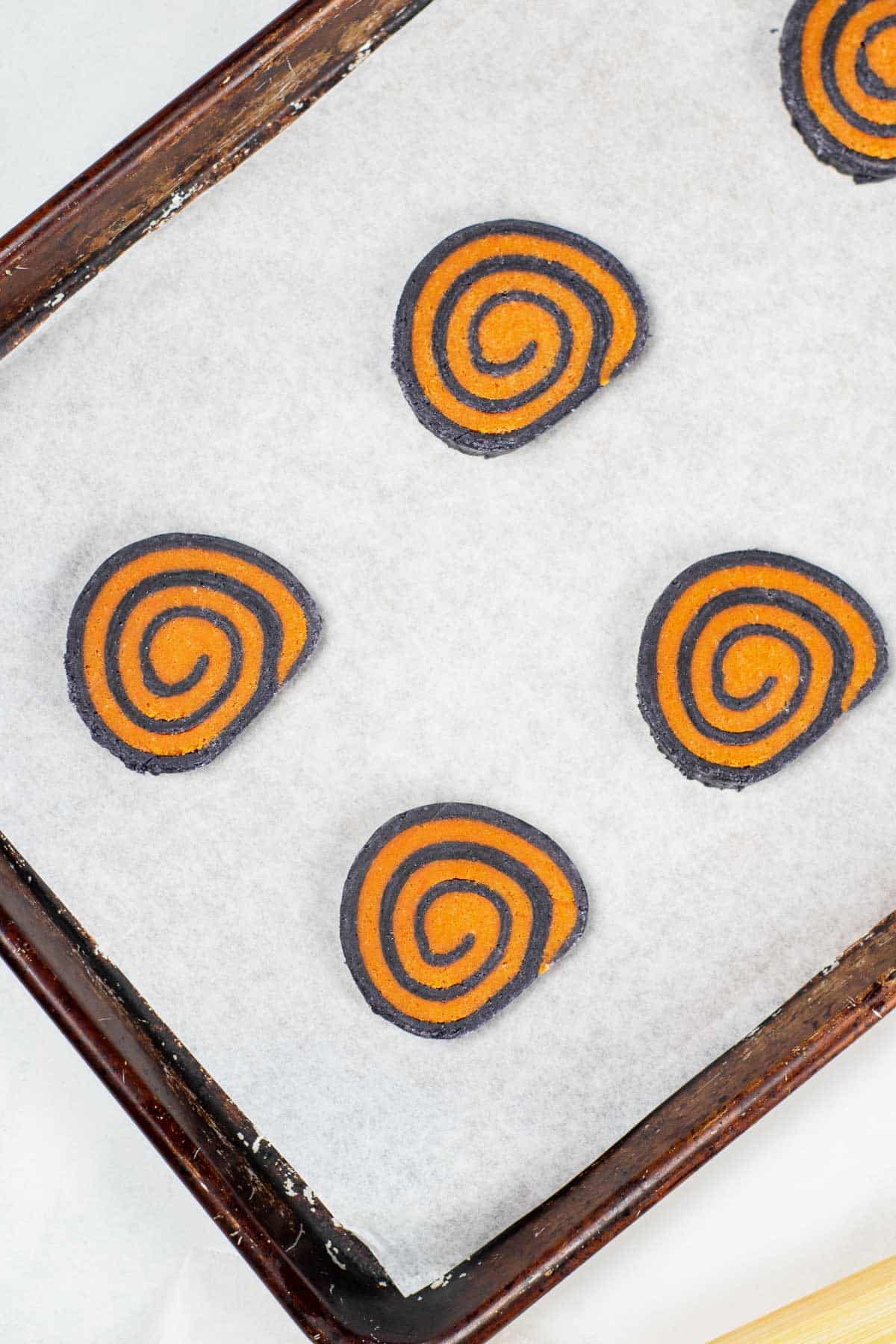 Step 8: Once set, carefully place the orange dough on top of the black, removing the piece of parchment paper. Trim the edges to a perfect rectangle for a neater look.
Step 9: Starting at the short side, roll it up into a log. Wrap in plastic wrap and chill in the fridge for 2 hours.
Step 10: Preheat the oven, slice the log into disks about ¼″ thick, and place on a prepared baking sheet to bake for 10 minutes. Cool your Halloween sugar cookies for 2 minutes then move to a wire rack to cool completely. Enjoy!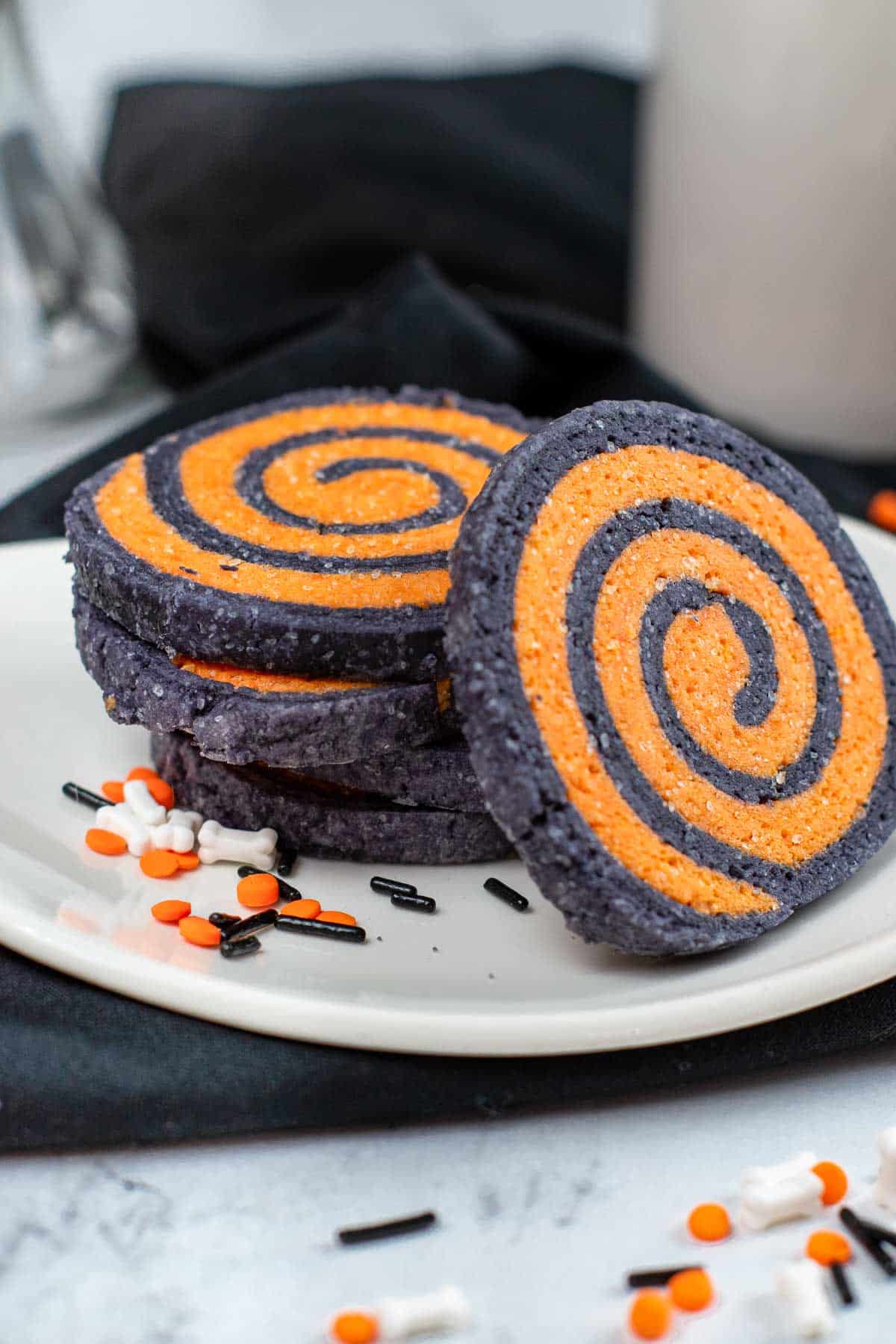 Tips
Roll the log up as tight as you can. Use parchment paper as you roll to help keep the dough from sticking to your fingers.
Do not skip the chill time. This is important, otherwise, the Halloween sugar cookies will spread and lose shape.
Food coloring. As much as I say use what you have, gel food coloring is probably best. It's more concentrated, so you'll use less to get the same vibrant color.
Trim the edges. Use a pizza cutter or sharp knife to trim the edges of the rectangle. This will allow your pinwheel sugar cookies to have clean distinct lines separating the orange and black swirls.
FAQ's
How to store Halloween sugar cookies?

These will keep in an airtight container at room temperature for up to 1 week.
What's the best way to freeze Halloween sugar cookies?
Once baked and completely cooled, I suggest doing a flash freeze first. Place them on a baking tray and put them in the freezer for about half an hour. Once they are solid, transfer them to a freezer bag to keep them stored in the freezer. You can also place them in layers, separated by parchment paper.
How to make the dough in advance?
If you want to have the dough on hand, but you're not quite ready to bake them, once the log has been rolled and chilled, transfer it to a freezer-friendly bag or airtight container and freeze unbaked dough for up to 2 months.

When you're ready to bake, thaw enough to slice it, then bake as directed. You may need to tack on a couple of extra minutes.
If you like this recipe, please leave us a comment and rate the recipe below. You can also find us on Facebook, Pinterest, Twitter and Instagram!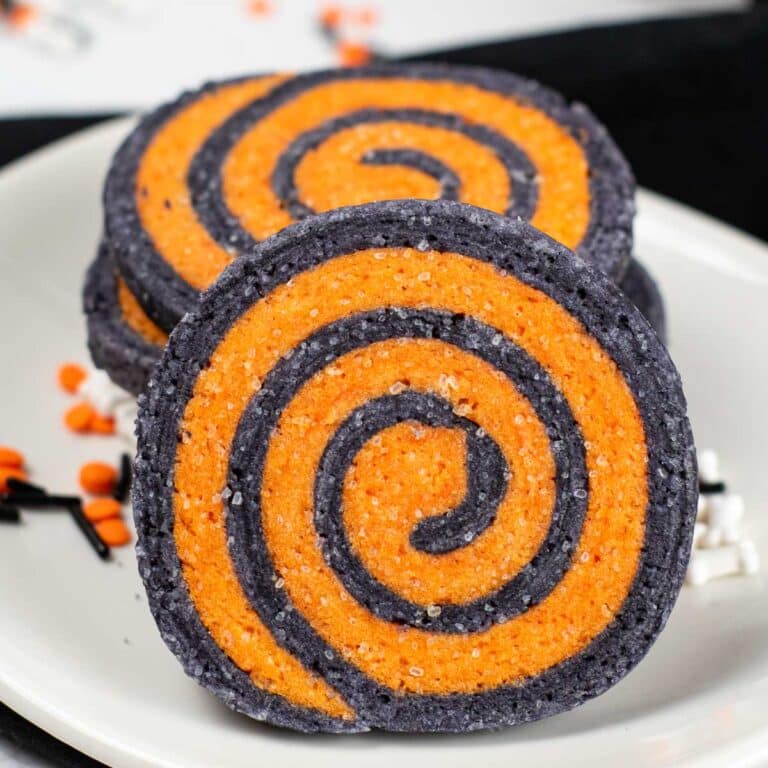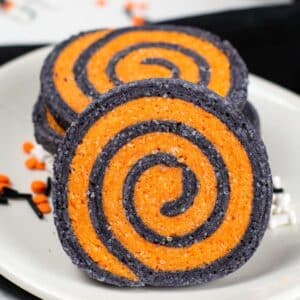 Halloween Sugar Cookies
Fun and festive Halloween Sugar Cookies are made with swirls of black and orange cookie dough rolled together in an easy slice and bake recipe!
Print
Pin
Rate
Ingredients
1

cup

sugar

1

cup

butter

softened

2

large

eggs

2

teaspoons

vanilla extract

3

cups

flour

½

teaspoon

baking powder

¼

teaspoon

salt

orange food coloring gel

black food coloring gel
Instructions
In a large mixing bowl, add the butter and sugar and blend with an electric mixer until fluffy. (you can also use a stand mixer)

Add in the eggs and vanilla extract and blend approximately 15-20 seconds until mixed well.

In a separate medium bowl, add the flour, baking powder and salt and stir together.

Add the flour mixture into the sugar/butter mixture in batches, blending in between each addition until dough forms.

Remove the dough from the bowl and divide it in half

Add about ¼ teaspoon of orange gel food coloring to one of the halves and knead until the color is well incorporated.

Repeat with the other half of the dough, adding about ¼ teaspoon of black gel food coloring and knead until well incorporated.

Place the black dough on a piece of parchment or wax paper and roll it out into an approximately 9×15 rectangle.

Repeat with the orange dough ball, rolling it out on separate piece of parchment paper or wax paper as well.

Keeping the dough on the parchment, place the orange dough directly on top of the black dough and place the baking sheet in the refrigerator for 15-20 minutes to chill.

Remove from the refrigerator and turn the orange dough on top of the black dough lining up the edges as best as possible. (you can also carefully pick up the orange dough and place it on top of the black dough)

Trim along the edges of the dough with a sharp knife or a pizza cutter to make a perfect rectangle.

Starting at the shorter end of the rectangle, roll up the dough a s tight as possible using the parchment paper to help keep it from sticking to fingers.

Wrap the rolled dough in plastic wrap or parchment paper and refrigerate for 2 hours.

Preheat oven to 350° F and line a baking sheet with parchment paper

Place the rolled dough on a cutting board and slice into ¼ inch cookies and place on the cookie sheet.

Bake for 10 minutes

Remove from oven and to cool 2 minutes and then place on a wire cooling rack to cool completely.
Notes
Store in an airtight container for 5-7 days.
Roll in sprinkles or coarse sugar prior to cutting. 
Change the colors if preferred. Use purple and orange, green and orange or any other favorite variations.
Nutrition
Serving:
1
cookie
|
Calories:
164
kcal
|
Carbohydrates:
20
g
|
Protein:
2
g
|
Fat:
8
g
|
Saturated Fat:
5
g
|
Polyunsaturated Fat:
0.4
g
|
Monounsaturated Fat:
2
g
|
Trans Fat:
0.3
g
|
Cholesterol:
36
mg
|
Sodium:
91
mg
|
Potassium:
34
mg
|
Fiber:
0.4
g
|
Sugar:
8
g
|
Vitamin A:
259
IU
|
Calcium:
11
mg
|
Iron:
1
mg