This Homemade Potpourri for the holidays is full of favorite scents of the season.  Simply simmering cloves, cinnamon and citrus fruits on low will fill your home with comfort.
There aren't many things more comforting that the smells of the holidays in your home.  This homemade potpourri for the holidays includes favorite scents of cinnamon, cloves, nutmeg, cranberries, lemons, and oranges.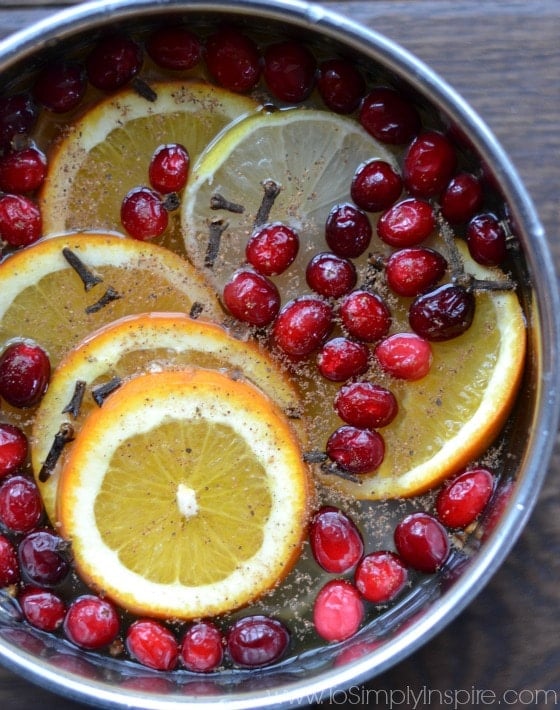 The key is the cloves and oranges in my opinion.
Now that fresh cranberries are more abundant in stores, I buy several bags and freeze them.  I also found whole cloves and cinnamon sticks at The Christmas Tree Shop for $1.00 each if you have one nearby too.
The best part?  This homemade potpourri is so very simple to make!   Your home will be filled with amazing smells all day long.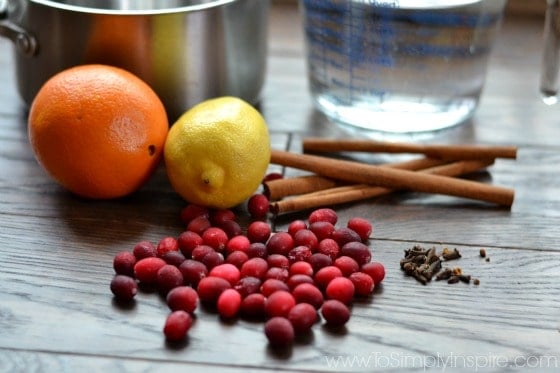 Ingredients needed for this potpourri
Cinnamon sticks
Whole Cloves
Cranberries
Lemons
Nutmeg
Oranges
How to Make this Homemade Holiday Potpourri
Put about 4 cups of water into a sauce pan
Add 3 or 4 cinnamon sticks.
Add 1 Tablespoon of whole cloves
Add 1 teaspoon of nutmeg
Add ½ cup of cranberries.
Add slices from a whole orange and a whole lemon.
Place it on a back burner and heat on low ALL DAY!. (simply add additional water if needed)
ENJOY THE SMELL!