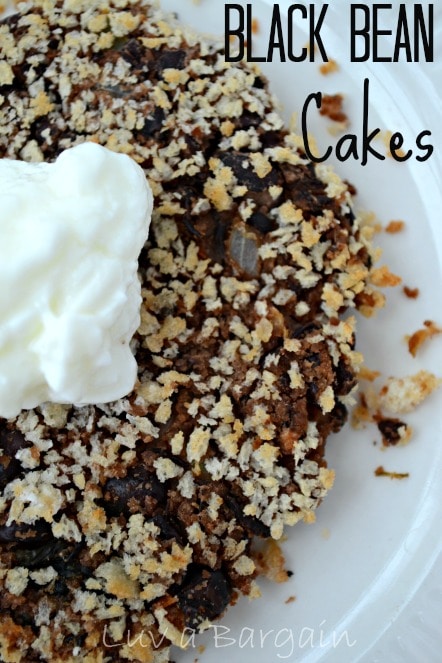 Friday I cooked a bag of dried black beans in the crockpot. (soaked overnight by the way). I love to have them to make my favorite Southwestern Rice Bowls.
But I had a craving for Black Bean Cakes and decided I need to share this with you too. 🙂 They have just the perfect amount of "kick" for me. I don't like overly spicy so you can definitely add more jalapeños or pepper sauce if you like prefer more.
I love to top mine with plain Greek Yogurt too! Yum yum!
Ingredients
3 cups of black beans, drained
¼ cup of red onion
¼ cup of salsa
¼ cup of fresh chopped cilantro
½ a jalapeno pepper, minced
1 teaspoon of Tabasco sauce
2 cups of Panko bread crumbs – 1 cup to mix in beans and 1 cup for dredging the cakes
½ teaspoon of coriander
½ teaspoon of cumin
½ teaspoon of black pepper
Fat free Plain Greek yogurt, optional
DIRECTIONS
1. Preheat oven to 400 degrees
2. Drain the black beans into a colander and drain for 10 minutes
3. Mix the beans, onions, salsa, cilantro, jalapeno, tabasco and 1 cup of panko bread crumbs in a bowl.
4. Thoroughly blend using hands. Be sure to mash the beans to form a thick mixture.
5. Form into patties.
6. In a separate bowl, mix the other 1 cup of panko bread crumbs, cumin, coriander and black pepper.
7. dredge the patties in the bread topping on both sides and place on a baking sheet.
8. Cook for 15 minutes
8. Then flip over and cook for another 15 minutes or until golden brown.
You can also saute them in a pan over medium high heat in a couple of tablespoon of coconut oil or olive oil until crispy.