These delicious Brownie Truffles are made with just 4 ingredients, including a boxed brownie mix, which makes them so much easier to make than your classic truffle recipe and just as gooey, decadent, and rich!
Truffle balls are one of the easiest ways to indulge in a fudgy chocolate treat without spending time tempering chocolate, or baking cakes! Oreo Balls and Healthy Chocolate Truffles are two more you can whip up in no time for special occasions, holiday season or an after-dinner sweet treat. Either way, make lots and freeze some so you'll always have them around!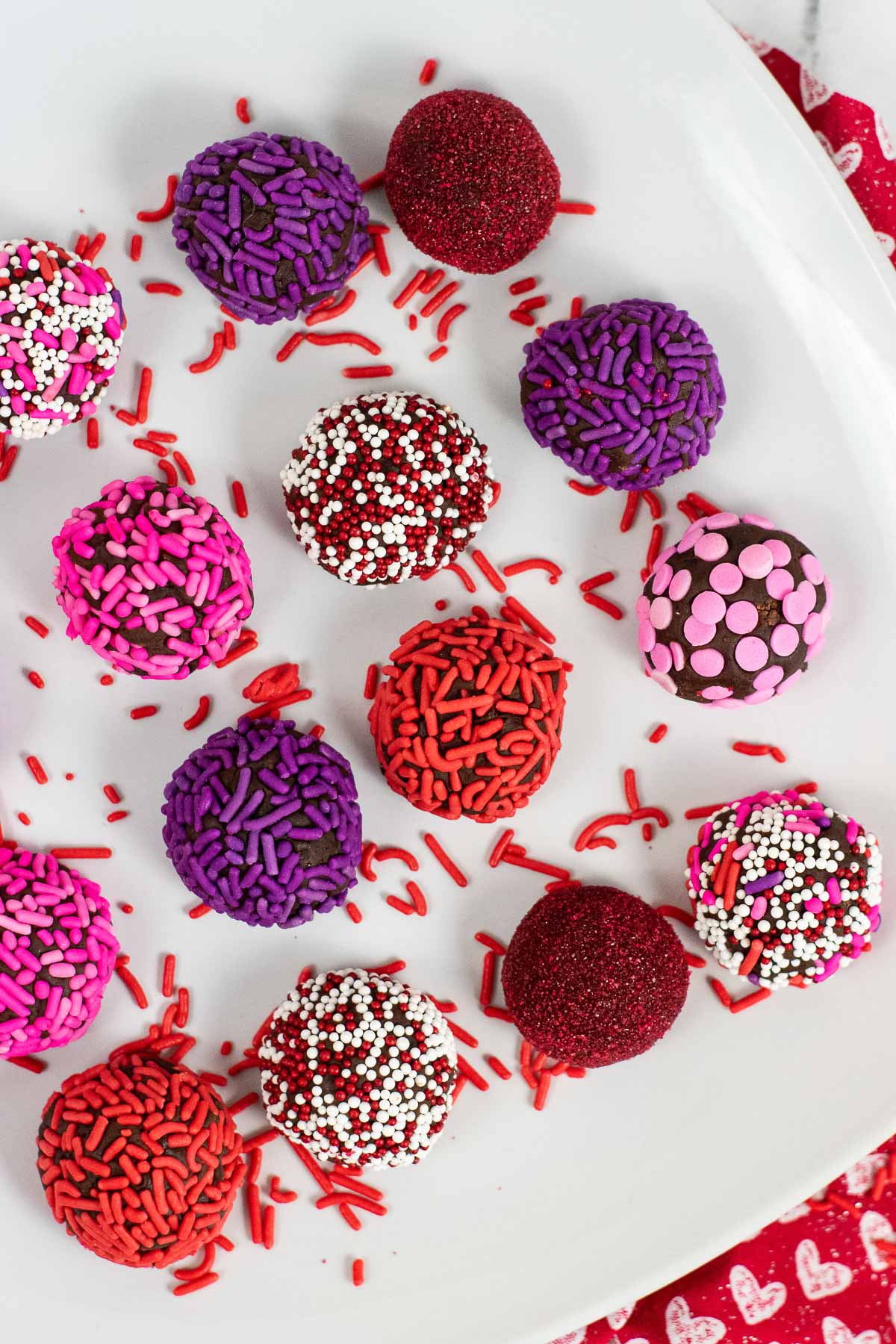 Table of contents
Easy Brownie Balls
If you love decadent truffles but are looking for a shortcut to make them, these easy brownie truffles are just the thing! They're a great no-bake dessert perfect for adding to a mini dessert tray and what's neat is that you can decorate them according to whatever occasion you're celebrating! This Valentine's day I'll be using red and pink sprinkles, but come Christmas time, I'll add some festive gold flakes to the mix!
To bite into one you'd never know it was made with a store-bought brownie mix and two kinds of syrup. It tastes and feels just like the classic version that uses real chocolate, heavy cream, and butter but this way there's no need to wait for it to set before rolling. A quick way to a beautiful easy treat is just minutes away!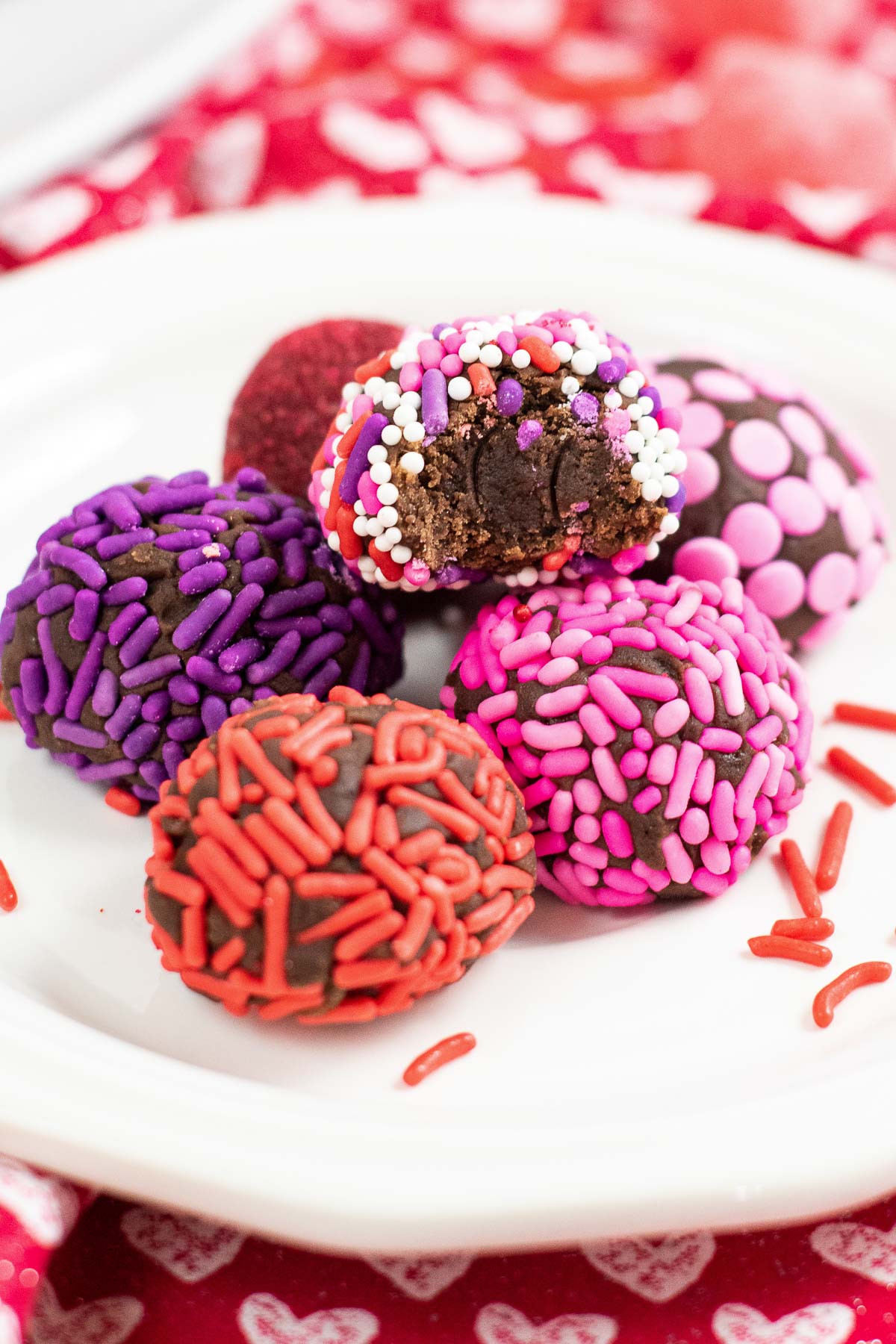 Ingredients/shopping list
Brownie Mix – Any store-bought dry brownie mix will work.
Chocolate syrup – Combined with the heated brownie mix, it will help us get that chocolatey fudgy base we need.
Corn syrup – NOT high fructose corn syrup. It's what makes them decadent and creamy and melt in your mouth!
Water – Just a bit to help thin out the truffle mixture. Corn syrup is quite thick, so a little water will help.
Decorative Sprinkles – Any of your faves! Use pink, red, and purple for Valentine's Day, or green and red for Christmas. Rainbow sprinkles for birthday parties, and chocolate, white chocolate, gold, and silver just for fun!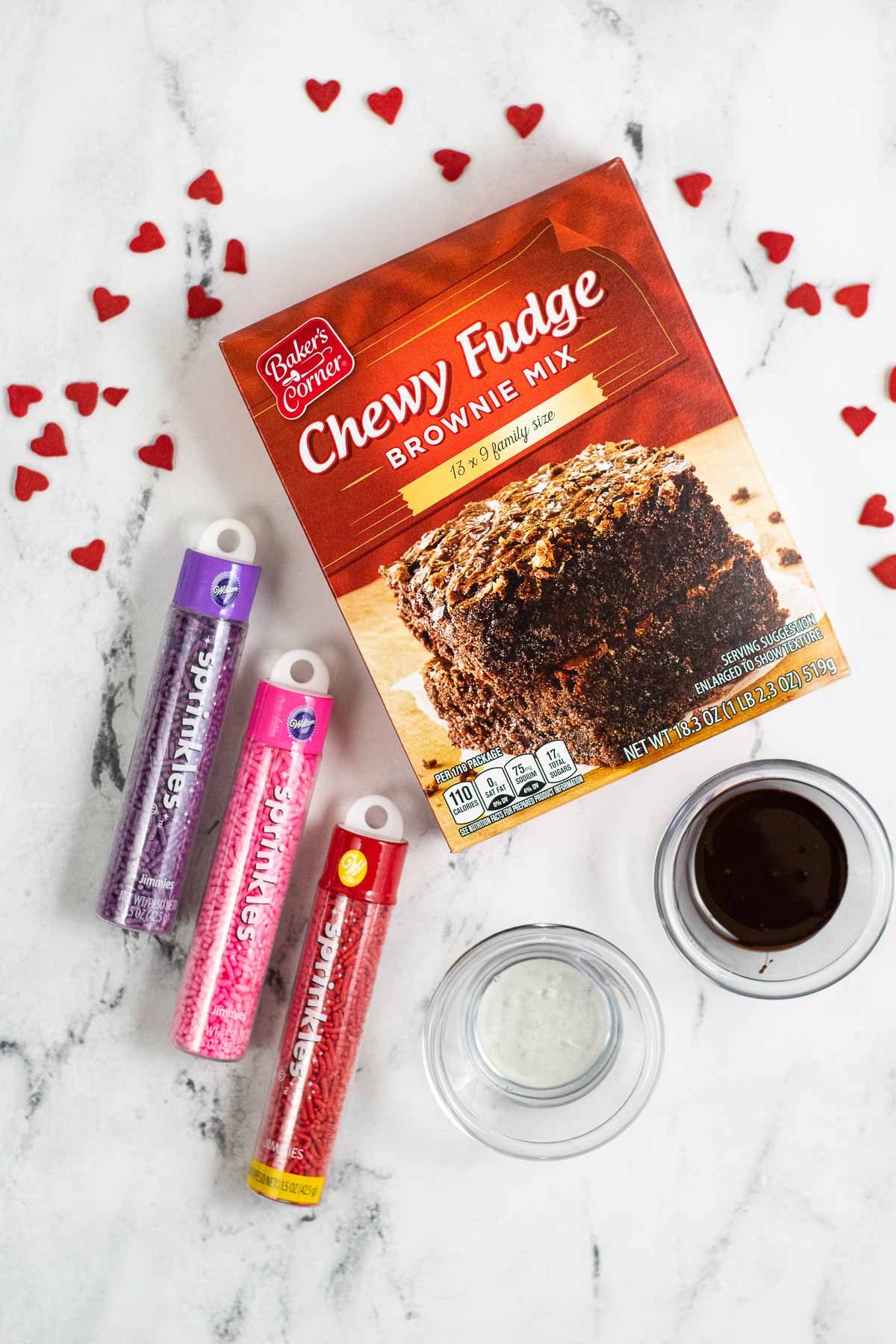 How to Make this Recipe
The best thing about this recipe is that it's so easy you don't need a special occasion to make them. Keep these on hand to pop in your mouth when the chocolate cravings hit. They're honestly so easy the kids can make them for you!
Step 1: Place the dry brownie mix into a microwave-safe large bowl and heat on high for 30 seconds. Stir and repeat two more times at 30 second increments until an instant-read thermometer says it's 160 degrees F.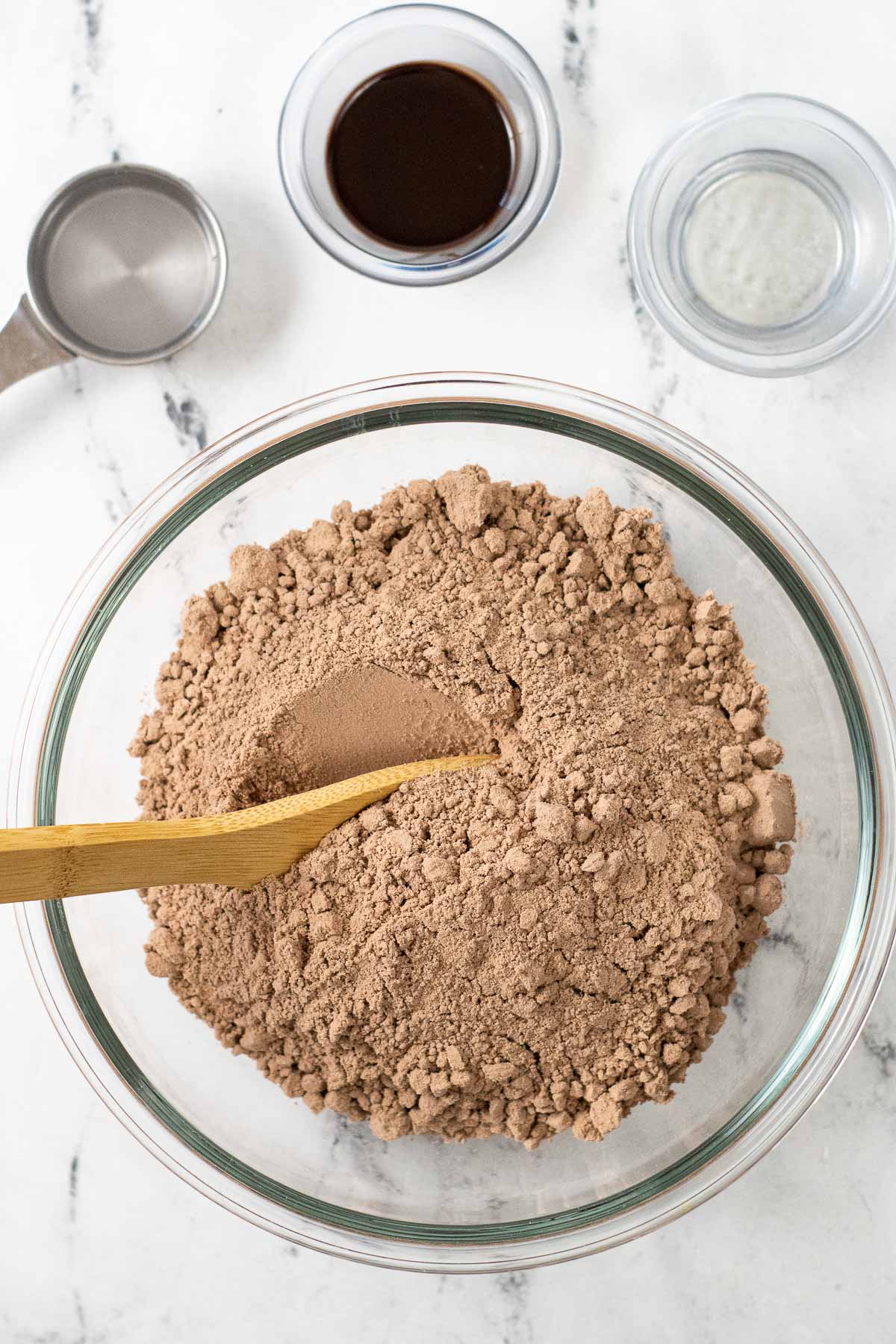 Step 2: To the hot brownie mix, add the chocolate syrup, corn syrup, and water. Stir until combined. Heating the brownie mix helps everything to combine nicely and smoothly.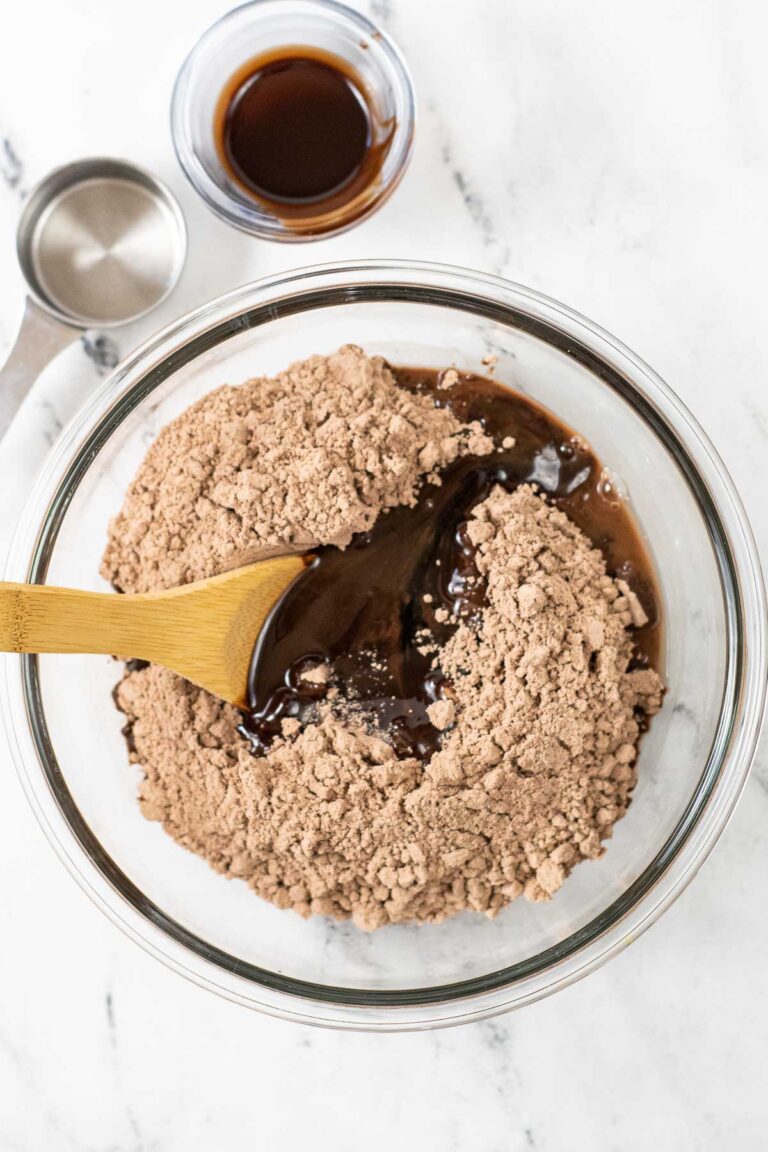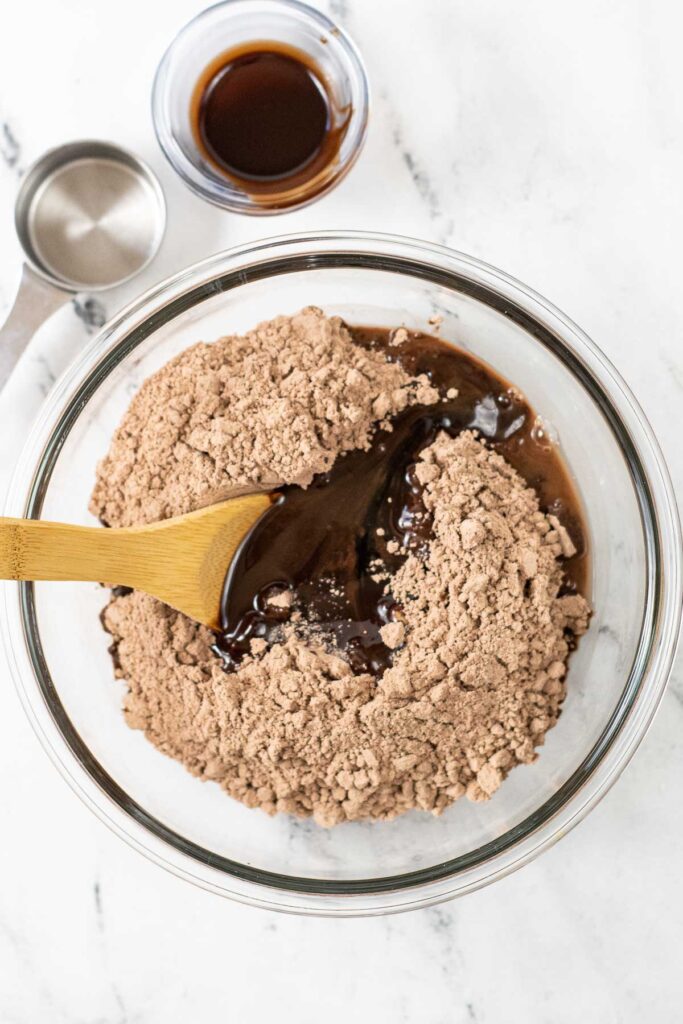 Step 3: Grab a shallow dish and place your choice of sprinkles inside. Do this now so that you won't have to do it later when your hands are covered in chocolate!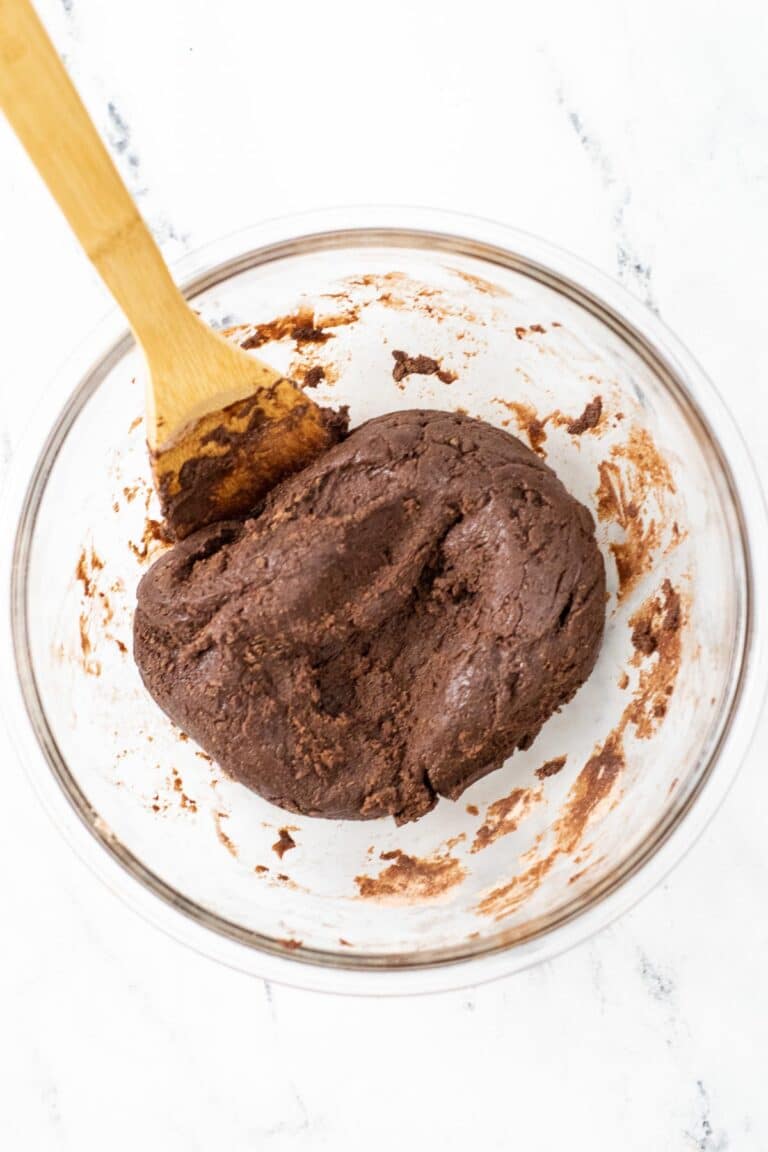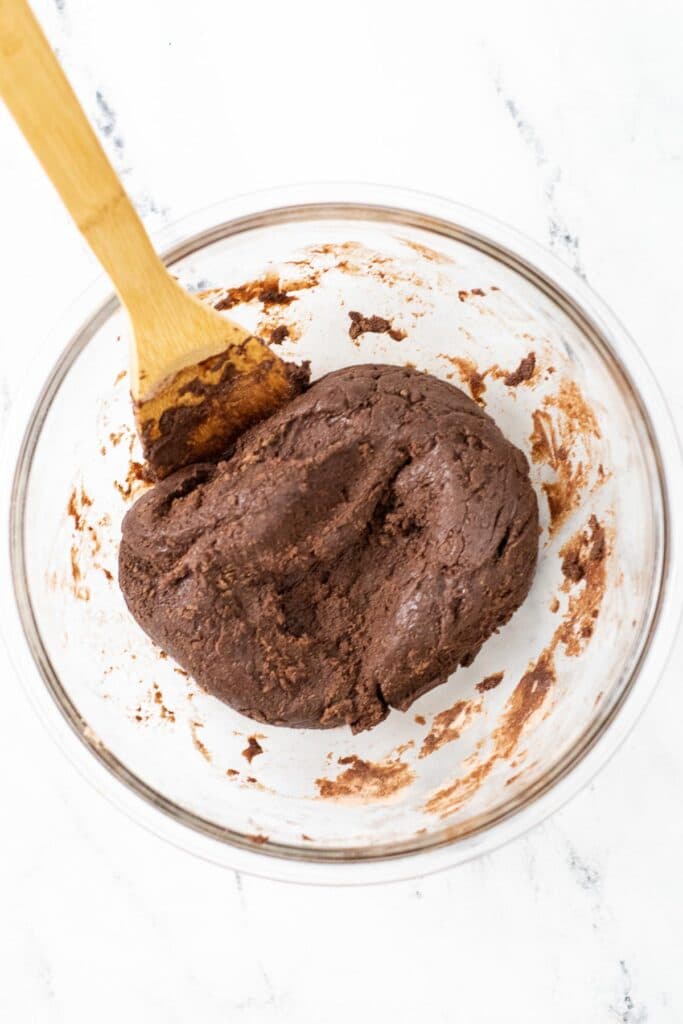 Step 4: Scoop the brownie mixture with a cookie scoop, ice cream scooper or a spoon and roll it into balls. You may find dampening your hands with a little water helps keep the batter from sticking.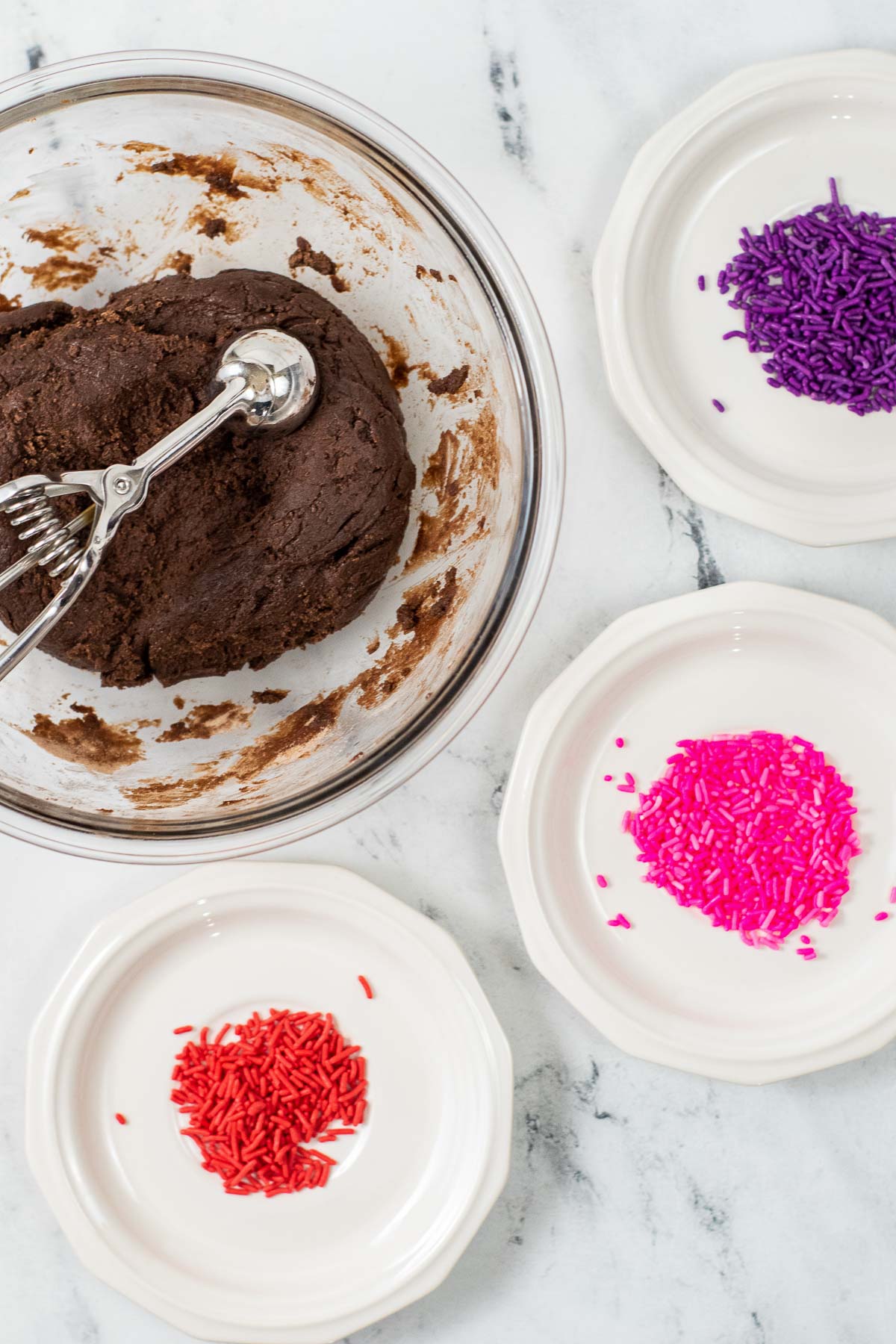 Step 5: Roll each truffle in the sprinkles, making sure to coat all of it. Place them on a baking sheet lined with parchment paper or wax paper and once all the truffles are made, place them in the fridge to chill and set before serving.
Variations/ Substitutions
You could choose to bake the brownies according to package directions then crumble the brownies and blend with a block of cream cheese at room temperature, and coat them in melted chocolate for a popular variation. The sweet chocolate mixed with the tangy cream cheese gives it almost a chocolate cheesecake vibe!
Roll the balls in sprinkles, cocoa powder, melted candy wafers (or real chocolate), white chocolate, or chopped nuts.
If you don't have corn syrup on hand, you can substitute it with honey or maple syrup. Full disclosure, the texture won't be exactly the same, but it will still taste great!
Flavor the truffles using vanilla, almond, orange, or coconut extract for a little something extra!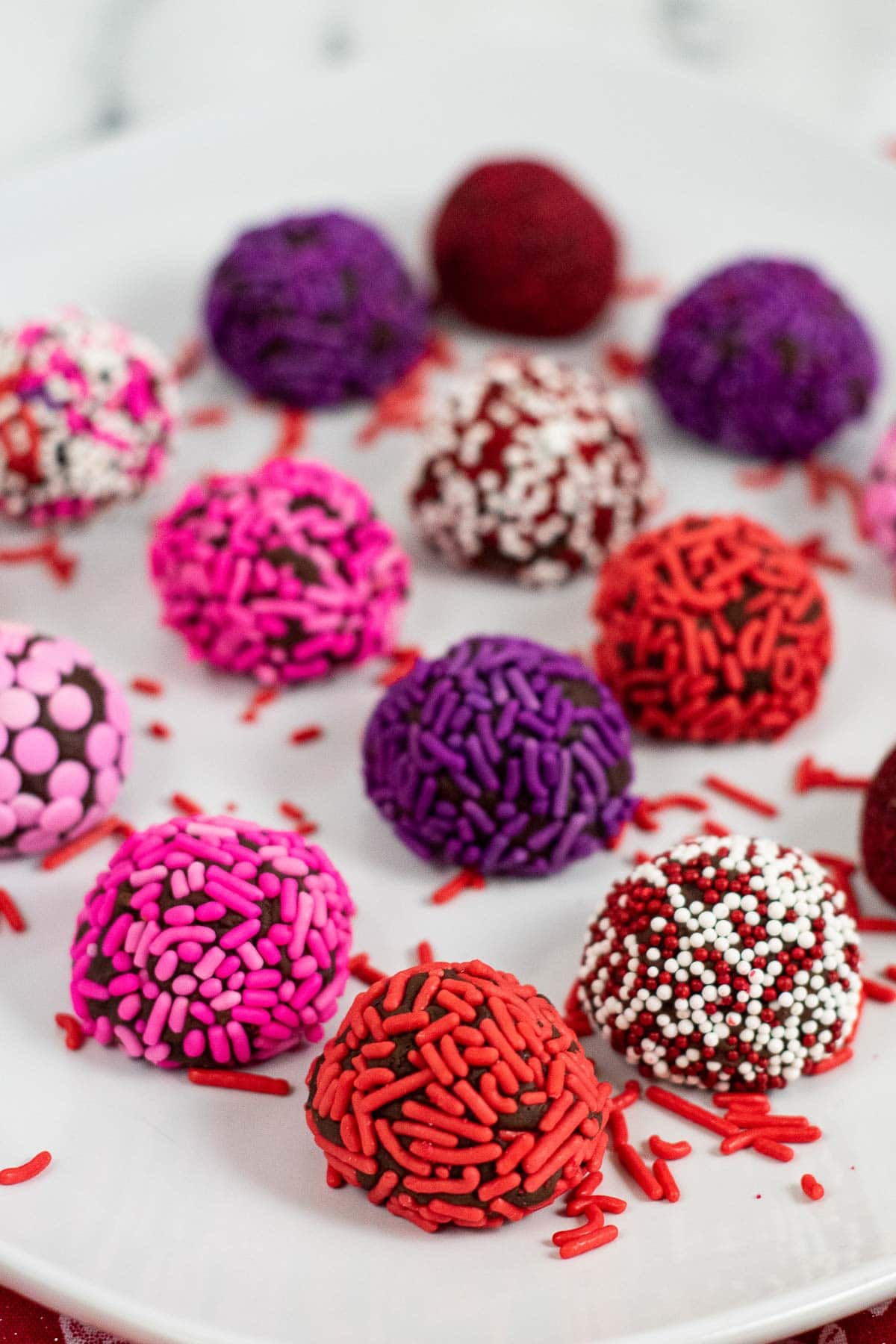 Tips
Instead of water, dust your hands with powdered sugar to help prevent sticking when rolling the balls.
Make sure to add the sprinkles before putting them into the fridge to set. Once the outside firms up they will no longer stick the same way they would when soft.
Use the brownie mix that is made for the 9 x 13 pan. This way you'll guarantee you've got the right amount.
Once they're chilled and set, wrap them up in pretty packaging for a great gift idea.
FAQ's
How to Store?

Keep brownies stored in an airtight container for up to 5 days.
Can I freeze brownie truffles?

Absolutely! Make lots and freeze some for an occasion next month (or grab one every so often just because). They'll stay fresh in the freezer for up to 1 month.
If you like this recipe, please leave us a comment and rate the recipe below. You can also find us on Facebook, Pinterest, Twitter and Instagram!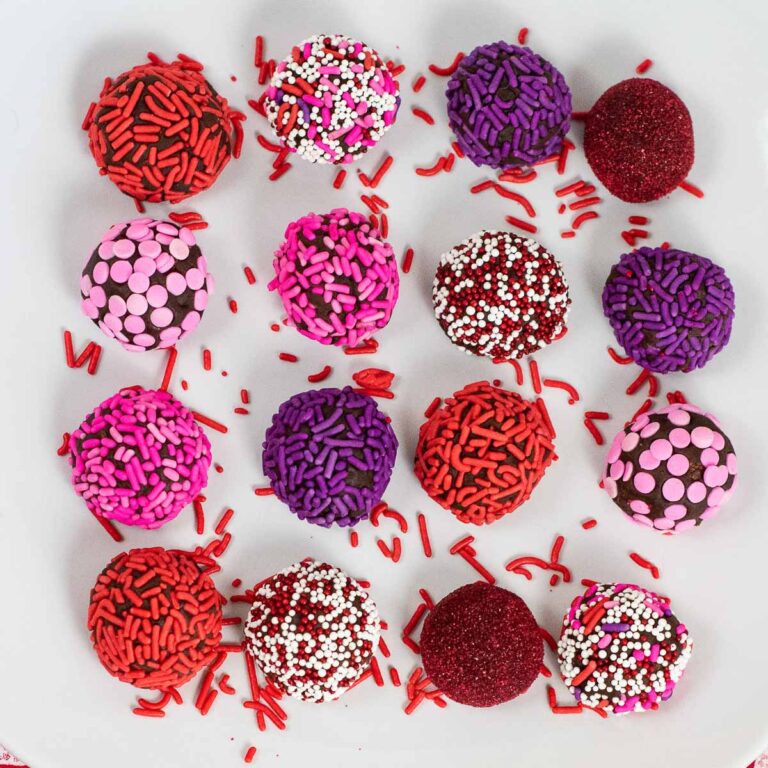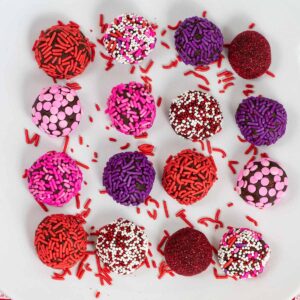 Brownie Truffles
These delicious Brownie Truffles are made with just 4 ingredients, including a boxed brownie mix, which makes them so much easier to make than your classic truffle recipe and just as gooey, decadent, and rich!
Print
Pin
Rate
Ingredients
19

ounce

Brownie Mix

2

Tablespoons

Chocolate Syrup

2

Tablespoons

Corn Syrup

¼

Cup

Water

1

Cup

Sprinkles
Instructions
Add the dry brownie mix to a microwave safe mixing bowl.

Microwave on high for 30 seconds, then stir and repeat for another 30 seconds.

Stir again and heat for another 30 seconds until the temperature is 160° F on an instant read thermometer.

Remove from microwave and add the chocolate syrup, corn syrup and water.

Stir until throughly combined and dough is smooth.

Place your choice of sprinkles into a shallow dish.

Scoop the brownie mixture with a tablespoon cookie scoop or spoon and roll into balls. Dampening your hands a little water or butter will keep the batter from sticking.

Roll each truffle in sprinkles to coat and place on a baking sheet.

Place the baking sheet in the refrigerator for an hour to chill and set before serving.
Notes
Be sure to use the 19 ounce box of brownie mix that is for a 13×9 pan
Store in an airtight container in the refrigerator for up to 4-5 days.
Roll in your favorite chopped nuts, cocoa powder or melted chocolate chips or white chocolate instead of sprinkles.
Substitute honey or maple syrup for the corn syrup.
Nutrition
Serving:
1
truffle
|
Calories:
110
kcal
|
Carbohydrates:
21
g
|
Protein:
1
g
|
Fat:
2
g
|
Saturated Fat:
1
g
|
Polyunsaturated Fat:
1
g
|
Monounsaturated Fat:
1
g
|
Sodium:
54
mg
|
Potassium:
3
mg
|
Fiber:
1
g
|
Sugar:
16
g
|
Vitamin C:
1
mg
|
Calcium:
1
mg
|
Iron:
1
mg