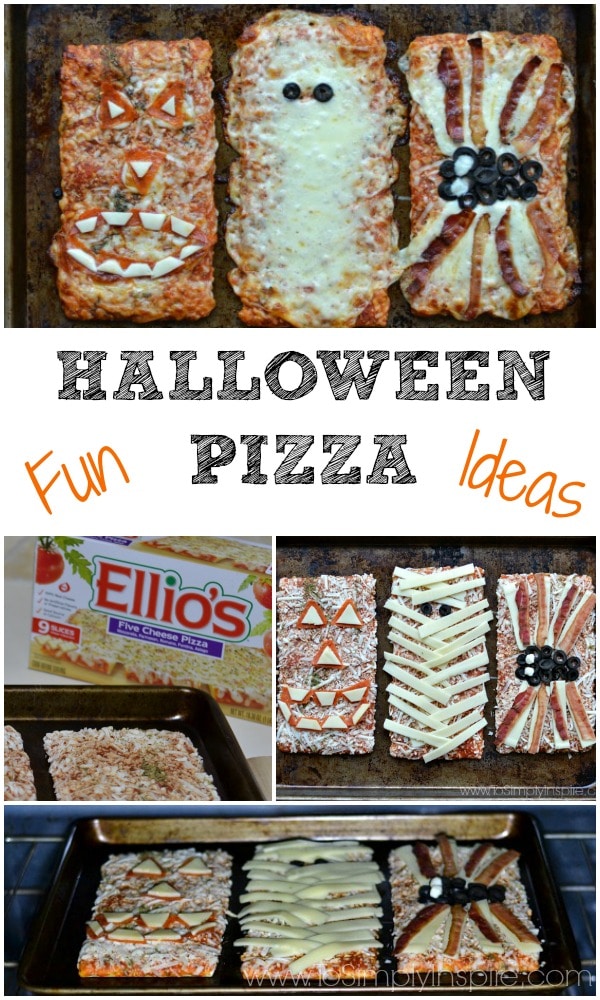 Halloween night will be here before we know it.  It's a busy night full of excitement for our little ones.  The last thing they are thinking about is eating dinner!  All they have is visions of candy eating in their plans.
I have to admit I have actually walked around hand feeding my kids as they are getting ready go trick-or-treating.  I know! That is completely insane but it worked for me.
The one food I don't have to do that with is pizza.  What kid doesn't like pizza?
I wanted to share some really fun Halloween Pizza ideas that you and your kids can create together for your Halloween night dinner.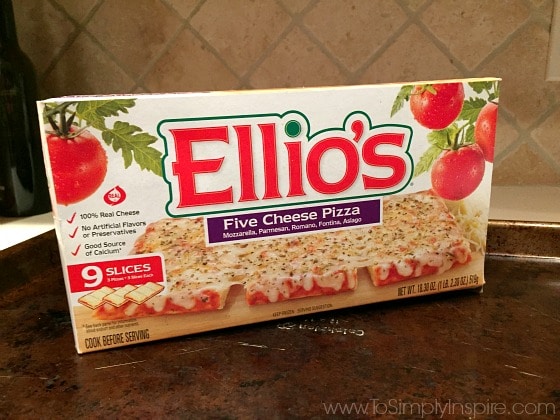 We picked up our long-time favorite Ellio's Pizza to use for our base because it's so quick to make, even in your toaster oven.  Even my own mother made these for us over decades ago using Ellio's Pizza!  (They have been around that long!)
The kids love its crispy crust and awesome sauce!   Plus Ellio's Products are made with real ingredients – like 100% real cheese and no artificial flavors.
The only other supplies we picked up were:
Mozzarella cheese slices
Pepperoni slices
Bacon
Black olives
Below are our fun Halloween Pizza creations:
Before starting, preheat your oven (or toaster oven) to 425 degrees F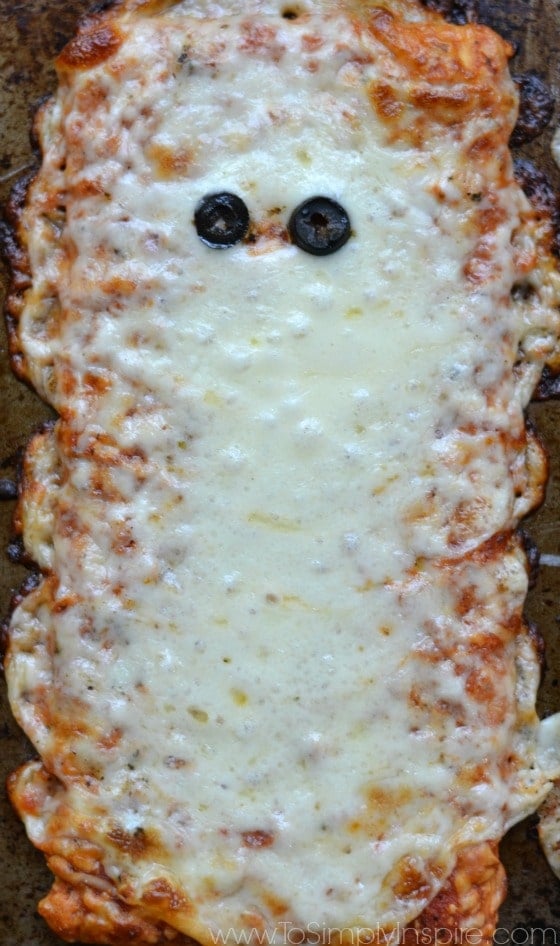 Mummy / Ghost
Slice the mozzarella cheese into thinner slices.  (the pizza cutter works great for cutting).
Place the cheese slices in an criss-cross pattern to resemble mummy wrapping.
Then place 2 black olive slices for he eyes.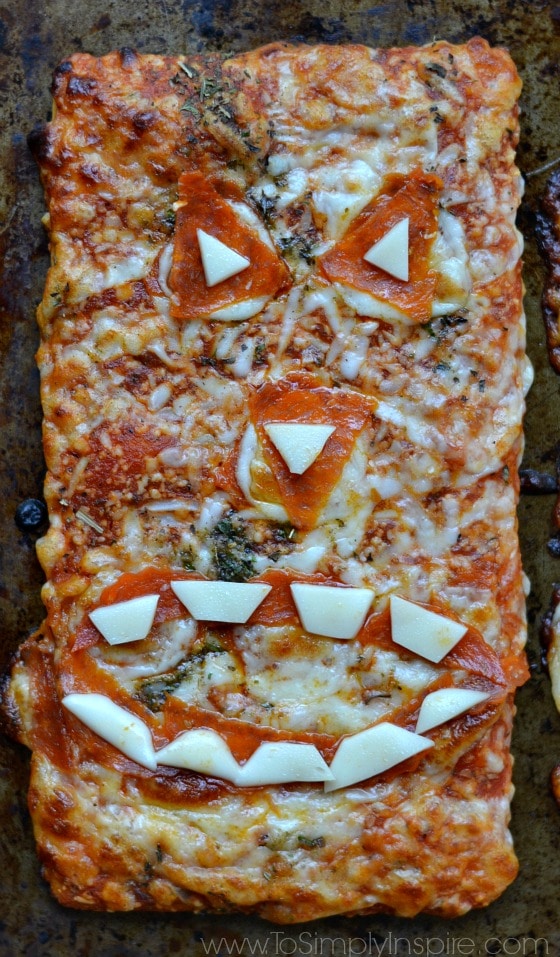 Jack-o-Lantern
Use the pizza cutter to create triangle out of pepperoni slices.  Also cut triangles out of a slice of mozzarella cheese.
Place 2 large triangles for the eyes.  Then place the cheese triangles on top of the eyes.
Place a triangle upside down for the nose with a cheese triangles on top.
Arrange pepperoni halves to form and smile and then place pieces of cheese on top of those too.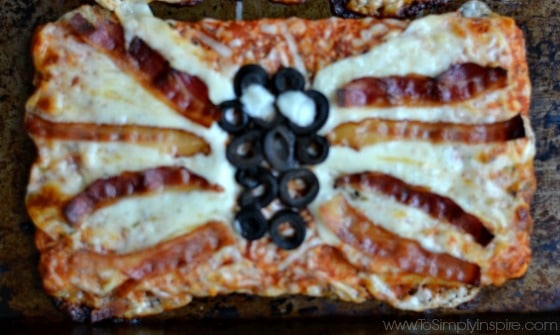 Spider
Arrange black olive slices in a circle in the middle of the pizza for the body.
Cut 8 mozzarella cheese strips to use for the legs.
Then place bacon strips for the legs.  (I cut each bacon strip in half so they were thinner)
I put 2 pieces of fresh mozzarella for eyes. You can certainly use a piece of the slice cheese too.
After putting on all your ghoulish toppings, pop them the oven for 14 minutes.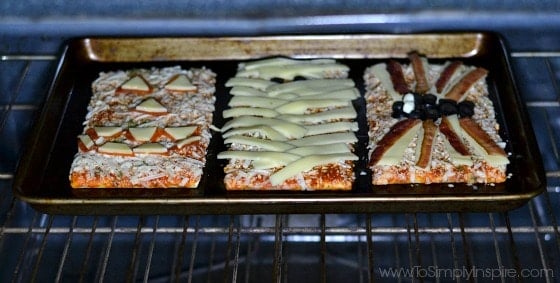 My mummy did kind of end up looking like a ghost. Maybe I should have put the cheese strips a little farther apart. Luckily a ghost still fit the theme 🙂
Voila!  Ready to devour!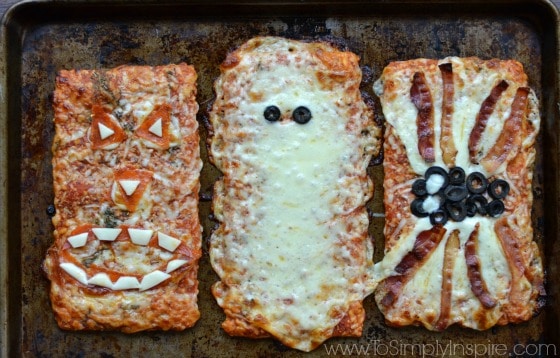 Do you have a favorite Halloween night dinner?