These Healthy Banana Rhubarb Muffins are made with absolutely no refined sugar or oils. Incredibly moist and delicious option for breakfast or a snack.
You may not know this but I have a huge love of muffins.  Coffee Cake Muffins, Blueberry Muffins, Chocolate Banana Muffins. I have so many muffins recipes on my list!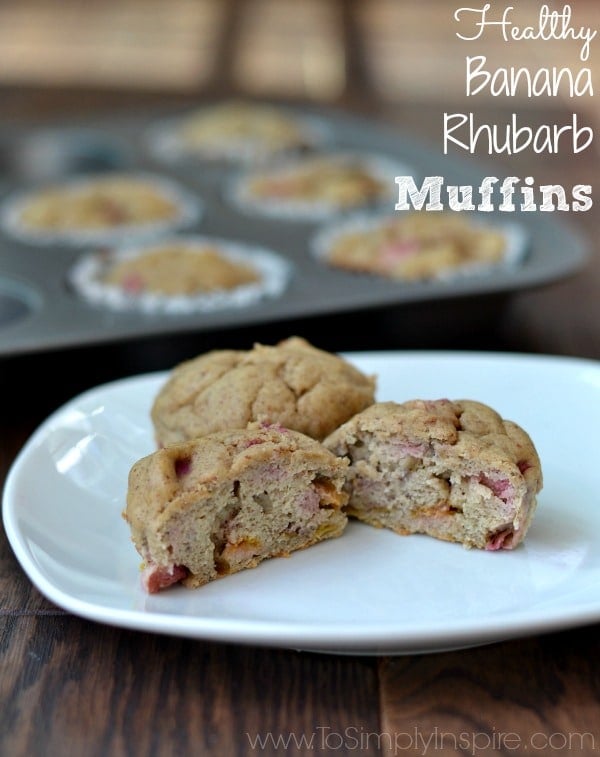 Who has never tried Rhubarb?  When we moved into our house 10 years ago, we had this huge plant in our backyard that we had absolutely no idea what it was.
After asking around (and feeling kind of silly), we found out that it is a rhubarb plant.  The vegetable looks like pink celery actually.  Since we had never used it before we were slightly curious and picked some to try. Holy moly, don't take a bite of rhubarb without getting your pucker ready.  Tart is putting it extremely lightly!
We had no idea what to do with it so at the end of the season after it died back, we pulled up the remains and tossed it in the woods.  Guess what? The following Spring, it was back!  We repeated the pulling up and tossing and even planted other veggies there.   Guess what?  It keeps coming back every year.  Who knew rhubarb was a perennial?  I definitely did not.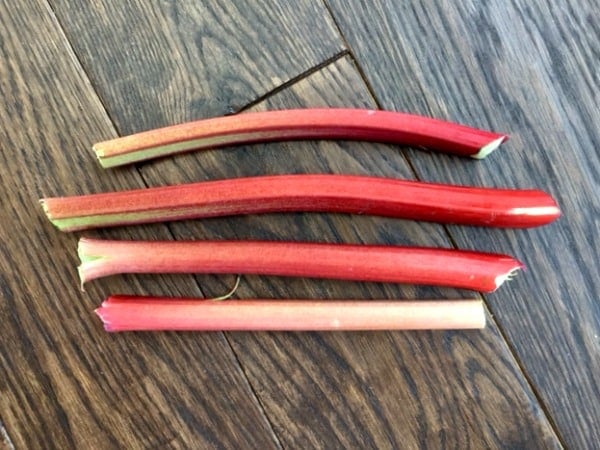 We then accepted the fact that rhubarb is in our life for good and feel lucky to have it  actually.  It's kind of a great feeling to do absolutely nothing to get this wonderful, healthy veggie at our fingertips each and every year.
Rhubarb is probably most well known for use in pies, especially Strawberry Rhubarb Pie.  But since those pies are usually loaded with a cup of sugar to cut the tartness, we have never made one.
This is one of our newest recipes for using our forever plant.  Healthy Banana Rubarb Muffins with absolutely no added refined sugar!  Just 2 bananas and a little honey are perfection.
I also make our gluten free version for us.  The addition of almond meal flour makes it even more moist.
I love them with my simple yogurt parfait for breakfast or as a snack.  It's the perfect balance of sweet and just a tad of tartness.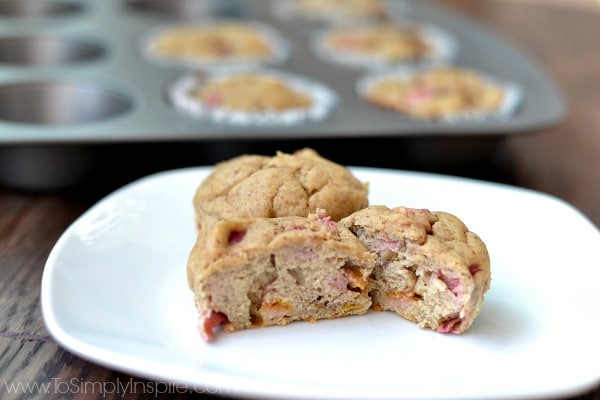 Banana Rhubarb Muffins Ingredients
¾ cup whole wheat pastry flour or gluten free one-to-one flour
¾ cup almond meal flour
2 medium very ripe bananas, mashed
1 cup finely chopped rhubarb, about 1 large stalk
1 teaspoon baking powder
½ teaspoon baking soda
½ teaspoon salt
1 teaspoon cinnamon
¼ teaspoon all spice
2 large eggs
1 teaspoon pure vanilla extract
¼ cup honey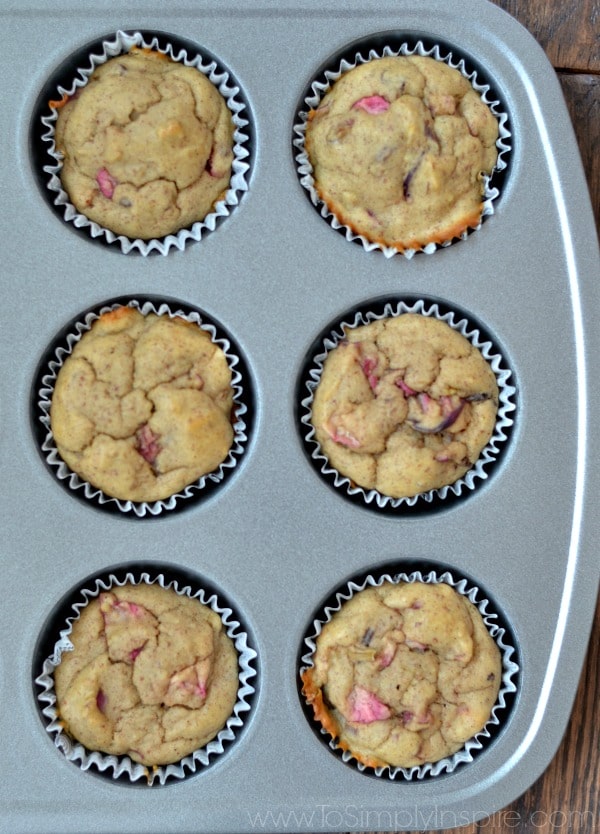 How to Make Banana Rhubarb Muffins
Preheat oven to 350 degrees F
In a medium bowl, mix all dry ingredients together and set aside.
Use a mixer (hand held or stand) to beat the eggs on medium speed for approx. 30 seconds.
Mix in vanilla, banana and honey and blend.
Add in the flour mixture in batches and mix on low speed until combined.
Fold in the rhubarb slowly
Pour batter into prepared muffin tin.
Bake for 20-25 minutes or until a toothpick comes out clean.
Cool for 10 minutes.
You could also make this into a bread loaf if desired. Use a 8 x 4 and bake for 50-55 minutes,
ENJOY!!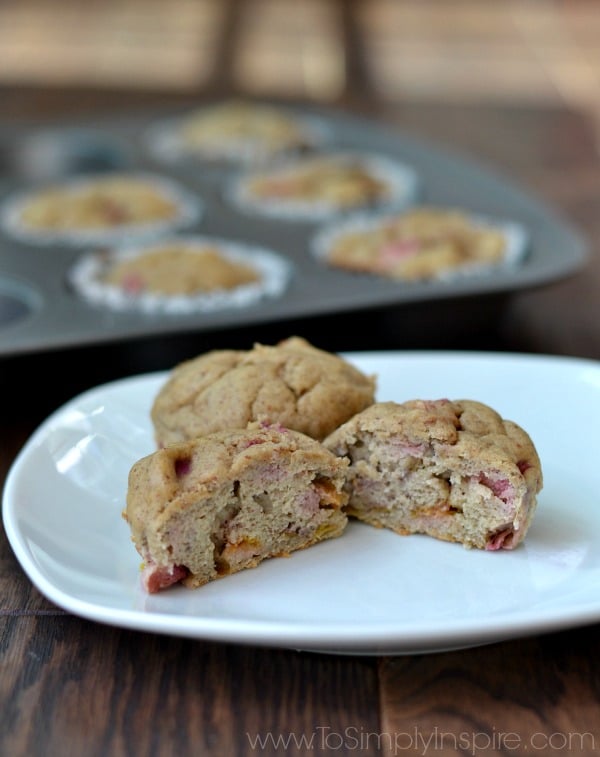 Need more muffins recipes? You may want to try some these other recipes too:
Healthy Apple Almond Butter Muffins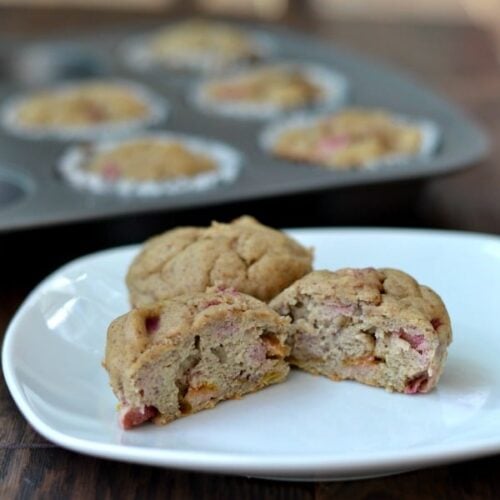 Healthy Banana Rhubarb Muffins
These Healthy Banana Rhubarb Muffins are made with absolutely no refined sugar or oils. Incredibly moist and delicious option for breakfast or a snack.
Print
Pin
Rate
Ingredients
¾

cup

whole wheat pastry flour or gluten Free one-to-one flour

¾

cup

almond meal flour

2

medium

very ripe bananas

mashed

1

cup

finely chopped rhubarb

about 1 large stalk

1

teaspoon

baking powder

½

teaspoon

baking soda

½

teaspoon

salt

1

teaspoon

cinnamon

¼

teaspoon

all spice

2

large eggs

1

teaspoon

pure vanilla extract

¼

cup

honey
Instructions
Preheat oven to 350 degrees F

In a medium bowl, mix all dry ingredients together and set aside.

Use a mixer (hand held or stand) to beat the eggs on medium speed for approx. 30 seconds.

Mix in vanilla, banana and honey and blend.

Add in the flour mixture in batches and mix on low speed until combined.

Fold in the rhubarb slowly

Pour batter into prepared muffin tin.

Bake for 20-25 minutes or until a toothpick comes out clean.

Cool for 10 minutes.

You could also make this into a bread loaf if desired. Use a 8 x 4 and bake for 50-55 minutes,
Nutrition
Calories:
118
kcal
|
Carbohydrates:
18
g
|
Protein:
3
g
|
Fat:
4
g
|
Cholesterol:
27
mg
|
Sodium:
154
mg
|
Potassium:
174
mg
|
Fiber:
2
g
|
Sugar:
8
g
|
Vitamin A:
65
IU
|
Vitamin C:
2.6
mg
|
Calcium:
47
mg
|
Iron:
0.8
mg