Updating old shutters by spray painting them is a great, inexpensive way to bring a fresh look to the exterior of your home.
I mentioned Friday that we had a very busy week last week. One of the projects I did was painting our front door black. But….I also spray painted ALL of our shutters black too!
It's something I have been wanting to do for a very, very long time. But I had to enlist hubby's help in dragging our humongous ladder and removing the shutters first. Since we were getting our roof replaced last week too, I knew I could convince him now would be a fabulous time to help me. I'm the lover of projects in this house. Hubs just goes along, thankfully, when I need help.
So, here is the lovely before picture. We bought our house in 2005. The previous owners had painted a LOT of everything a beige / tan. The roof is (was) brown too. The deck was painted a beige color. I didn't mind it but always had a bigger plan.
I had looked into replacing the shutters first. But new vinyl shutters were going to run between $35 – $42 per window! For our house, it would have cost $343.00, which was not in my budget.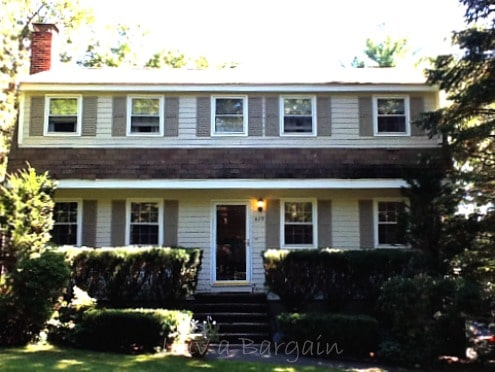 I hightailed it to Home Depot and bought 9 cans of this awesome spray paint for just $3.87 per can. Rust-Oleum Painter's Touch 2X in semi-gloss. It has primer + paint! Bonus! I ended up only using 6 cans for a total of $23.22!
That right!! Just $23.00 for this HUGE transformation!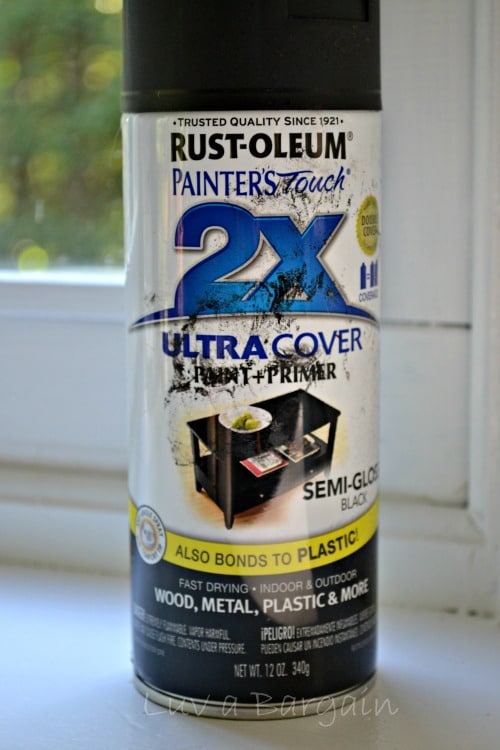 After removing the shutters, I wiped them all down with a wet rag to remove any dirt, bugs, and spider webs.
Disclaimer: Our shutters are old metal shutters and this spray paint worked wonderful. It says on the can that it works on plastic as well though.
I laid all of the shutters, all 18 of them, on a big tarp in the front yard, I put on my lovely ventilation mask and started spraying. I highly recommend buying the spray can gun attachment. It saved my finger tip tremendously. Also, be sure to wear latex gloves to keep your hands spotless. (almost) I also completely forgot to take pictures during my spraying.
I started spraying along the edges first, holding the can about 6-8 inches away from the shutter. Then I sprayed all the way down the sides and across the top and bottom next.
Then, I sprayed the louvers starting and the top of the shutter and working my way down.
Next, I walked around the shutter and lightly went over any spots I saw where the louver meets the sides.
I took me about 5-10 minutes per shutter.
I let them dry for 2 hours and we started hanging them back up.
I am so excited at how they look! So clean and fresh. They just "pop" on the tan house. Two of my favorite color schemes are a Tan house with Black Shutters or White house with Black Shutters. I had the latter on our house in NC. Now I have the other fav here in NH.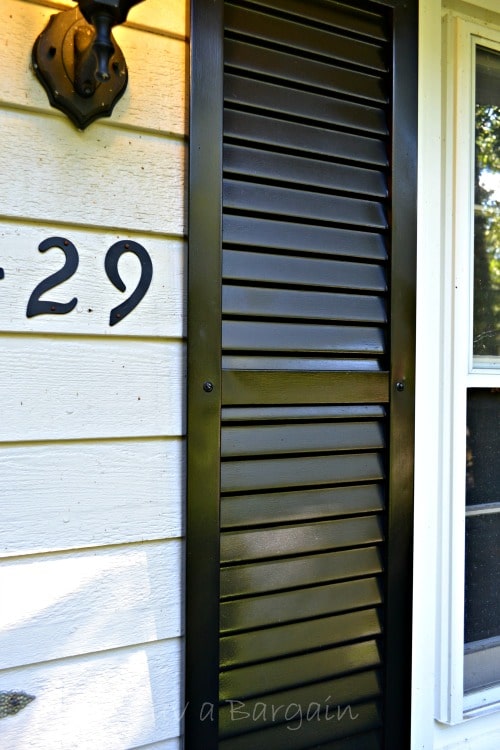 Our roof was finished on Friday so I wanted to wait and take the finished transformation picture after that. I chose a black roof too.
I just love it!!