An easy blueberry pie made with a delicately sweet blueberry pie filling loaded with juicy blueberries and a hint of lemon baked inside a flaky butter pie crust!
A homemade pie that looks amazing and tastes even better with bonus points for simplicity. This classic southern blueberry pie is so easy, it's one of my go-to desserts to make throughout the summer. If you happen to have leftover blueberries, use them for these lemon blueberry muffins or blueberry lemon bread. You'll have blueberry baked goods for breakfast AND dessert!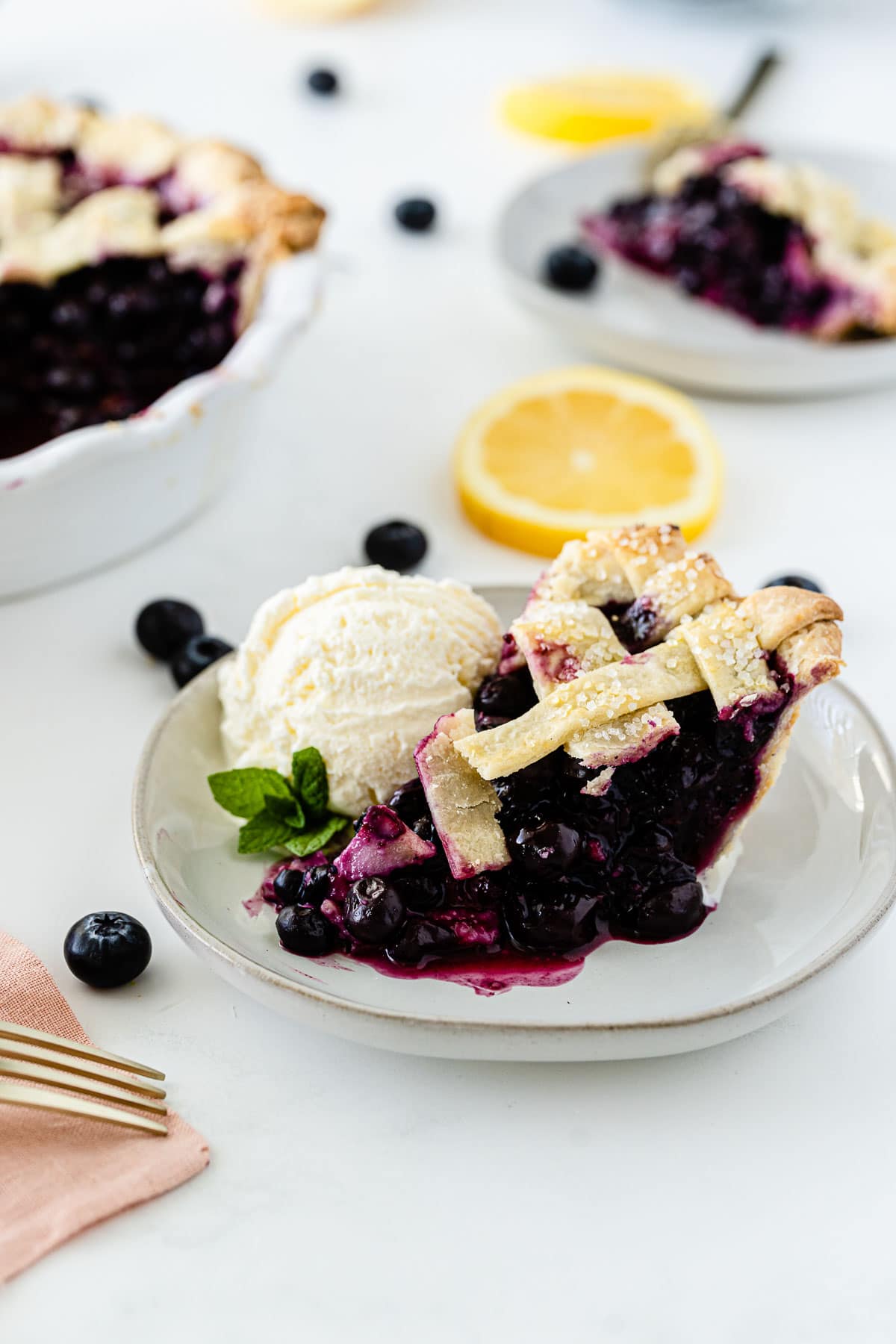 Homemade Blueberry Pie
I am definitely a pie person. Blueberry, apple, peach, apricot, pumpkin, whatever it is, I'm either baking it or eating it, although, it's usually both! There is something so satisfying about making old-fashioned family favorite recipes. This blueberry pie is a great one to serve for any type of gathering, whether the fourth of July celebration, a BBQ or a potluck!
The best part about making this pie having another excuse to pick up a boatload of fresh juicy blueberries! The simple blueberry filling comes together quickly with just a bit of sugar, salt, and lemon juice. Cornstarch is used to thicken it up into that signature sweet and gooey filling. This recipe uses 2 pie crusts and will guide you through making a beautiful lattice crust on top. It's then brushed with an egg wash and sprinkled with coarse sugar to give it a beautiful golden finish.
Whether you're enjoying a warm slice right out of the oven with a scoop of vanilla ice cream or a slice the next day with a cup of tea, this delicious blueberry pie hits the spot every single time!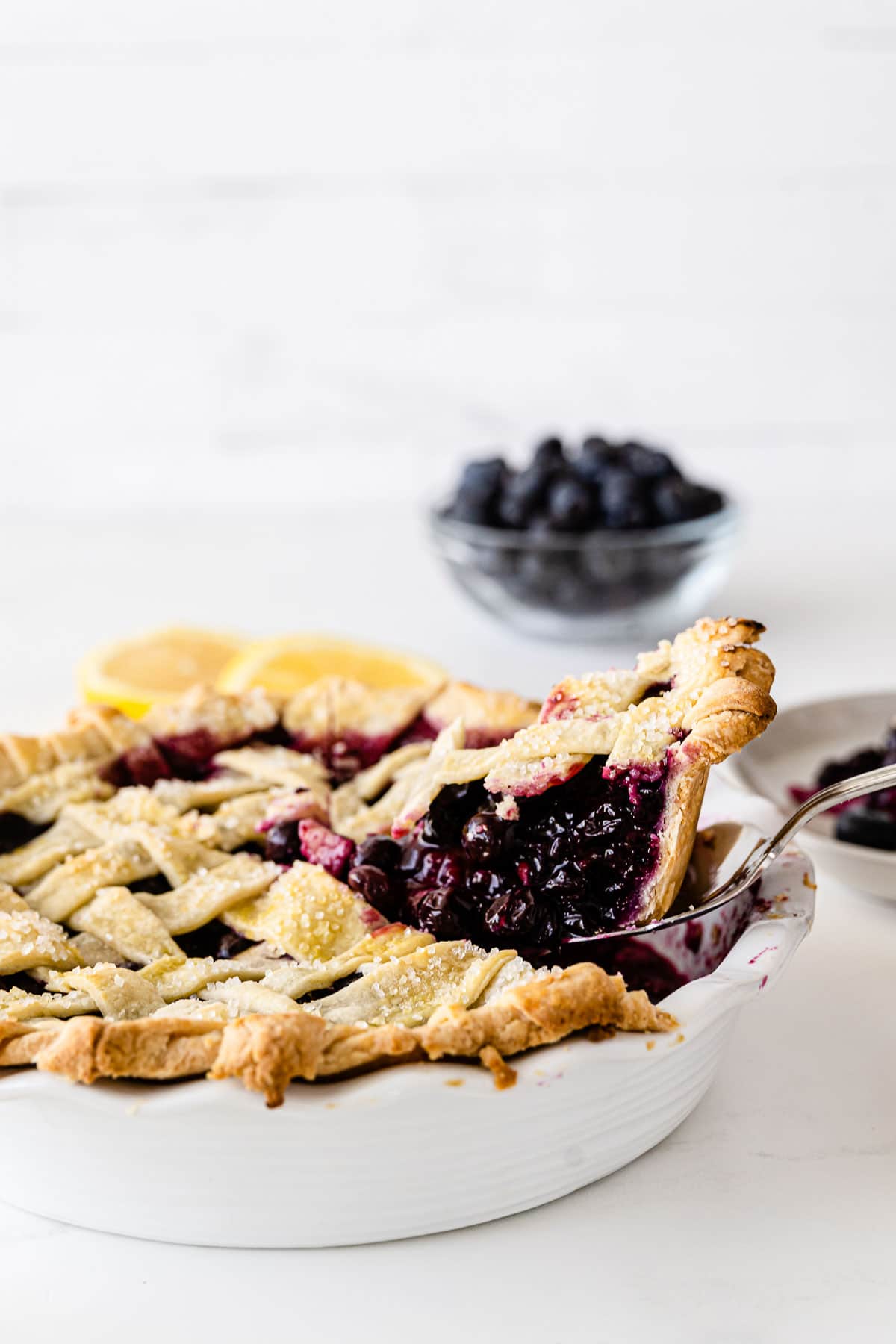 Why this recipe works
It's Delicious thanks to loads of blueberries bursting with sweet juices.
A Show stopper dessert that will wow all of your guests.
This Freezer-friendly pie can be kept frozen, then thawed and warmed up at a later date.
Can use either a homemade, or store-bought crust.
It's a customizable pie in that you could swap the blueberries for any other type of berry.
A no-fuss pie that requires no fancy ingredients. Just pantry staples and fresh blueberries. Maine wild blueberries are SO fabulous too!
Always a hit at parties and will be the first thing to go!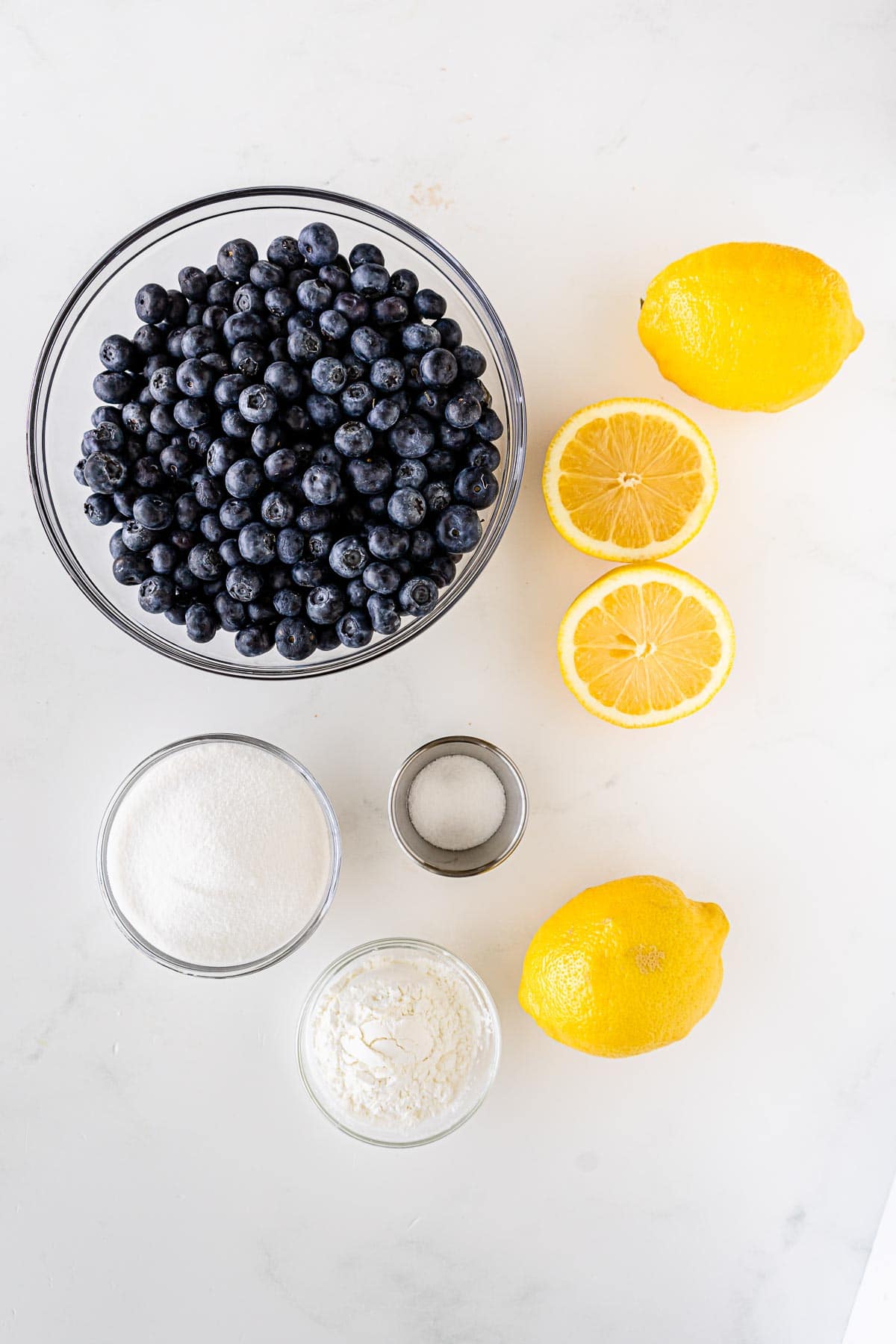 Ingredients/shopping list
Sugar – Adds sweetness that complements the blueberries and makes the most delicious tasting filling.
Cornstarch – Needed for thickening up the filling so that it's not a runny mess. Can also use all purpose flour, but aim for cornstarch if you can.
Lemon juice and zest – Lemon and blueberry are a wonderful combination. The citrus brightens everything up a bit.
Salt – Used to round out all of the flavors.
Egg wash – A blend of water and egg used to brush the crust before baking.
Coarse sugar – Turbinado or sanding sugar make a great finish atop the crust.
Pie crusts – Can use store-bought or homemade pie crust. I made a double crust pie this time.
How to Lattice a Pie Crust
Whether you're using homemade crust or store-bought crust, no one will be the wiser. The look of a lattice crust is very pretty but easier to make than you think!
Roll dough out onto a floured surface. Using a pastry cutter or pizza cutter, cut the pastry into 1-inch strips.
Place the strips across the top of the pie vertically, leaving a space in between each strip. Keep the longest strip running down the middle.
Starting at the middle of the pie, going horizontally this time, place remaining strips across using an under-over weaving pattern as you go.
Fold back strips as you go to make it easier to get underneath.
If your strips are hanging way over the edge, trim them before sealing the top strips to the bottom crust.
How to Make this Classic Pie
This pie will come together in under 1 hour. It's the waiting for it to cool enough so you can dig in that takes some patience. It's well worth it!
Step 1: Preheat your oven and prepare the pie crust by lining a 9-inch pie plate with the bottom crust. Trim edges of the crust and poke holes around the bottom with a fork and set aside.
Step 2: In a large bowl, combine blueberries, sugar, cornstarch, salt, zest, and lemon juice and give it a gentle stir.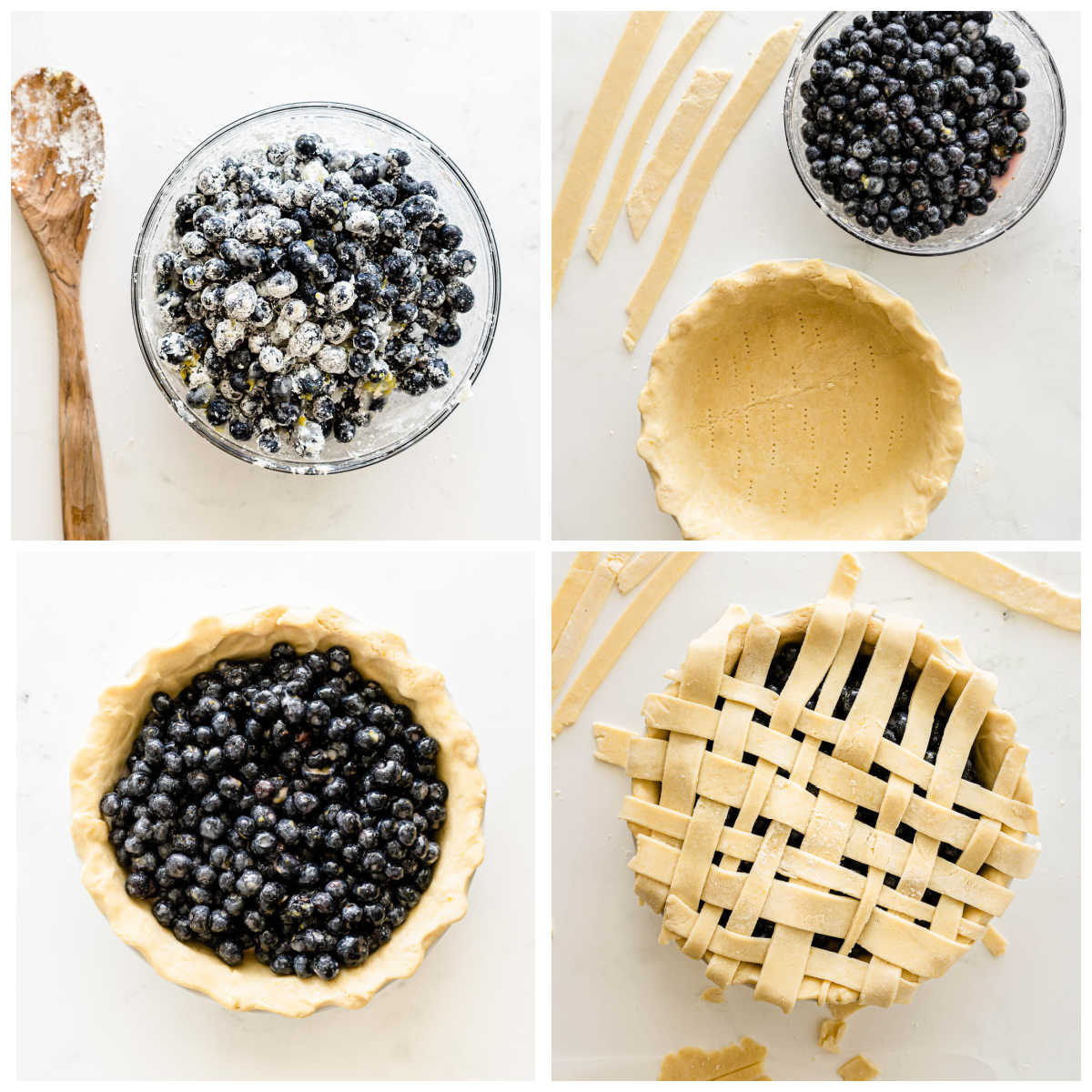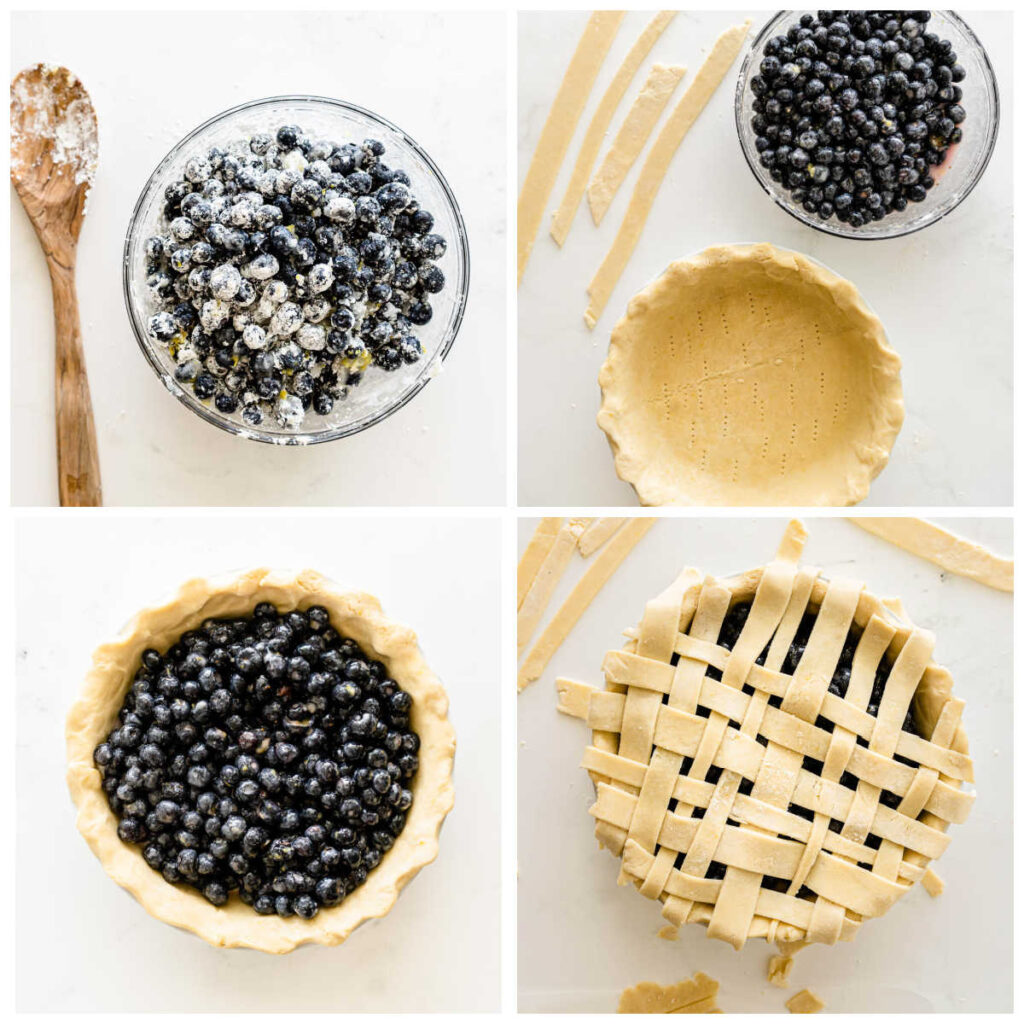 Step 3: Pour the blueberry mixture onto the bottom crust.
Step 4: Make the lattice crust for the top and cut any remaining long strips around the edges. Crimp the strips so they are sealed to the bottom crust.
Step 5: Brush the top crust with the egg wash and sprinkle with coarse sugar. Bake at 425 degrees F for 15 minutes before lowering to 375 for the remaining 30 minutes until golden brown.
Step 6: Allow the pie to cool on a wire rack for a few hours before cutting into it. You don't want to serve a slice of runny pie!
Serve as is or with a scoop of vanilla ice cream!
Variations/Substitutions
1: Although fresh blueberries are best in my opinion, you can substitute frozen blueberries as well.
2: To keep it simple, skip the lattice crust and top with a single butter pie crust with fluted edges or make a streusel/crumble topping instead.
3: For a special Memorial Day or July 4th dessert, cut out the top pastry crust into patriotic stars and place them on top as the top crust. Super cute!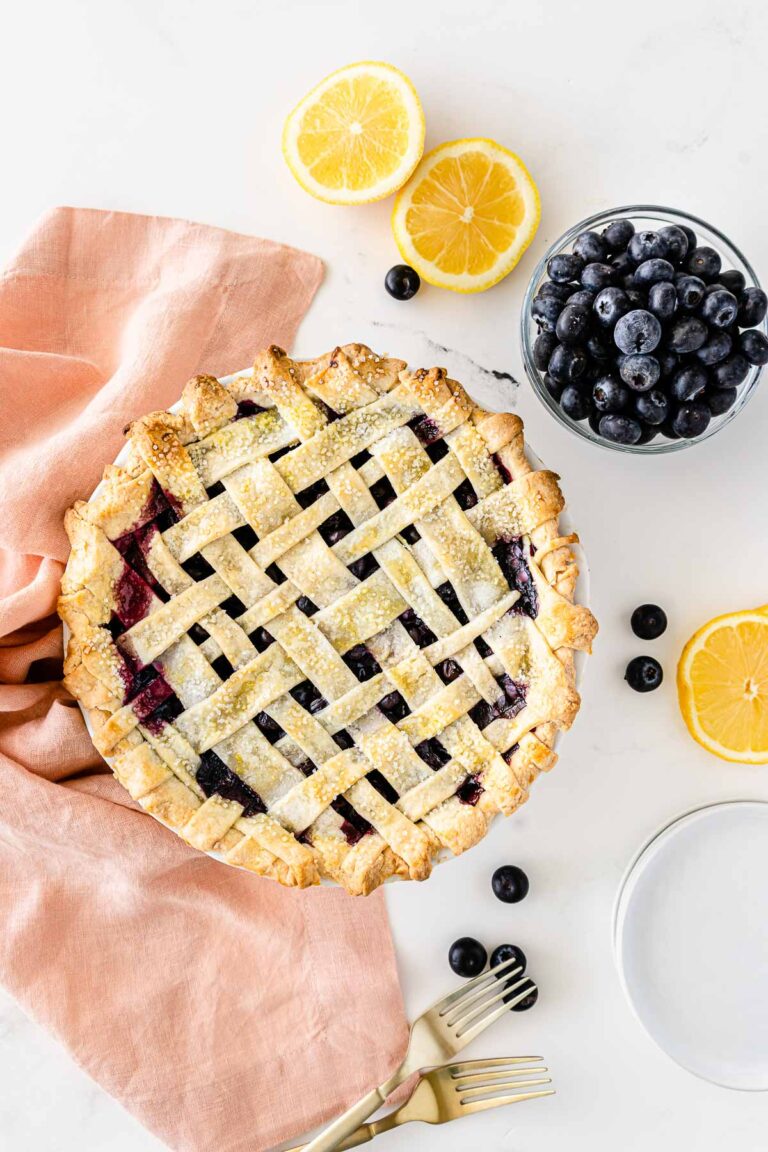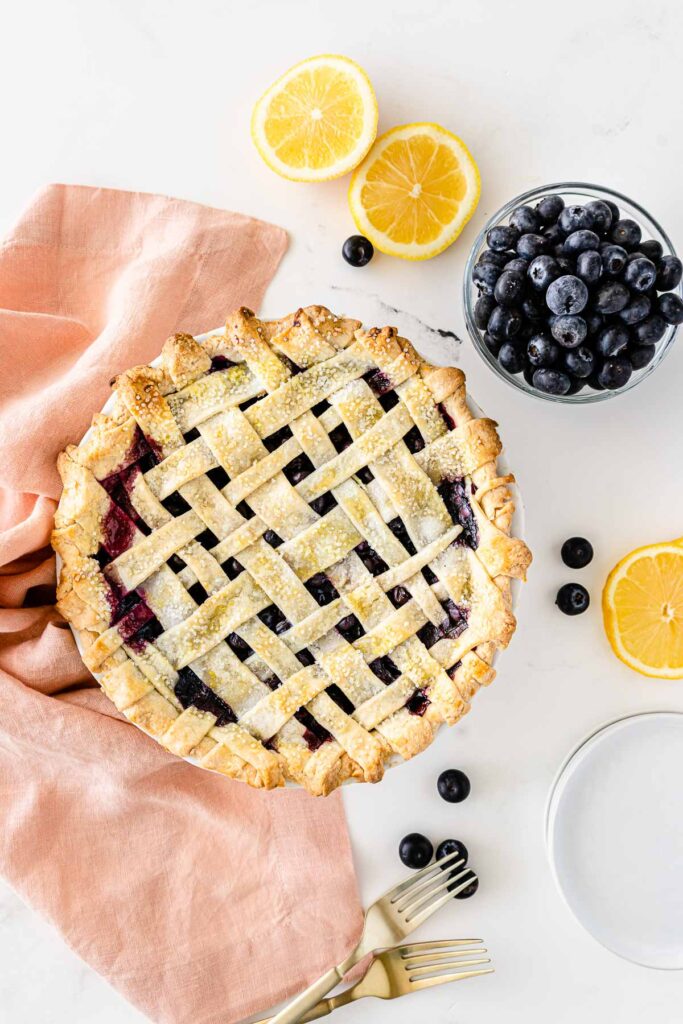 Tips
If you find your crust is browning too quickly, place a bit of foil around the edges as it continues to bake.
Cornstarch is great for thickening blueberry pie filling because it's nice and light and doesn't over-thicken it like flour can do with the amount needed.
Make this pie a day ahead and keep it in the fridge overnight. This will give it time to set and be ready to serve the next day.
If using a single pie crust on top, make sure to create 4-5 slits about 3 inches long around the center like sun rays.
Seal the top crust to the bottom not only for presentation purposes but it serves a function. It helps keep the filling inside! You an also place the pie plate on a baking sheet lined with parchment paper just in case it bubbles over.
FAQ's
How to Store?

A baked pie can be kept frozen for up to 3 months, once completely cooled. This means you can make it in summer and eat it in the fall! In this case, you might want to think about adding in a bit of cinnamon as a warming spice.
Should I thaw frozen blueberries before baking a pie?

So there is actually some debate around this. Some have had success with thawing the blueberries and draining them first. While others say you shouldn't thaw them at all, and just bake the entire pie a little longer. This may be a trial and error situation because there is no one right way!
Why do you poke holes in bottom of pie crust?

This is to allow the steam to escape so the pastry crust doesn't puff up and lose shape and structure. It's common practice when blinding baking a crust, but it also works in recipes like this one, that doesn't require an initial bake.
If you like this recipe, please leave us a comment and rate the recipe below. You can also find us on Facebook, Pinterest, Twitter and Instagram!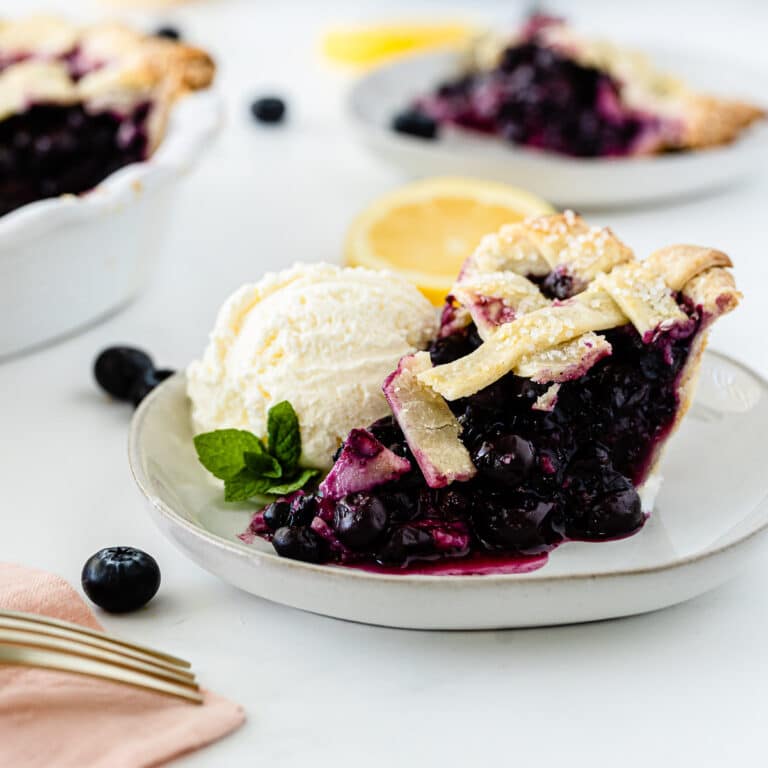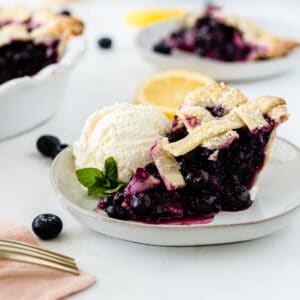 Easy Homemade Blueberry Pie
An easy blueberry pie made with a delicately sweet blueberry pie filling loaded with juicy blueberries and a hint of lemon baked inside a flaky golden pie crust!
Print
Pin
Rate
Ingredients
6

cups

fresh blueberries

1

cup

sugar

¼

cup

cornstarch

1

Tablespoon

lemon Zest

1

Tablespoon

lemon juice

¼

teaspoon

salt

1

large

egg

for egg wash

1

tablespoon

coarse sugar

ike turbinado or sanding sugar

2

pie crusts
Instructions
Preheat oven to 425 degrees

Line a 9 inch pie plate with one pie crust and trim edges (either store bought or homemade crust), poke holes all around in the bottom with a fork and set aside.

Place the blueberries, sugar, cornstarch, salt, zest, lemon juice in a large bowl and stir gently to combine well.

Pour the blueberry filling onto the pie crust in the pie plate.

Roll out the second crust onto a floured surface. Using a pastry cutter or pizza cutter, cut 1 inch wide strips of crust to form a to use to make a basket weave/lattice top crust.

Place strips across the pie in one direction leaving space between each strip.

Starting at the middle of the pie, begin weaving the other remaining strips of crust in the opposite direction over and under each strip that was lace first. (forming a lattice or basket weave design)

Cut off any remaining long strips at the edges and crimp the strips to the bottom crust to form a seal.

Beat the egg in a small bowl and brush the egg onto the entire crust with a with a basting brush.

Top with turbinado or sanding sugar.

Bake for 15 minutes at 425 degrees F.

Then lower the temperature to 375 degrees F and continue baking for 30 more minutes.

Check to make sure the crust isn't getting too dark while it's baking. If it is getting too dark then place a piece of aluminum foil gently over top forming a slight tent to prevent burning.

Let the pie cool for at least 2-3 hours. If the pie is cut too soon, the filling will be too runny and loose.
Notes
Use frozen blueberries instead of fresh.
Leave out the lemon zest if preferred.
Instead of making a lattice top crust, just place the second crust over the pie and crimp the edges. Then slice 4 or 5 3-inch slits into the top of the 2nd crust starting at the center and cutting toward the outer edge.
Nutrition
Serving:
1
slice
|
Calories:
385
kcal
|
Carbohydrates:
67
g
|
Protein:
4
g
|
Fat:
12
g
|
Saturated Fat:
4
g
|
Trans Fat:
1
g
|
Cholesterol:
23
mg
|
Sodium:
257
mg
|
Potassium:
139
mg
|
Fiber:
4
g
|
Sugar:
38
g
|
Vitamin A:
95
IU
|
Vitamin C:
12
mg
|
Calcium:
20
mg
|
Iron:
2
mg