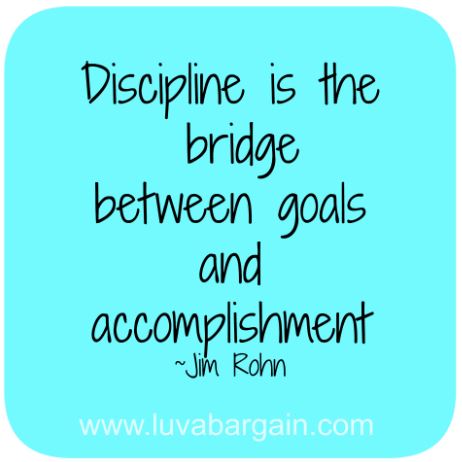 On Day 6 of my 30 Days of Clean Eating Series, I wanted to offer some encouragement.  Creating healthy eating habits when you have not done it before takes discipline. I know this personally!  I am not perfect.  I battle with making the right food choices.  The key for me is to eat this way 80% – 90% of the time (except during this 30 day challenge).  Then treat myself to "cheat" days for fun.  And it is fun!
It is said that it takes 3 weeks….21 days…for a create a new habit and sometimes longer, even up to 2 months!  If you are new to "Eating Clean", don't give up.  Stick with it and you will feel great!  And if you are trying to lose weight, you will certainly see a change on the scales too.
This is not a diet. This is a lifestyle change. You can do this!
Enjoy these great words of wisdom.
1.  "Health and cheerfulness naturally beget each other." ~ Joseph Addison
2.  "We must all suffer one of two things: the pain of discipline or the pain of regret or disappointment." ~ Jim Rohn
3.  "You are free to choose, but the choices you make today will determine what you have, be, and do in the tomorrow of your life." ~ Zig Ziglar
4.  "Let food be thy medicine, thy medicine shall be thy food." ~ Hippocrates
5.  "Health is like money, we never have a true idea of its value until we lose it." ~ Josh Billings
6.  "One should eat to live, not live to eat." ~ Benjamin Franklin
7.  "Our bodies are our gardens – our wills are our gardeners." ~ William Shakespeare
8.  "Today, more than 95% of all chronic disease is caused by food choice, toxic food ingredients, nutritional deficiencies and lack of physical exercise." ~ Mike Adams
9.  "We become what we repeatedly do." ~ Sean Covey, The 7 Habits Of Highly Effective Teens
10. "The principle is competing against yourself. It's about self-improvement, about being better than you were the day before." ~ Steve Young